Plan the Best Harry Potter Bachelorette Party (2023 Guide)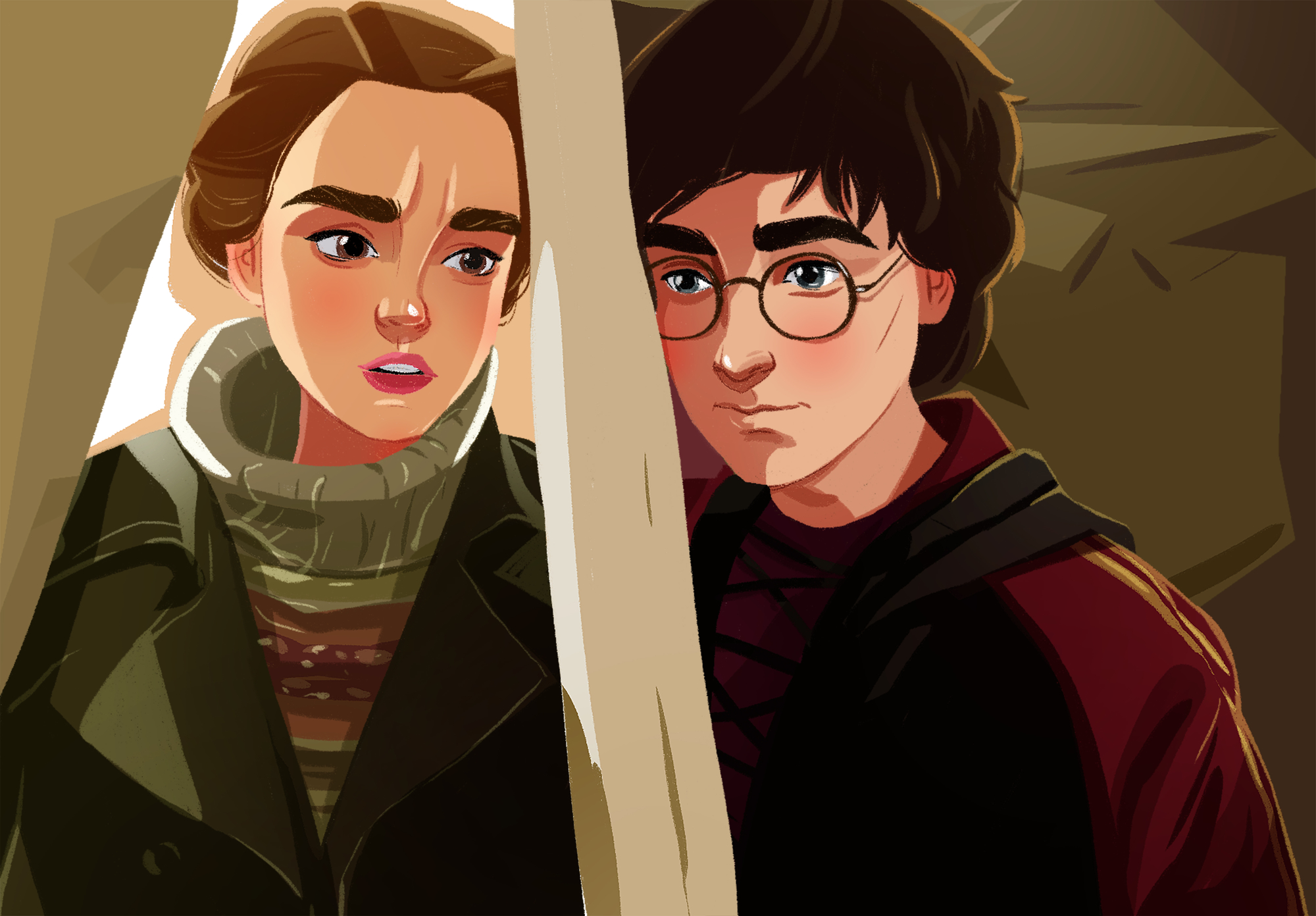 This post may contains references to products from one or more of our advertisers. We may receive compensation when you click on links to those products or services. Please also consider
donating to our website.
Even muggles can see that the world of Harry Potter has a magical appeal, which can be adapted to throw an awesome bachelorette party.  The Potterverse is so full of neat little details that you can tweak the party experience with them, helping guests feel like they have stepped into Hogsmeade, Diagon Alley, or even Hogwarts.  You can plan a DIY version of a Harry Potter bachelorette party, turning your home into a replica of Hogwarts' great hall, or you can rely on the magical world building that has been done by Universal Studios and plan your party at the Wizarding World of Harry Potter at one of the Universal Theme Parks.   Whichever route you choose, by picking a Harry Potter theme, you will see that it is easy for some muggles to work magic!
Why Harry Potter?
The first Harry Potter book was released in 2001, which means that an entire generation of kids that grew up reading Harry Potter is reaching marrying age.  Even if you personally are not a fan of J.K. Rowling's epic fantasy series, you almost certainly know the basics of the storyline.  A young English orphan discovers that he is not only a wizard, but that, as a baby, he managed to defeat the most powerful villain in the wizarding world.  Of course, the villain was only mostly defeated, and the novels follow Harry and his friends as they progress through school, fighting against evil and coming of age.  The novels are beloved by many, and are even said to be responsible for a resurgence in reading for kids of that generation.  People who love the novels really love them.  They find the story line, of a less powerful good vanquishing a more powerful evil, to be very appealing, but they also love the characters and the world that Rowling built.  You can see this popularity in a variety of places, from the continued popularity of new films and novels set in Pottermore to way that Harry Potter has spread into other parts of pop culture, from parody performances to major parts of the Universal Studios theme parks.  In other words, Harry Potter fans are ride or die loyal, so if the bride loves Harry Potter she would love a Harry Potter themed bachelorette party.   
A Primer
If you are also a Harry Potter fan, then when you thought about this theme for the bachelorette party, you probably already had visions of robes, sorting hats, potions, and Butterbeer running through your head.  However, if you are not a Harry Potter fan, but have been tasked with creating a Harry Potter themed party, you may feel a little overwhelmed.  You might be wondering if you need to read all seven original books or movies, and what about the newer books and films.
Have no fear.  While the Potterverse is incredibly well-designed and complex, it is also easily accessible.  Author J.K. Rowling has made her Wizarding World easily accessible online at the Pottermore website.  If you are not familiar at all with Harry Potter, we suggest going and spending some time on the website, just to acquaint yourself with some of its terms.  However, you do not need to be a Harry Potter fanatic to throw a great Harry Potter themed bachelorette party.
Invites
The perfect Harry Potter invitation would be delivered by owl to the guests.  We are going to assume that you do not have access to an army of delivery owls.  Fortunately, the world-building is so complete that it is easy to replicate the feel of a magical letter. 
You can print up an article about the bachelorette party in the Daily Prophet: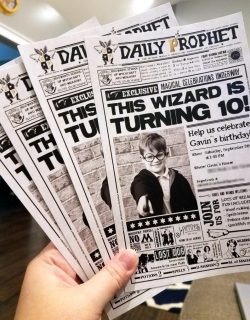 Ask your guests to join you on a ride on the Hogwarts Express: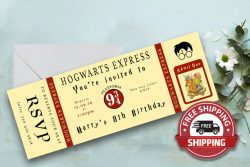 Send a letter letting the guests know that they have been accepted to Hogwarts: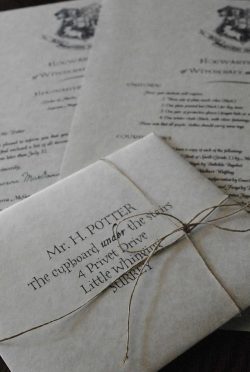 Or send them a scroll with an invitation to a party: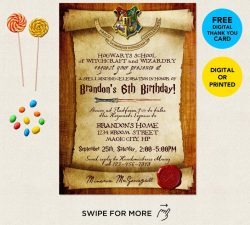 These are just a few of the great ideas you can incorporate to set the theme of the party from the very beginning.
Atmosphere
One of the things that really draws Harry Potter fans into both the books and the movies is the way that they are really create an entire atmosphere.  The world seems so realistic, like you could step into the hall at Hogwarts or go shopping in one of the shops at Diagon Alley.  You do not have to completely transform your home or event space to create a Harry Potter type feel.  Instead, you can pull in some of the classic elements from the books and movies to immediately make your guests feel like they have stepped into a magical realm.
One of the most iconic scenes in the first film is when Harry enters the great hall at Hogwarts.  It is lit by hundreds of floating candles.  It is such a popular scene that you can actually buy floating candles at tons of party supply stores or even on Amazon:
Set a dining table with your fanciest china and silver (borrow some if you do not have any), put the floating candles on the ceiling (you use fishing line to make them appear to float), and suddenly you are in a magical dining room.
Another iconic part of Hogwarts decorations are the banners for the different houses.  Ravenclaws, Griffyndors, Hufflepuffs, and Slytherins all vie for space in the great hall.  You can incorporate them into your decorations.
Potions play a big role in Harry Potter, and you can easily create the feeling of a potions lesson (beware Professor Snape) by scattering around some potion bottles.  That they are Polyjuice Potion should keep everyone on their toes.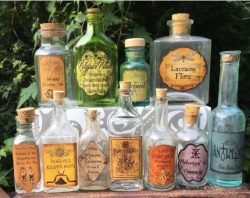 Of course, how does one get to Hogwarts?  The Hogwarts Express, using Platform 9 ¾.  You can hang this curtain over an entryway and challenge the guests to run at it to gain entry to your magical world.
Destinations
While there are plenty of things out there to create your own wizarding world, anyone who has been fortunate enough to visit one of the Wizarding World of Harry Potter sections at one of Universal Studio's theme parks knows what it feels like to be transported into the pages of a book.  These meticulous recreations of the iconic locations from the books and movies really do let you feel like you have stepped into the pages of the book. 
One of the great things about an adults-only party like a bachelorette party is that you have freedom to visit the parks at times of the year when you are likely to encounter smaller crowds and fewer children and family groups.  This can be a real bonus if you are exploring Hogwarts and Hogsmeade or Diagon Alley, because these areas of the park tend to get very crowded during popular tourist times.  You want to be able to take your time there and really enjoy the wonder.  For example, if you purchase a wand at Ollivanders, you can use the wand to interact with different features in the parks, so that you are working magic of your own.  You also want to take the time to have a meal at the Three Broomsticks, taste some unusual sweets at Honeydukes, check out the jokes the Weasley brothers have prepared for you at Zonko's, and grab a Butterbeer or some pumpkin juice at the Hog's Head. 
Picking which Universal Studios park to visit may be a matter of which one is closer.  Both Universal Hollywood and Universal Orlando have Harry Potter sections.  However, at Universal Orlando there are actually Harry Potter Sections at both the Universal Studio and Universal Island of Adventure Parks.  As long as you have park hopper tickets that give you access to both parks, you can ride the Hogwarts Express between the two sections.  Plus, Universal Orlando has the newest Harry Potter Ride, Hagrid's Magical Creatures Motorbike Adventure.  We were lucky enough to be able to ride it on opening day and we are not exaggerating to say it is our favorite theme park ride of all time.  Of course, Universal Studios Japan also has a Harry Potter section, and, although it does not feature the same number of rides as the park in Orlando, it does have two features that are not in the U.S. parks- live owls and Hogwarts' Black Lake.
A different experience, with less of a theme park feel, but more of an authentic edge, is to visit Warner Brothers Studios in London for a tour of The Making of Harry Potter.  This unique tour experience lets you see the actual sets, props, costumes, art, and even creature effects used to create the movies.  In addition, several times throughout the year, the studio hosts a special meal in the dining room of Hogwarts.  If your bachelorette is a real Harry Potter fanatic and the bachelorette party guests all have very comfortable budgets, planning a bachelorette party that includes one of these iconic meals would create memories that would last forever. 
If you are visiting one of the Universal Studios theme parks for this magical bachelorette party, then you may want to consider staying on the property.  While a theme park hotel might not be the first pick for a bachelorette party experience, you get additional park hours when you stay on-site.  This can make a real difference in your travel experience.  Plus, while you may associate theme park resort hotels with big families and ho-hum accommodations, some of Universal's hotels are extremely luxurious.  At Universal Orlando, the Portofino Bay Hotel is styled like an Italian resort, has three pools, plenty of restaurants, and a harbor where you can catch a boat to both Universal Studios and Universal Islands of Adventure. 
Costumes
Whether you are hosting a DIY Harry Potter bachelorette or heading to one of the parks, you have to think about whether or not you want to be in costume.  As most fans know, Harry and his friends, as well as many of the adult characters in the books, wear wizard robes most of the time.  You can find robes of various quality and various price points for all of the different houses at Hogwarts.  For less expensive robes, you may want to search for Halloween costumes, while looking at cosplay robes or for tailored robes will get you the more upscale versions of the robes.
At the parks, you will certainly see people dressed in wizard's robes, even when it is in the 90s and incredibly humid outside.  These people are dedicated.  In our opinion, they are also probably a little uncomfortable.  While wizarding robes might be a great costume choice for people inside air conditioned buildings or when it is cool outside, they can be a little bit of a recipe for misery for people visiting one of the theme parks when temperatures are hot.  However, you can still wear some Harry Potter themed clothing or merchandise to show your spirit.
We love these Harry Potter bachelorette party t-shirts, which proclaim that the muggle is becoming a Mrs., that mischief is managed, and that you solemnly swear you are up to no good.  There are tons of Potteresque takes on the classic bachelorette party t-shirt, which help you dress to reflect the theme without the stifling robes.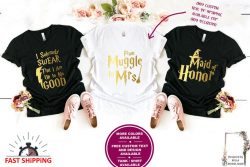 You can also add some accessories to complete your look.  For example, all of the houses have their scarves, which show the house colors.  You could wear a t-shirt with shorts in the house colors and a colorful scarf to set off your look:
Harry Potter is known for his round spectacles, and you can buy them in bulk for everyone to wear:
Of course, if you are cosplaying as Harry, you will want a lightning bolt scar on your forehead.  You can draw one on in eyeliner or other makeup, or you can go with a temporary tattoo:
Harry might be the most popular character for costumes, but he is hardly the only one to inspire dress-up.  You can tell people to dress as their favorite characters for the party.  You might be surprised to see who shows up as the ditzy-seeming Ravenclaw Luna Lovegood, and who else shows up as the frankly malignant Draco Malfoy.
Food
Some of the most interesting parts in both the books and the movies are the odd and unusual foods that Harry encounters once he travels to Hogwarts.   No Harry Potter themed party would be complete without some of the following
Bernie Bott's Every Flavour Beans
Chocolate Frogs
Peppermint Toads
Choices for your entrée tend to reflect traditional English dining.  Some of the meals that the students at Hogwarts enjoyed, or that Harry and his friends ate elsewhere in the books include: French Onion Soup, Steak and Kidney Pie, Pumpkin Pasties, and Yorkshire Pudding.  You could also take a few pointers from the menu at the Three Broomsticks at Universal Studios.  Choices there include fish and chips, rotisserie chicken, spareribs, beef pasties, Shepherd's Pie, corn on the cob, smoked turkey legs, leek and potato soup, and split pea soup.
Drinks
There are two main drinks that are featured in the Harry Potter books.  The most iconic is Butterbeer, a butterscotch flavored confection with a cream soda consistency.  The second most iconic, but slightly more refreshing option is pumpkin juice.  You can easily recreate the flavors of these iconic drinks at home.
Butterbeer Recipe
2 liters chilled cream soda
¼ t. caramel extract or 10 oz. butterscotch schnapps
¼ t. butter extract or 10 oz. of vanilla vodka
1 c. heavy whipping cream
½ c. butterscotch topping
¼ c. powdered sugar.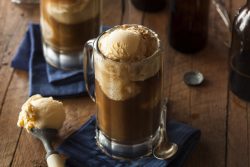 Mix the caramel extract and butter extract into the cream soda.  Beat the heavy whipping cream with a hand mixer until it forms stiff peaks, then add the butterscotch topping and powdered sugar.  Pour the cream soda into mugs, then top with the whipped cream mixture.  For an alcoholic version of butterbeer, instead of the caramel extract and the butter extract, put 10 oz. of vanilla vodka and 10 oz. of butterscotch schnapps into the 2 liters of cream soda, instead.
Too lazy to try to DIY your Butterbeer?  The Flying Cauldron's butterscotch beer does a good job of imitating the flavor of what you find in the theme parks and what is described in the books:
Pumpkin Juice Recipe
16 oz. apple cider (can use hard cider for alcoholic version)
5.5 oz. pear nectar can
6 T. pumpkin puree
¼ t. pumpkin spice
¼ t. cinnamon
¼ t. nutmeg
12 oz. bourbon (optional)
Blend all ingredients in a blender and serve chilled.  You can make it with hard cider or add in the bourbon for an adult twist on this drink. 
Conclusion
While you might not immediately think of Harry Potter when you think of bachelorette parties, it is a great bachelorette party theme.  Whether you are DIY or heading out to one of Universal Studios or Warner Brothers amazing Harry Potter properties, you can incorporate all of the magic of Pottermore into your party.  Just don't forget to embrace the feeling of childlike whimsy that can be found in the books and the movie, which is what has made people such fans in the first place.