Top 10 Fun Bachelorette Party Ideas (2023 Edition)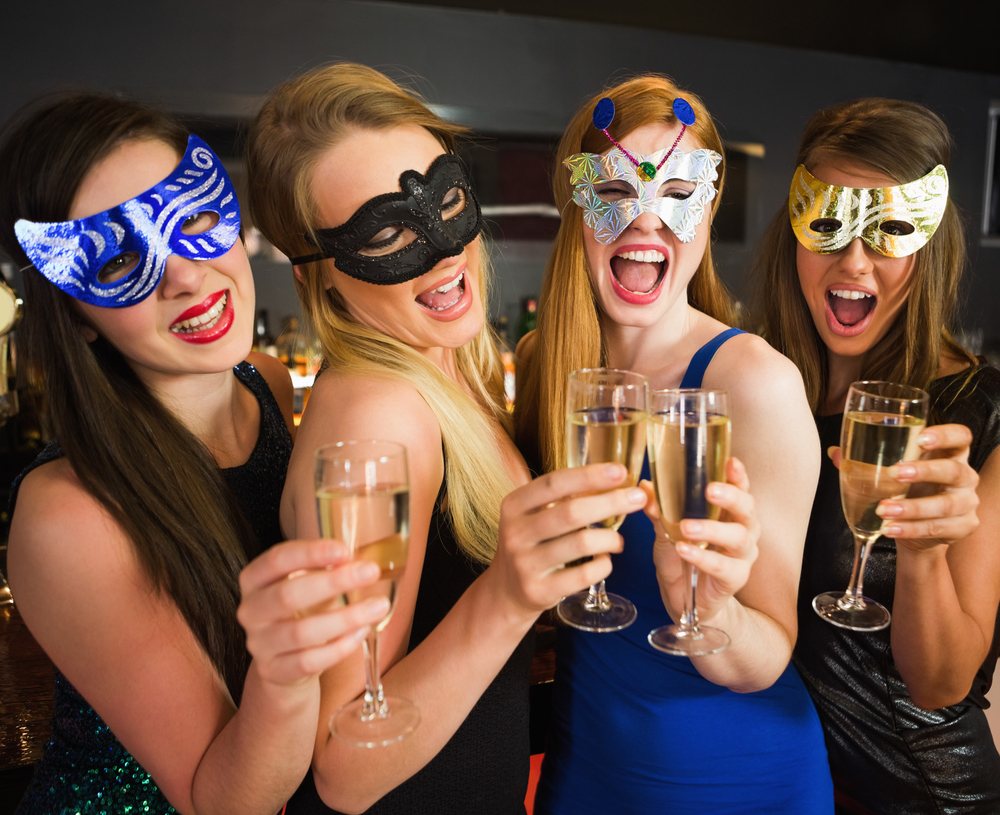 This post may contains references to products from one or more of our advertisers. We may receive compensation when you click on links to those products or services. Please also consider
donating to our website.
Bachelorette parties have become a fast-rising modern-day tradition, and they're becoming famous for their luxurious attires and the astonishing creativity that goes into planning the entire event. Coming up with fun ideas for your bachelorette party may be a daunting task because it's all about giving the bride-to-be a memorable weekend or night to remember. That's why we have painstakingly drafted a few fun bachelorette party ideas that will leave the bride and her friends wishing for a never ending party.
If that describes you, then you've come to the right place. Below are ten fun bachelorette party ideas that will blow your mind.
#1  Cooking Class
What have you got the bachelorette doing her last night as a single lady? Did you register the bride and her friends for a cooking class? Excellent! It's a fun way to spend the day. You can have the bride finally learn how to prepare a dish she had always fantasized about learning, learn an entirely new recipe, or you can decide to learn how to prepare the signature dish of any country you decide to have your bachelorette party. What better keepsake can the bride and bridesmaids ask. If Rome is your bachelorette party destination, learning to prepare some fancy Italian dish isn't such a bad idea.
Having the bride participate in a cooking class is a great bachelorette party idea because she gets to spend a lot of time with her friends, everyone is carried along as the class will be split into smaller groups, and each group is assigned a different task. Some groups may be tasked with learning how to prepare Japanese appetizers, while the others are tasked with learning how to make deep dish pizza, French macaroni or whatever you have registered to learn for the day. The smiles and laughter that'll be on the face of the bride and her friends will make this an ideal activity for an ecstatic bachelorette party irrespective of the cost involved.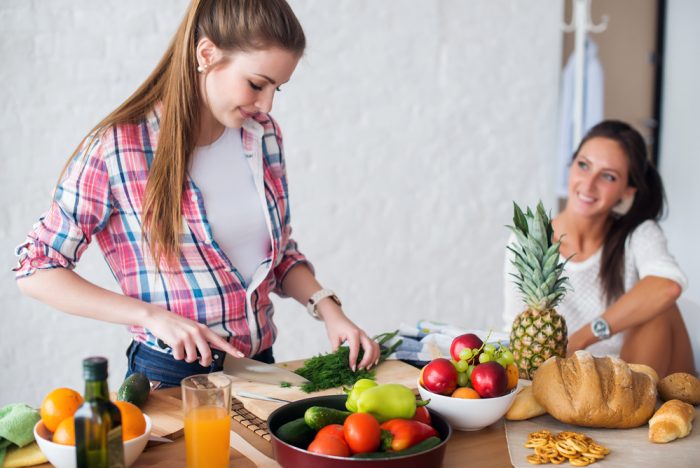 #2 Sip n Paint
Sip n paint! Hmm… Sounds kind of fun, right? That's because it is and bachelorette parties are all about fun. The emphasis here is not on what you paint or what wine you are sipping because there are so many possibilities, but what matters the most is if the bride is happy doing it. You can have the bride and her friends sipping sparkling champagne or a cocktail, served in gold glitter glass cups, a mocktail, something to ease the tension in the room. The bridesmaids can try to sketch the bride while she makes a painting of the groom. There is absolutely no need to worry that pretty head of yours, the instructor of the art studio will be with you throughout the painting session. It's a lot more fun than you can imagine. It does not have to be perfect. You can have the paintings delivered as a keepsake to the bride and her friends. You know what will surely light up the room, a nude male artist that is busy sketching and covered with paint.
#3 Costume Party
What quickly comes to mind when you hear the phrase "costume party? The thought of people, boys and girls in different awesome outfits that appeals most to them. From the 17th-century old school fashion to their favorite storybook character, with some in armors and shields (knight in shining armor), the possibilities are endless. Irrespective of the persona you are imitating,  a costume party is about a very fun way for the bachelorette to celebrate her last fling before the vow. What's a good party without the booze and the food which in most cases is pepperoni pizzas and more booze and music and the dance. You can organize a dance battle between the bride and her friends. The winner gets a prize, well as for the worse dancer in the room, she gets to do lots of drinking.  It's all about the bride so even if you are a better dancer than she is, let her win. If I were you, I wouldn't hesitate and include a costume party as a fun bachelorette party idea.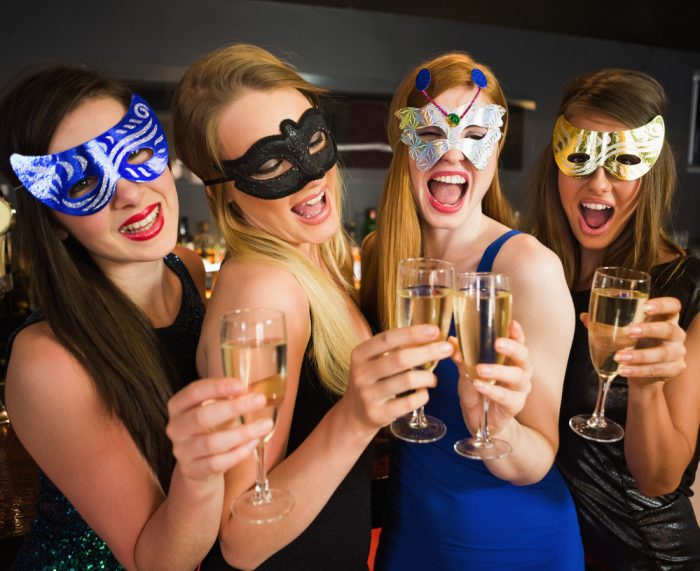 #4 Attend A Drag Show
Drag shows are famous heterosexual events. You can have the bride attend a drag show and sit at the front row. Drag shows are much more than drag queens putting on male clothing with ecstatic display and lip-synching to songs. It's an awesome display of art and crafts. You can signal the drag queen that there is a bachelorette in the room. The appearance of the drag queen alone is enough to leave you laughing your guts out, the glitter beards worn, neon green earrings is indeed a sight for sore eyes. It's an excuse for the friends to dress up in ridiculous outfits and put on heavy make-up. If your aim is to provide the bride with a memorable and fun-filled weekend, then take her to a drag show.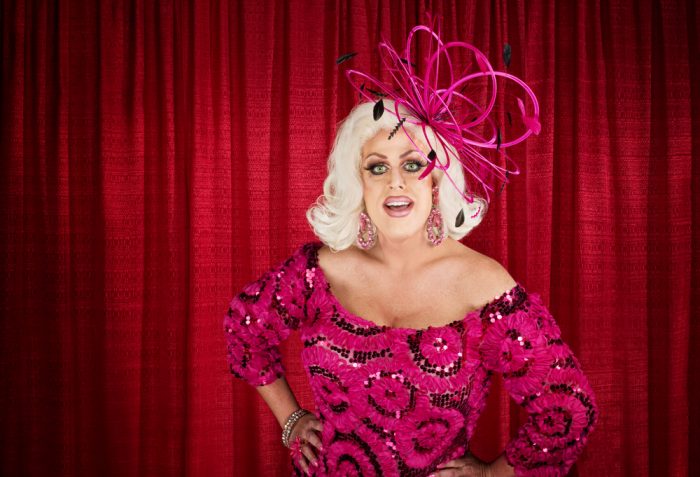 #5 Playboy Party
You have probably heard of the playboy mansion and that it's famous for hosting the best parties in the world. Having a Playboy party is a fun bachelorette party idea. It may be a weekend event or a one night party depending on how the bride wants it to be.
It's famous for decorations of bunnies, with the bride and her friends appearing in personalized bikinis and bespoke bunny ears, with beautiful music to set the tone for the event. The bride can be the playboy bunny for the party. To spice things up, you can invite your favorite celebrities to do a special performance for the bride. Don't forget to plan for drinks, wine cocktails with flavor to meet the need of everyone and mocktails too for variety is the spice of life. There are a lot of ways to be creative with planning a Playboy party. It can either be a playboy masquerade night or a playboy game night. Whatever you decide to do for the night, make it as fun as possible and a night to remember.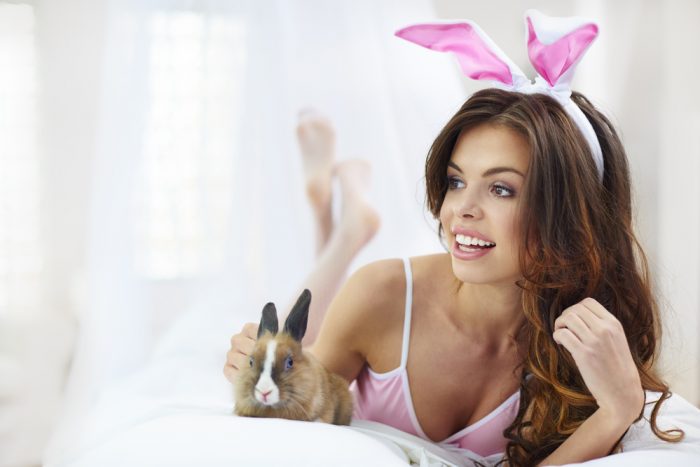 #6 Scavenger Hunt
A bachelorette party scavenger hunt is undoubtedly a fun way for the bride to spend the evening or day with her friends. If you are working with a large group of friends, you can decide to split the group in two or more, or better still hunt as a group. The winner gets a prize. A list of things to do is given to the bride and her friends, ensure to cancel out each task you have completed. You will have to take a shot of alcohol for every task that is not completed.
Listed here are common scavenger hunt ideas you can choose from :
Take a picture with a cop
Get a random guy to post your photo on Instagram with the hashtag of your choice
Find a guy that has the same name as the groom, take a picture with him and collect his business card as proof
What was the bride's favorite candy as a child, see if you can get one.
There are lots of scavenger hunt ideas you can make use of in your own bachelorette party. 
#7 Pool Party
Who says your bachelorette party has to be an indoor event? Bachelorette pool parties are about the most fun parties that you can't afford to miss especially if your bachelorette party is happening in the summer. You want to consider the size of the guest you are planning for before choosing a pool. The bigger the guest list, the larger the pool. Decorate the pool with colorful balloons. It's advisable to spell out the theme for the party in bright colors like red, or gold. Have fancy fun floaties: a flamingo or donut-shaped floaties will do just fine, so the bride and her friends can easily reach the drinks in the pool. You can serve any signature dish of your choice, a well-flavored shake, cone sushi or fries which can be served to the guests by trolley to give class and sophistication to the party. You can serve the cold drinks covered in fancy covers to keep your hands dry, or you can decide to serve the drinks like that, just  do whatever works best for you. A cake made in the shape of a fruit or a flamingo will do well as a wonderful treat. You can decide to pick a game to break the initial awkwardness between guests, both the old friends and new friends of the bride. You're probably wondering what dresses the bride and bridesmaids will be rocking that day! Anything that she is comfortable with will be just fine, but I suggest going with a white bikini and a personalized straw hat. Create a welcome package containing all they need in fancy bags. The must-have for the party in the gift bags must include sunscreen, sun shades, lip balm, waterproof bag case cover. If you follow these steps carefully, you will have a pool party the bachelorette wouldn't be in a hurry to forget.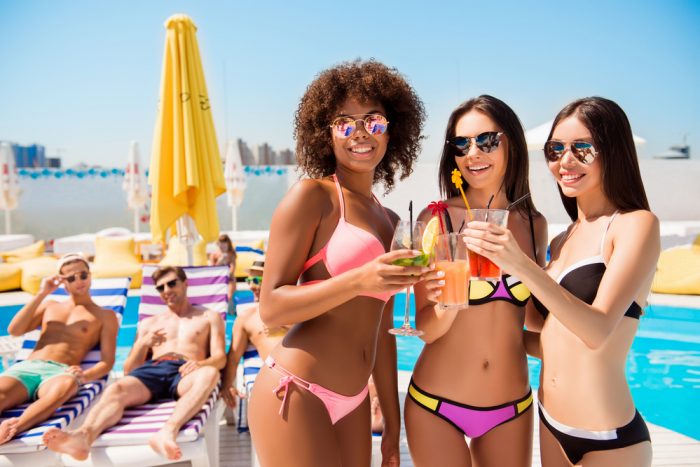 #8 Game night 
There are about a million and one games to choose from for your bachelorette party provided it brings the bride and her friends together, but I will recommend the following ultimate five bachelorette party games for you:
How well do you know the groom?
Ask the groom some questions before the party and have him write down the answers on a piece of paper. Ask the bride the same questions you asked the groom on her bachelorette party and have her try to guess how the groom answered those questions. This will help you find out how much she knows about the groom. It's super fun and also helps the friends and guest know the couples better.
See all the different templates and printables available for this game
How well do you know the bachelorette 
Questions like what's the bride's favorite food, how did she meet the groom, what's the name of her pet, what is the bride drink of choice. You can have the bridesmaids fill out the answers on paper and give the papers to the bride. Whoever gets most question correctly, gets a prize.
See all the different templates and printables available for this game
Ring Hunt
Hide thirty rings in the house at different places before the guests arrive. Ask them to find it. Whoever finds the highest number of rings, gets a prize.
Truth or Dare
Having the bachelorettes take turns in choosing either Truth or Dare is a fun game everyone loves to play especially if funny dirty dares and shocking truths are involved. All these are to give the bride an opportunity to bond with her friends.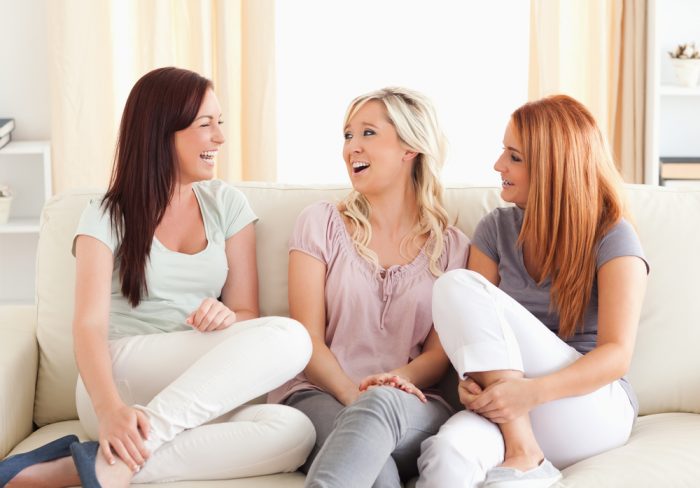 View all templates and printables available for this game
#9  Mimosa Bar
Mimosas are composed of champagne and chilled citrus which is usually orange juice or whatever juice you prefer to combine. It's traditionally served in tall flute in elite gatherings. Your Mimosa bar can be prepared and decorated to meet your taste and need. For a Mimosa bar bachelorette party, you can set up with transparent canisters or gold glitter glasses filled with either berries, candies or herbs or even a little combination of all. The trick is to make your bar unique and classy. Different types of juice can be displayed on your bar with sparkling champagne such as Bon affair, Villa Maria, etc., to go with the juice. You may decide to place candy or berries like mint, Rosemary and sparkling gummy bears in the glass cups to add flavor and style. Your Mimosa bar can do with a little candy gift bags that your guests can pick up on their way out. Your bar should be decorated with sparkling scented candles, brightly-colored table clothes and a solemn song playing in the background.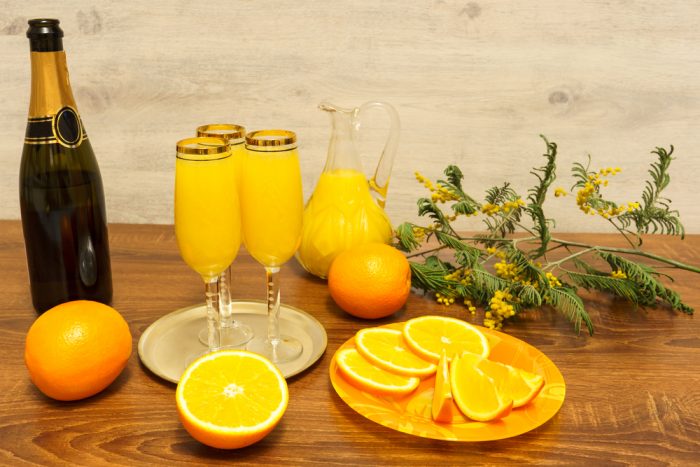 #10 Shopping Trip
Show me a girl who doesn't love shopping, and I will show you a fire-breathing flying dragon. Just like the dragon, they don't exist. You can take the bride and her friends for a shopping trip to another country, or go to different bars, doing shots as you go, and wine tasting too. The older the wine, the better it tastes. This could be a fun way for the bachelorette to spend her last day as a single lady before the vow.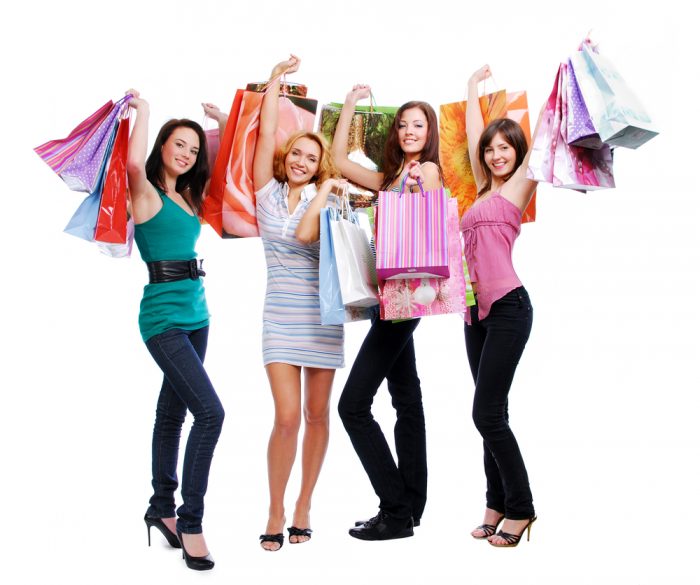 Conclusion
Bachelorette parties are celebrations of love and laughter and friendships. It's an opportunity for the bride to meet and bond with old friends and make new ones in the process. For it to be a blast, you will need to take advantage of the above-listed fun bachelorette party ideas to make the event as memorable as possible, a weekend to remember for the bride.