Friends Themed Bachelorette Party (2023 Guide)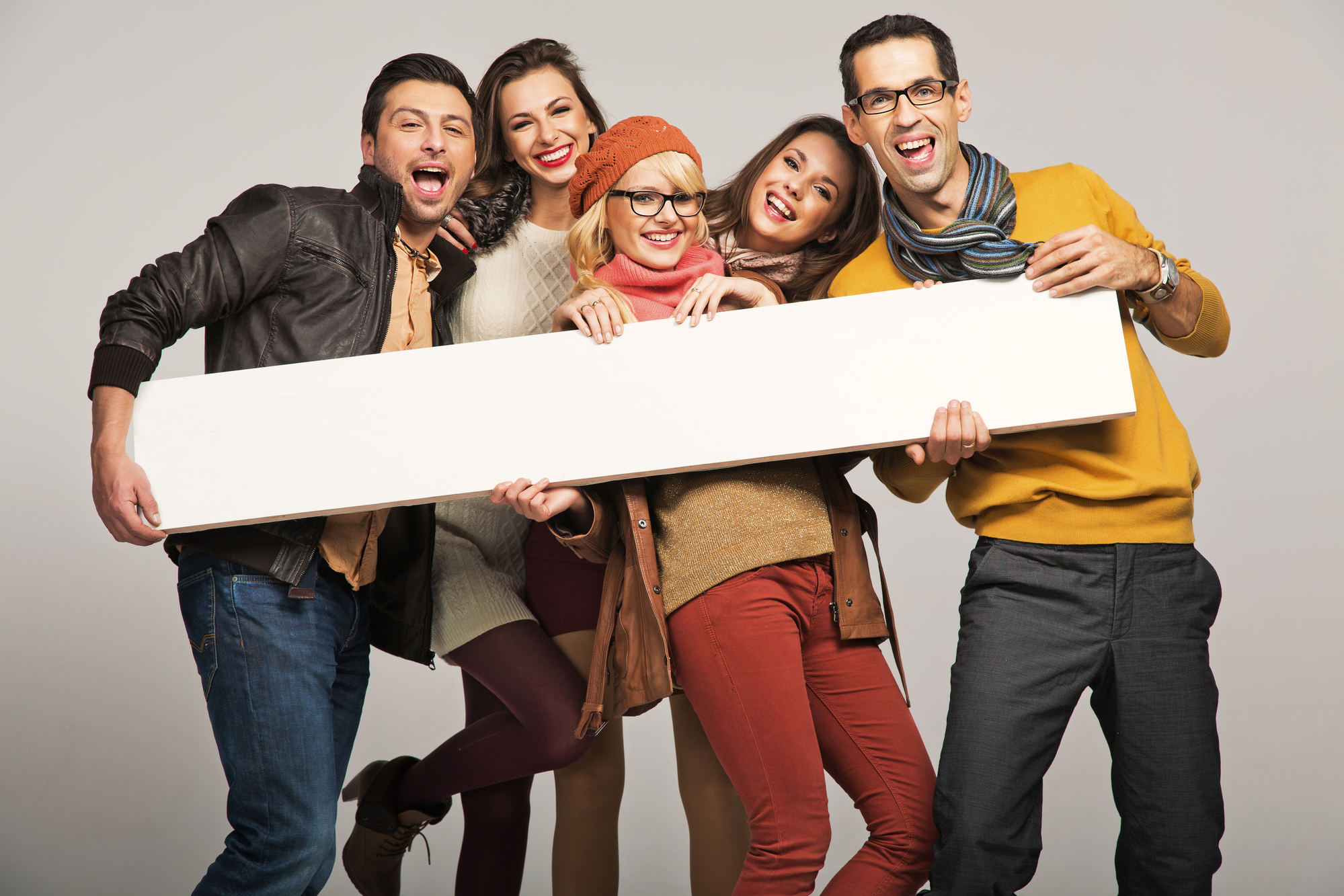 This post may contains references to products from one or more of our advertisers. We may receive compensation when you click on links to those products or services. Please also consider
donating to our website.
Have a bachelorette that loves to hang out in the Friends Zone?  Die hard Friends fans do not care that this iconic sitcom ended more than a decade ago; they still love to hang out with Rachel, Monica, Phoebe, Ross, Chandler, and Joey.  Something about the show and the way it highlighted all of the glorious ups and downs of friendships, relationships, and being there for each other makes it a perfect theme for a bachelorette party.  It is also a great DIY theme that can be relatively inexpensive, making it a great way to celebrate the bride and all of her friends without asking anyone to break the bank!      
How Popular Are Friends Bachelorette Parties? 
Some trends come and go and whatever is considered a hot trend for bachelorette parties tends to last for about 18 months before fading away as the next big trend hits.  The Friends theme is a little different.  While it is not as popular as some other pop culture themed parties, it has staying power.  The enduring popularity of the show means that fans are continuing to enjoy it in reruns and that it is getting new fans all of the time.  This means that while there is plenty of stuff available to help you throw the perfect Friends themed party, it is likely to be seen as an original and innovative bachelorette idea among your friends. 
Dos and Don'ts of a Friends Themed Bachelorette
Don't compare the bride and her groom to Ross and Rachel.  Yes, we know that Ross and Rachel's romance is considered the pivotal romance of the show.  However cute they might be together, there are some real negatives to their relationship and you really do not want to set up any potential "there were on a break" type drama at a bachelorette party.  Enjoy the theme without having to label it like that.  Of course, if the bride wants to refer to herself as a Ross and Rachel couple, that's a whole different thing.
Do consider costumes.  One of the great things about Friends is that many of the episodes were just campy enough to qualify as costumes.  Even if you do not want to look like a specific episode, the 1990s clothes and hairstyles are cute enough to wear today, but still have a throwback feel.  The characters sometimes dressed in some really fun ways- wedding dresses, proms, cheerleaders, and superheroes could all stay in your theme!  
Don't go all Monica with your planning.  Well-planned parties are great, but one of the keys to a fabulous party where everybody, including you, gets to have a great time is to realize that you cannot control it all.  Do the work you need to do beforehand to set up a scenario where a great party can just unfold, then relax and let it happen.   Really, this is a tip that we suggest you incorporate even if you settle on a different theme.  Bachelorette parties are great.  Bachelorette parties where the maid of honor (or other host) actually gets to enjoy herself are priceless!  
Don't throw it in a coffee shop.  Yes, we know that Central Perk played a pivotal role in the show and that you want to acknowledge that.  However, coffee shops are just not generally designed to be great party venues because of things like their seating availability and business hours.  They also rarely have private event space, and, even if you are hosting a brunch time party, you are going to get in the way of regular customers.  It is one of those ideas that seems great in theory, but falls flat in practice.  If you are just determined to have the party at a coffee shop, considering renting one after-hours when it would normally be closed for business. 
Do consider a co-ed party.  One of the things that we all love about the show is that it celebrates friendship, and there is no doubt that the guy-girl friendships on the show are every bit as strong as the girl-girl friendships. This is something that we overlook in a lot of our bachelorette party plans.  If the bachelorette has her own Ross, Chandler, or Joey in her life, make sure they get to come celebrate at the bachelorette party.  Especially if he's a Joey; every girl needs a Joey in her life!
Start it Right with Friends Invitations
When you think of the show Friends, you almost certainly picture the iconic opening of the show with its dancing around a fountain, umbrellas, and black and white sign with colored dots between the letters.  It makes sense to send out invitations with that look.  However, do not think you are limited to that look.  When you think about the show, you probably picture the lavender colored door with the picture frame around the peephole.  You can easily recreate that look in an invite.  While invitations are customizable, if you want to stick with the theme you want to pull in something from the titles.  All of the Friends episodes begin with "the one where," so it only makes sense to say something like "the one where Julie gets married" or "the one where Amy has a bachelorette party." 
Recreate the look of the title scene with these invites: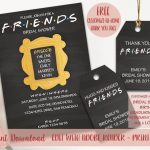 Pull in the lavender door with these customizable invitations: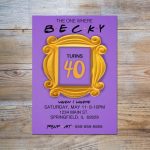 We love this editable template for a Friendmas Party, even if it has a holiday twist: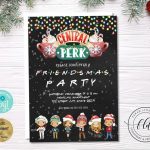 What Else for a Friends Bachelorette Party?
Sure, you have prepared your guests for a true Friends party by sending out the invites, but there is so much more you can do.  The best part is that, given the eclectic style from the TV show, you can put together a themed look for a relatively inexpensive price.
Greet the Guests
If your guests are going to have to walk through any type of hallway or entryway, consider greeting them in a way that instantly brings the show to mind.  Get brightly colored umbrellas, like you see in the show's opening credits, and hang them from the ceiling or even above an open entryway.  It not only serves as a reminder of the show, but also provides a pop of festive color that helps differentiate your home or party venue from its everyday appearance. 
Gotta Have the Lavender Door
The style from the show helped make it so popular, and the lavender door played a huge role in that style.  You simply must pay homage to it somewhere in your décor.  We love the idea of it being the door you walk through or the door you can see from the party.  However, we also love the idea of incorporating it in more creative ways.  What about creating a lavender door backdrop for a photo booth or using an old door painted lavender as a unique table top?  Add the iconic picture frame and you will have a new twist on something familiar.
The Couch
You may or may not have access to a fountain, but you probably do have access to an outdoor space.  Does anyone you know have a cool, retro-vintage looking couch that you could borrow for an outdoor photo booth?  If not, you may be able to pick one up at a thrift store or find one at a photo prop rental company.  How cute would it be if you could recreate some of the iconic opening pictures?  Do not stress out too much about the couch matching the one from the credits exactly; everyone will get the vibe you are creating if you drag a couch outside for photos.
Central Perk
Obviously, everybody's favorite coffee shop played a major part in the series, since it served as one of the main central gathering places.  The fact that it tried to recreate a cozy living room means you can create a lot of the same feeling in your own living space.  You can make your whole space a Central Perk or you can designate a special nook for it.  Arrange furniture in a cozy conversational arrangement, use some blackboards to advertise your menu and your drinks menu, and put one of these great, removable vinyl decals on the wall to advertise that the coffee shop is open: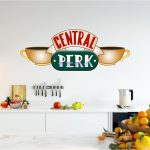 Some Friends-ly Activities
Of course you can always get together for some mingling and just hanging out, but part of the fun of the show is that the gang was always up for some fun.  You can incorporate that playful spirit into your bachelorette party by bringing in some of the fun of the game.
Friends Trivia (Version 1)- Is everyone at the party a Friends fanatic?  Test your knowledge and skill against each other by playing one of many available Friends trivia games. 
Friends Trivia (Version 2)- One of the games that they played on the show, the purpose of this game is to see who knows who best among your friends.  The plus side is that everyone can play, even if they have never seen the show.  It brings out a little competition and can be a ton of fun. 
Foosball- Don't own a foosball table?  You can buy one of the less expensive ones for $100, check for them at thrift stores, and may even be able to rent one from a local party rental company. 
Poker- Who can forget when the gang had their iconic poker game.  Throwing away two jacks?  Rookie mistake.  Of course, we think it is a rookie mistake that has to become part of the game, so make it a house rule to shake up the poker night and keep it on theme.
Ms. Pac Man– Another beloved game from the show, Chandler played it so much that he turned his hand into a claw.  No need to spend big on this game, you can find versions that are compatible with your TV for around $30:
Destinations
While we are normally huge fans of destination bachelorette parties, one of the great things about throwing a Friends themed party is that you avoid a lot of the expense and stress that goes with a destination bachelorette party.  That said, some of the very funniest moments on Friends came when they got out of their NYC setting and headed out to parts unknown.  You can head to Barbados, to Las Vegas, London, or even your local beach.  Just remember, if you are at the beach, pee is not necessary- you can fix a jellyfish's sting with a little vinegar!
Food
Monica is a chef and Joey is obsessed with food, so it should come as no surprise that there are actually a ton of great food ideas that will help you carry on your theme.  What will surprise you is that many of the ideas are actually surprisingly easy to make or to find in stores, so that you will not have to work like a Monica to create your party's menu! 
Hummus (try not to throw it on anyone). 
Macaroni and Cheese
Giant Meatball Sub
Nestle Toulouse Cookies
Cheesecake (extra points if it is from Mama's Little Bakery)
English Trifle
Milkshakes
Sundaes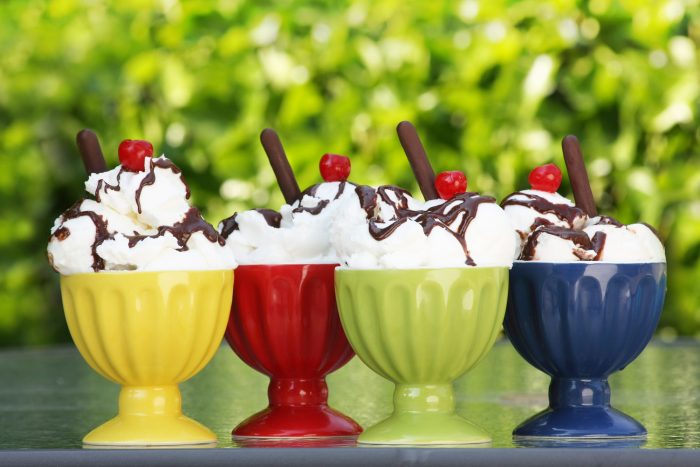 Deep Dish Pizza
Lasagna (extra points if you pull out the wonton wrappers and make them into cupcakes)
Oatmeal Raisin Cookies
Assorted Pastries- these are for the coffee bar and should reflect the kind of selection you would find at a coffee shop. 
Drinks
Coffee– One of the show's main sets is a coffee shop, so you need to have coffee available.  The great thing is that Central Perk is a nice, casual coffee shop.  You can set up a coffee and tea bar with mismatched coffee mugs and create the look of the coffee shop by setting up chalkboard menu boards describing the coffee and tea selections as well as some of the assorted pastries.
Wine- While none of the characters was into really hard drinking, as 20-somethings they did their share of knocking back a drink or two.  The girls were especially fond of some wine, so grab a few bottles of your favorites.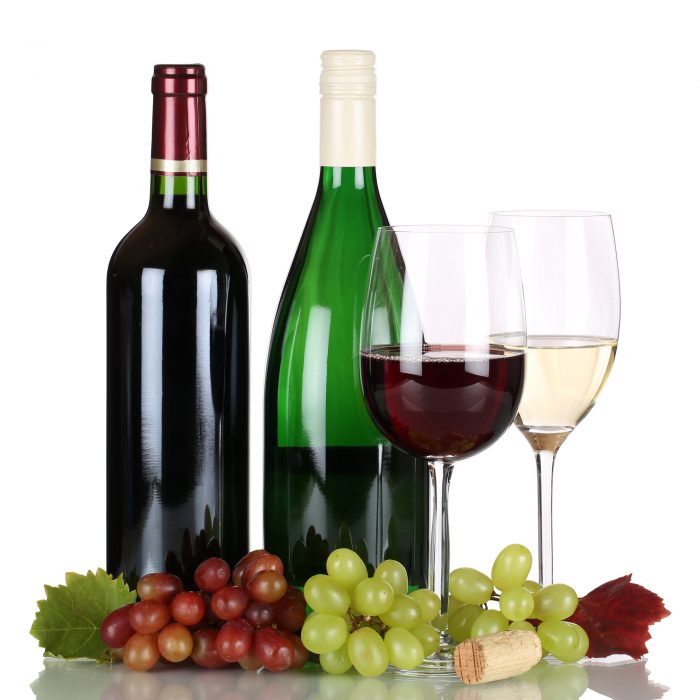 Ross's Margaritas- Ross was not known for his culinary skills, but apparently he could make a mean chocolate Margarita.  So, make your own mix of tequila, chocolate liqueur, and cinnamon. 
T-Shirts
While t-shirts are not a bachelorette party accessory, we love the idea of a cute t-shirt that your guests might actually wear again.  We think any of these themed cuties fits the bill.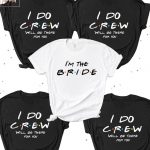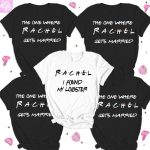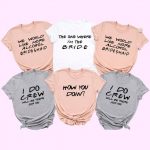 Bachelorette Swag
Of course, you can find a wide variety of Friends themed swag for your party.  Some will be bachelorette party specific, but do not limit yourself to looking only at bachelorette party items, because you can find goodies with these theme in all types of unexpected places. 
We always love a coolie to keep our drinks nice and frosty: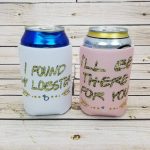 If you are the sash-wearing type: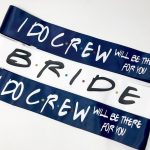 Party cups!  Hey, take a cue from Phoebe and use them as your only party décor: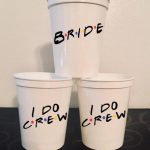 Some temporary tattoos: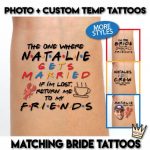 You'll want to download this filter for your pics: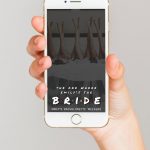 Conclusion
Adding in the bride's favorite things is a great way to personalize a bachelorette party and really help it stand out from the crowd.  So, if she is a Friends fan, go all in with your theme.  We tried to highlight some of our favorite ideas, but there are a ton of great ideas for Friends themed parties out there.  Do not limit yourself to looking to other bachelorette parties for inspiration.  Some of our favorite ideas came from birthday parties and wedding showers, as well.  Just remember that a bachelorette party is an ultimate celebration of friendship, just like the TV show we all love!