Bridal Shower Versus Bachelorette Party (What's the Difference?)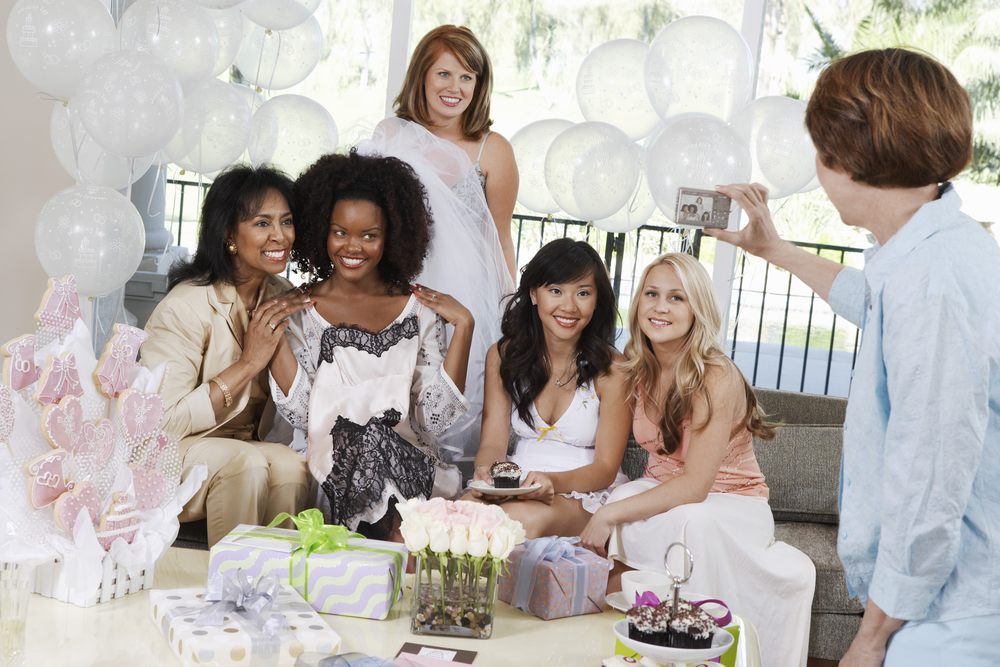 This post may contains references to products from one or more of our advertisers. We may receive compensation when you click on links to those products or services. Please also consider
donating to our website.
So, your bestie is getting married and you happily accepted the role of maid of honor.  You knew that would mean hosting some parties, but now you are feeling a little confused about whether you need to throw her a bachelorette party, a bridal shower, or both.  Are they really different things?  Can you throw a combination bachelorette party/ bridal shower?  Do they have the same guest list?  Never fear; in this guide we will take you through the similarities and differences in the two types of parties specifically designed to honor the bride. 
Bridal Showers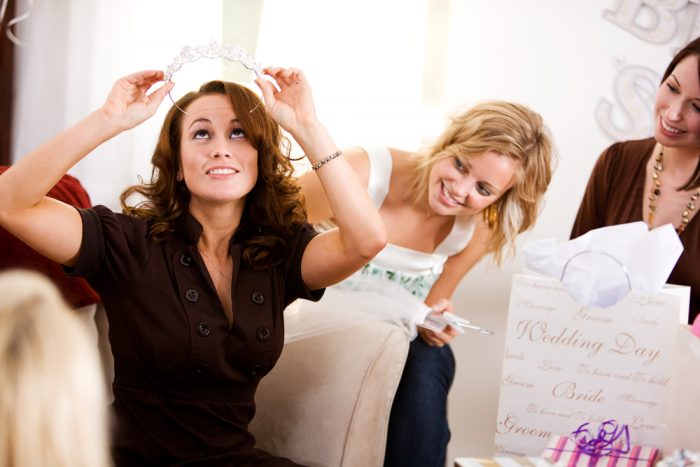 A bridal shower, which might also be known as a wedding shower, is a traditional pre-wedding party.  Back when brides were younger and both brides and grooms were unlikely to have lived on their own before they got married, the purpose of the bridal shower was to give the new couple items that they would need to run a household.  Because, at that time, women were considered to be in charge of the household, the shower became about the bride. 
The traditional hosts for the bridal shower were the maid of honor or other friends of the bride, and it was once considered something of a taboo for one of the bride's family members to host the shower.  However, as time has gone by, the list of who can and cannot host a bridal shower has grown considerably more expansive.  Now, it considered appropriate for almost anyone who knows the bride to throw her a bridal shower, with the possible exception of the groom. 
Bridal showers have also evolved in what type of gifts are appropriate for the bride-to-be.  While they once focused on housewares and other homemaking type items, modern bridal showers focus more specifically on things that the bride might actually want.  In fact, many modern bridal showers have themes, which can run the gamut from housewares to sex toys and everything in between. 
Another way that bridal showers have changed over time is in the list of who is invited.  Generally, bridal showers included the bride, her female friends, close female relatives, and prospective female in-laws.  Modern bridal showers may actually be co-ed.  In addition, because modern brides are likely to have more than one pre-wedding party, you might actually get to narrow down the guest list.  Just be careful about doing too much pruning; the bride's sisters and mother, as well as future mother-in-laws and sister-in-laws are still expected to be on the invite list for most bridal showers. 
Another bridal shower tradition is games.  We are not sure why games became such a popular bridal shower pastime, but suspect it had to do with showers often having guest lists that spanned multiple generations and hostesses needing to have something that everyone might enjoy. 
Bachelorette Parties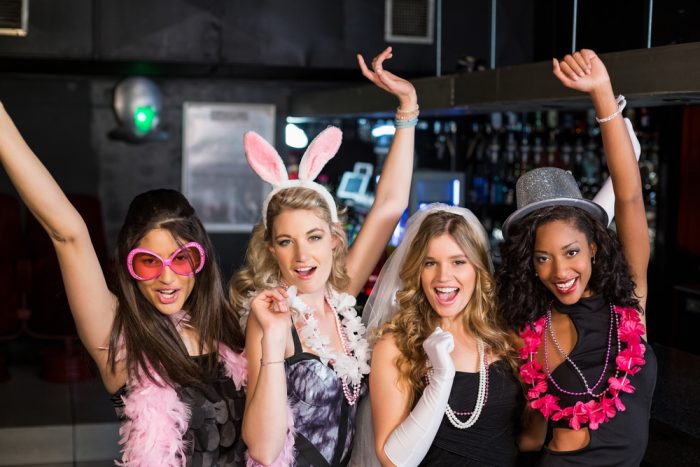 If a bridal shower is a party to make sure that a bride has the stuff she needs to start a new life with her intended, a bachelorette party is a party designed to celebrate the life the bride-to-be already has.  A bridal shower focuses intensely on the wedding.  A bachelorette party certainly acknowledges that a bride is getting married, but it is more of a designated time for the bride and her girlfriends, who have been swamped with wedding planning, to just stop the stress and have a great time.
Bachelorette parties are a relatively new addition to the wedding scene.  For generations, grooms have had bachelor parties, men's only events that occur shortly before the wedding and generally involved high levels of debauchery.  Women did not really have an equivalent, but instead were expected to make do with the more sedate bridal shower alternative.  Then, women started realizing that there was no reason for the boys to have all the fun and the bachelorette party, also known as a hen party, began to take root.  Once an unusual occurrence, the bachelorette party has pretty quickly become a must-have pre-wedding party.
The great thing about bachelorette parties being a relatively new addition to the pre-wedding party scene is that brides and their friends are really getting the opportunity to make up bachelorette party etiquette and traditions as they go along.  There is no right way to have a bachelorette party; what works for one bride and her friends might be the wrong thing for another group of friends, and that is completely okay.  Traditional bachelorette parties follow the theme of the traditional bachelor party and include tons of drinking and probably a stripper or two, but that is not for everyone.  Escape rooms, trivia nights, pub crawls, spa days, pole dancing lessons, surf school, and zip-lining are just some of the "non-traditional" ideas people have used to create awesome bachelorette bashes.
Who do you invite to a bachelorette party?  Ask the bride for her guest list, but do not feel bad if you limit the number of guests; the guest list for a bachelorette party is generally smaller than it would be for a bridal shower.  In addition, you do not have the same pressure to include the bride's relatives or future in-laws.  While you may have to include them, as well as younger family members, at a bridal shower, the bachelorette party guest list is the bride and her best friends and can be adults-only or even 21 and up.  Certainly you want to include all of the female members of the wedding party, and maybe a handful of other friends.  You can throw a huge bachelorette party, but they tend to capture the best "bride tribe" vibe if you keep it to a smaller group of people who really are the bride's best friends.
Can a bachelorette party be co-ed?  Sure it can.  Gone are the days when we expect there to be rigid gender-lines among friends.  If some of the bride's best friends are guys, then consider a co-ed bachelorette party.  If the bride and groom have the same group of friends, you might even consider a combination bachelor/bachelorette party.  However, if you are going co-ed and the groom is not going to be there, then none of the bride's exes should be on the guest list!
Do you need gifts at a bachelorette party?  Fortunately, you do not need to bring the bride any gifts at the bachelorette party.  While you can throw a combined bachelorette party/ bridal shower, the bachelorette party is one of the rare pre-wedding parties where guests are not expected to bring a gift for the bride.  The bride might, however, want to arrange gifts for her bachelorette party guests! 
Finally, keep an open mind when planning bachelorette party activities.  It really is all about the bride, so plan something that the bride and her friends will enjoy.  You can book a nail place for a mani-pedi day, head out to the bars for a girl's night, plan a brunch, or plan a getaway.  Just make sure you make it budget-friendly enough that the bride's besties will be able to afford to be there, and keep an eye on vacation days, as well.
Conclusion
There are tons of different pre-wedding parties that help celebrate the new couple.  Engagement parties tend to be more formal affairs, which celebrate both the bride and the groom.  Bridal showers are focused on the bride and are gift-giving parties that usually a theme and help the bride prepare for married life.  Wedding showers are like bridal showers, but instead of focusing only on the bride, they may be co-ed and celebrate the groom as well.  Finally, bachelor and bachelorette parties are parties focused on the groom and bride, respectively, and are generally a lot wilder than other types of pre-wedding parties.
Whether you are a maid-of-honor or a bestie who knows that she will have to do the duties for the maid-of-honor, you will probably need to prepare yourself to plan at least one, if not more, pre-wedding parties for the bride.  Instead of trying to decide, on your own, whether the bride would rather have a shower or a bachelorette party, we suggest talking to the bride.  Then, you will be able to find out her expectations.
Many brides, especially those having larger weddings, anticipate having multiple pre-wedding parties.  Do not worry if you are the maid of honor in that situation.  That does not mean that you have to throw an engagement party, a bridal shower, and a bachelorette party.  Instead, talk to the bride's other friends and family.  Enlist their help or even delegate duties to make sure your friend's wedding is a blast, without you having to do it all yourself.