Book a Private Jet for your Bachelor Party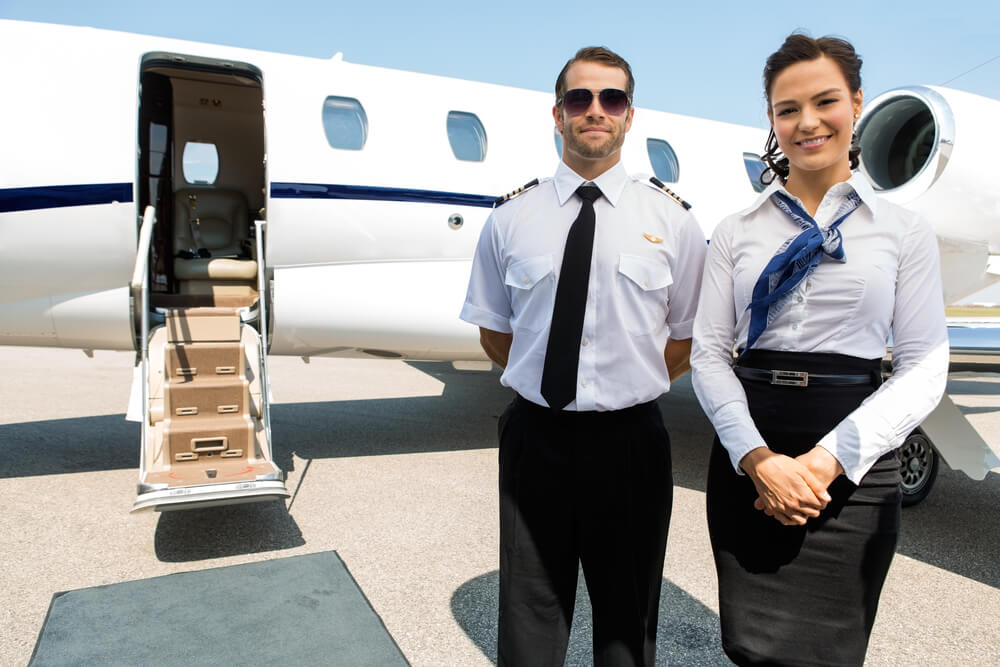 This post may contains references to products from one or more of our advertisers. We may receive compensation when you click on links to those products or services. Please also consider
donating to our website.
Just imagine you and your bachelor party guests cruising at 40,000 feet, sipping fine champagne and rocking to the latest tunes. In the past, this type of adventure was reserved for the Rolling Stones and other wealthy celebrities, but times have changed. Sometimes a once-in-a-lifetime event requires a unique experience to commemorate it. If your budget can afford it, renting a jet airplane for your bachelor party is truly a "sky-high adventure" that you and your guests won't soon forget. Although jet airplane charter services are relatively expensive and typically have a minimum charge (one hour is normal), sharing the costs between eight guests should not be an insurmountable problem. More importantly, considering what you get in return, leasing a private jet for your next bachelor party can be an affordable yet memorable experience for you and your guests.
First of all, private jets differ from other aircraft because they are powered by gas turbine engines rather than propellers or pistons and have access to more than 5,000 airports in the U.S compared to just 550 for commercial airlines. Moreover, the United States has more private jets (11,261) that anywhere else in the world, so you and your friends can probably find a private jet leasing service near you. Second of all, although you can pay as much as $8600 for more luxurious and larger aircraft, leasing a private jet for the minimum of one hour can run just over $1600. Divided between the groom and seven party guests, this means  that the per passenger cost is just over $200 each placing the rental of a jet airplane for one hour on par with a good dinner, a few drinks and a cigar in an upbeat restaurant. 
Prices
This does not mean that this bachelor party alternative is cheap by any measure. A survey by Forbes identified the following hourly prices for private jet rentals in the United States today:
Gulfstream 550 $8,640
Global Express/XRS $8,045
Falcon 7X $7,865
Falcon 900 $6,075
Gulfstream IV $5,884
Challenger 604 $5,053
Citation X $4,533
Hawker 800 $3,582
Citation Excel/XLS $3,388
Learjet 60 $3,347
Citation Mustang $1,674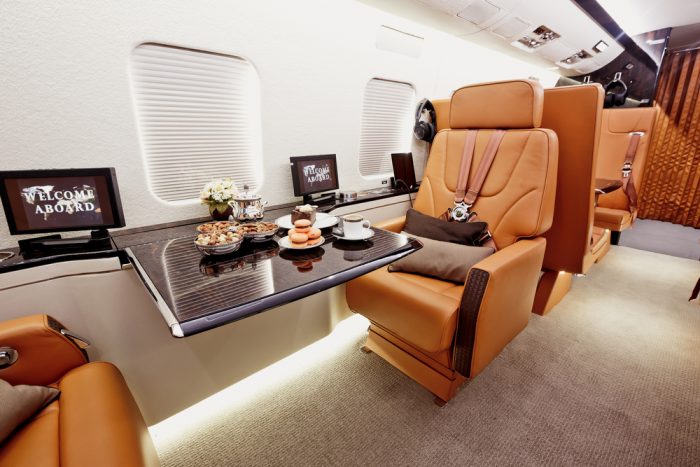 These prices are clearly much higher than comparable travel on commercial flights (even as much as three times as high as first class seating), but the adage that "you get what you pay for" is certainly applicable to private jet travel. Although a full weekend adventure on a Gulfstream 550 for you and your friends will cost more than $106,000, there are several less-expensive alternatives available that can help create the lavish bachelor party you've always imagined. Best of all, you and your buddies won't have to wait in long airport lines, have to go through baggage claim, get "patted down" by surly and overly officious Transportation Security Administration agents – and you don't even have to take your shoes off. All you have to do is show up, pay your money and you can fly wherever you want – whenever you want – for as long as you want — and in style. Furthermore, by flying above most inclement weather, private jets are able to provide a sensational and relaxing travel experience that cannot be duplicated any other way.
How to Book
Most importantly of all, some private jet rental services specialize in bachelor parties, including Talon Air (telephone number 888-TALONAIR) which offers private jet travel to virtually anywhere in the world for you and your guests.  This jet airplane rental service offers large aircraft (i.e., Gulfstream IV-SP N394AK and the Gulfstream V N691RC) that can accommodate up to 14 passengers in true style. Likewise, Talon Air offers smaller aircraft such as the Hawker 900XP that can accommodate up to eight bachelor party guests. Indeed, Talon Air is ready and waiting for your bachelor party reservations and they can be ready in as little as 3 hours from the time of your reservation to take-off.
Villersjets.com is another outstanding private jet broker service.  All you need to do is run a search on their website to price out the flight to the destination of your choice.  Even if you decide last minute you want to show up in style, they can have a jet ready in as little as two hours.  The total size of your party will determine what size private jet you need and the price.  They also offer empty legs, which are much cheaper, but you would have to plan your bachelor party around the availability.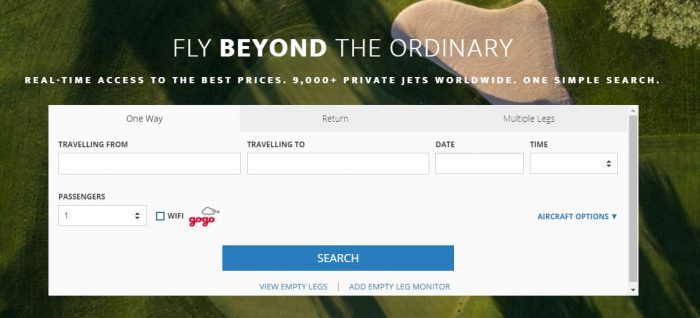 In addition, Stratos Jet Charters, Inc., headquartered in Orlando, Florida which can be reached at (888) 593-9066, also specializes in bachelor parties. This private jet rental service The private jets offered by Stratos feature wide aisle space, comfortable couches and captain's chairs as well as flat floor for easy walking and plenty of head room. Like most other private jet airplane rental services, Stratos offers in-flight beverages and fine cuisine for you and your party guests. Moreover, Stratos also specializes in trips for up to 14 bachelor party guests to three of the biggest bachelor party destinations (Las Vegas, Nevada, Miami, Florida and New Orleans, Louisiana).
Of these three destinations, Las Vegas stands out as the premiere venue for bachelor parties and cushy private jet transportation to and from Sin City represents the height of bragging rights. Furthermore, private jet airplanes can use other major airports in Las Vegas besides McCarran International (which is always busy and hot), including Henderson Executive, Las Vegas Muni and North Las Vegas airports, allowing more time for fun in the sun (and the casinos of course). Certainly, you and your friends don't actually have to fly to any specific destination if you don't have the time, inclination or funds – you can simply fly over your home town for an hour or two while enjoying the numerous luxuries of private jet flight. 
While you and your friends have numerous wide-open options available for bachelor parties, try to avoid holiday weekends (especially the Super Bowl which is the largest single event destination for private jets in the world). It is reasonable to suggest, though, that your jet airline rental service will make every effort to accommodate your plans for whatever dates you require. In addition, many jet airplane rental services offer free concierge services that can help you and your friends arrange for in-flight catering, ground transportation, hotel reservations and even hard-to-get tickets for major events.
Jet Memberships / Empty Legs
A new concept that has picked up momentum the past few years are discounted flights or programs that offer steep discounts on empty legs of private jet routes.  Example of  an empty leg (or what some charter companies call a deadhead or repo) would be someone rented a jet from New York for week getaway to Miami, but the plane must now fly back to New York after they drop off the passengers with no new guests onboard.  Since the private jet broke  knows that plane must still fly back to New York, they are able sell seats on that empty flight at highly discounted prices.  One company that specializes in this is Sahara Jets
Search for Empty Legs on Villiers Jet
If you get hooked on flying private and have the trust account to back it up, some companies now offer yearly memberships which give you instant access to all open legs available and discounts on reserving the entire jet — perfect for a bachelor party.  Prices can range anywhere from $8,000 to $15,000 yearly, but you will be able to reserve a seat on an empty leg flight anywhere in the country, included at no additional cost.  Some companies that specialize in this type of membership would be Jetsmarter.com and Delta Private Jets.
Conclusion
Many people include just flying first class on a commercial airline in their bucket lists, but few are actually able to cross this item off. Just think how great it would be for you and your guests to outdo even first-class travel by having your bachelor party on a private jet. A photo album replete with pictures of you and your bachelor party guests having fun at 40,000 feet will provide a lifetime of memories that you can share with your grandkids. While you and your guests will be limited in your abilities to consume as much alcohol as you would prefer (as opposed to say, a bachelor party barge or charter cruise ship) due to safety considerations, private jet rental services make it their business to ensure that bachelor party guests enjoy the same type of luxurious travel experience that billionaires just take for granted.  In sum, if you and your bachelor party guests want to experience something truly different – and really fun – lease a private jet for a few hours and party in the skies.