Bachelorette Party Travel Insurance Guide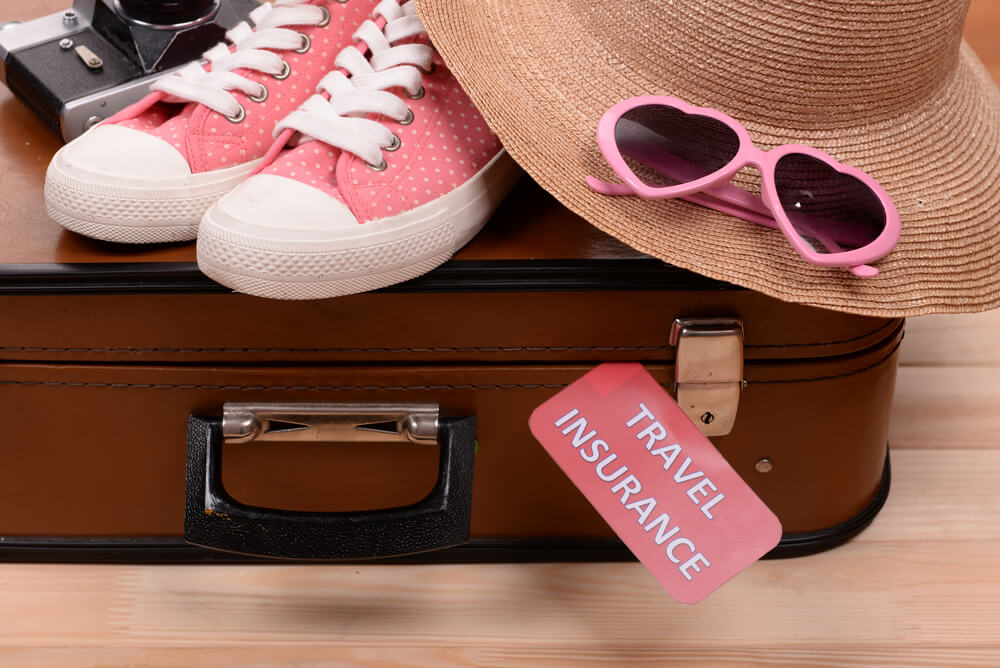 This post may contains references to products from one or more of our advertisers. We may receive compensation when you click on links to those products or services. Please also consider
donating to our website.
So, you are about to book your bachelorette party and had a question about travel insurance.  Yes, you have seen this advertised throughout the web but never understood what it was and whether or not you needed to purchase it.  This article will tell you exactly what this type of insurance this is and will also let you know if it's truly needed.
What is Travel Insurance
Travel insurance is basically an insurance policy that protects you while traveling.  This is a supplemental insurance which would work together or be added on to existing insurance policies you currently have.  It can protect you from situations which are beyond your control such as illness to you or a family member, death to a family member or travel partner, extreme weather conditions, canceled or delayed flights, missing baggage and more.
What is the Cost?
The cost for travel insurance plan is determined on several factors.  One would be the location you are traveling, another would be your age, another being the state you currently live in, the insurance package selected, and the final one being the total cost of your trip that is being insured.  
Now most companies that offer this type of insurance will have several packages or tiers for you to choose from.  For example, Travelex Travel Insurance offers three main plans, Travel Select, Travel Basic, and Travel America. The Travel Select and Travel Basic Plans offer a number of different upgrades, which allow you to optimize your insurance to suit your needs.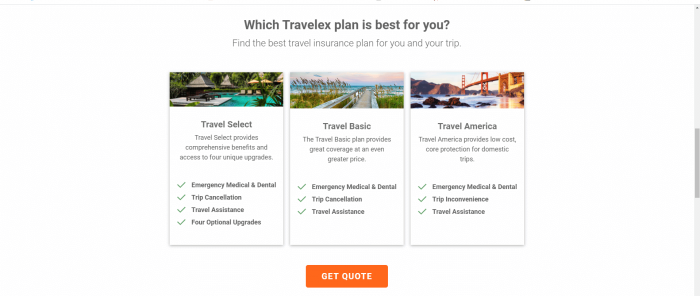 The cost for your insurance depends on several factors. It not only considers the level of protection, but factors like when you are traveling, where you are heading, and your home state. To help you compare costs, we compared the costs for insurance for a $3000 spring break trip to Mexico. Only the Travel Select and Travel Basic plans were available because it is not a domestic trip. The costs were $87 for Travel Basic and $119 for Travel Select.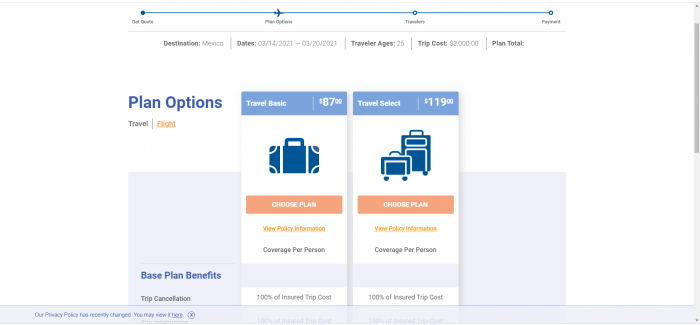 We also ran the same search assuming a domestic destination. The costs for Travel Basic and Travel Select stayed the same, but the Travel America costs were only $60, or roughly half the price of the Travel Select plan, despite the fact that Travel America offers some better benefits.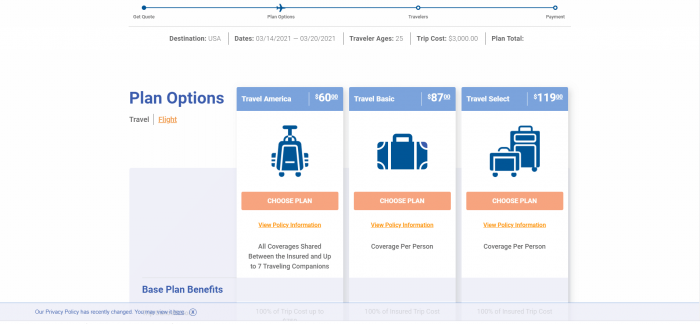 Choosing the right plan depends on you. The Travel America plan is the most affordable for domestic travel and it covers up to 100% of Trip Costs up to $750 and up to 150% of Trip Costs up to $1,125, baggage benefits, benefits for missed connections, trip delays, emergency medical expenses, sporting equipment delays, trip inconvenience, pet medical expenses, security deposit protection, pet return, and travel assistance. It also covers kids who are traveling with you. However, the maximum trip cost is $750, and the maximum duration is 14 days.
Travel Basic covers up to $10,000 trip and 30 days and pays up to 100% of trip costs for cancellation or interruption, offers a frequent traveler benefit, offers missed connection and baggage benefits, including a smaller baggage delay benefit. It offers emergency medical coverage, emergency medical evacuation and repatriation, and accidental death or dismemberment coverage.
Travel Select covers up to a $50,000 trip of up to 364 days. It covers 100% of the trip cost for cancellation and up to 150% of trip cost for interruption. It offers license fee reimbursement, benefits for trip delays and missed connections, benefits for baggage and baggage delays, emergency medical expenses, sporting equipment delays, emergency medical evacuation and repatriation, and accidental death and dismemberment.
Do I Need Travel Insurance?
This simply answer is YES, specifically if you are traveling outside the U.S. as many health insurance companies only cover issues that occur within the U.S.  Add all the additional benefits for missed flights, lost bags, interrupted trip, or canceled trip and it's a no-brainer.
Many reward credit cards now include some aspects of travel insurance in your member benefits.  Below are a few that offer this service but make sure you check with your credit card company before purchasing an additional policy, as you may not even need it.
COVID-19 and Travel Insurance
The COVID-19 pandemic has had a chilling effect on world travel and was initially a reason many people were cancelling their trips. However, with COVID-19 being spread around the globe so that it is a known condition, many travel insurance policies are not going to cover cancellation because of local outbreaks, either in your home area or in your destination. They should, however, still cover cancellation, interruption, and emergency medical expenses related to COVID-19, if you have to cancel or delay your trip because you are ill or if you get COVID-19 while traveling. Some companies are specifically excluding COVID-19 coverage, so you want to check with your provider. You also need to make sure that if you are in quarantine because you have been exposed to COVID-19 that you are still covered. You may want to add "cancel for any reason" coverage to your travel insurance plans, which will not only cover you if you are quarantined, but also if there are travel bans or travel advisories after you make your plans.
How to Purchase
To purchase travel insurance for your upcoming bachelorette party, click over to the Travelex Travel Insurance website and begin the application process.  It will take you about 10-minutes to complete the various trip information and contact information required.  You will then have to pay for the policy in full with any major credit card.  Within an hour of processing your application you will receive an email with your policy information which you should print out and keep with you.
Reward Credit Cards
Many reward credit cards now include some aspects of travel insurance in your member benefits.  Below are a few that offer this service but make sure you check with your credit card company before purchasing an additional policy, as you may not even need it.
Chase Sapphire Preferred
This credit card offers the following travel insurance which is included for cardholders.
Travel Accident: $500,000
Lost Luggage:  $3,000
Delayed Luggage: $500
Trip Cancellation:  $10,000 in coverage per trip
Trip Delay: $500 in coverage per ticket
Citi Prestige
Rental Car: $100,000
Medical Evaluation: $100,000
Trip Cancellation:  $5,000 per traveler, per trip
Trip Delay: $500 per traveler, per trip
Baggage Delay:  $500 per traveler, per trip
Lost Luggage:  $3,000 per bag with max of $10,000 per trip
Anything Else?
If you are someone that has pre-existing medical conditions you should look into whether that is covered or not.  Most insurance companies will include this type of coverage assuming that:
You must be medically able to travel on the day you purchase your policy.
You must insure your full nonrefundable trip costs.
You must purchase your travel insurance policy 14-days of making your first trip payment or deposit.
You should also look into any specific pre-existing conditions that are not covered (such as bipolar disorder or Alzheimer's disease) and the max that the policy will cover for conditions that are covered (usually no more than $50,000)
Conclusion
After reading this article you should now know exactly what travel insurance is, how to purchase it.  Remember your bachelorette party should be an enjoyable time with no worries.  You never know when life is going to throw you a curve ball, so it makes complete sense to protect your investment and insure your trip.  Most likely you already have insurance for your health, car, cell phone, house or rental, and many other things.  Yes, this will be an additional cost added to your trip, but it will be one that is totally worth it should something come up.
We recommend using Travelex Travel Insurance for your policy as we have used them for many of our trips, and have even filed a successful claim with them as well, when we were supposed to attend a bachelorette party cruise, that was canceled by a hurricane.