Bachelorette Party Songs (2023 Edition)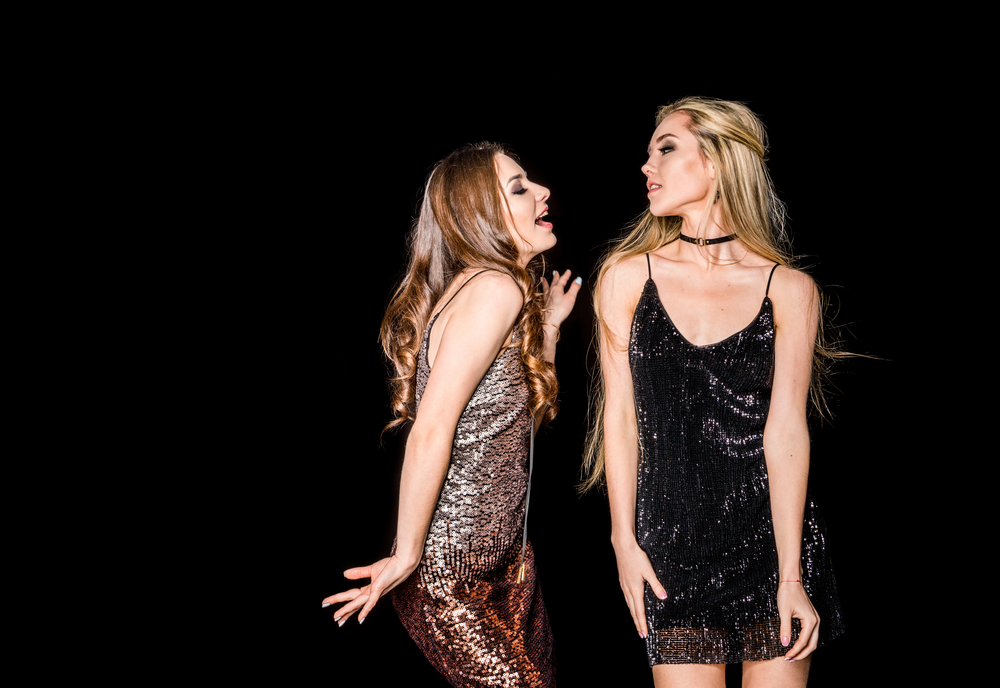 This post may contains references to products from one or more of our advertisers. We may receive compensation when you click on links to those products or services. Please also consider
donating to our website.
Planning a bachelorette party in a home, hotel, or other private space?  If so, have you thought about the music?  Music is an important part of a party.  Even if you do not plan to be doing any dancing, music can help set a party's vibe.  The perfect bachelorette party playlist combines some old school favorites with some of current top 40 favorites and uses music to invoke emotion and create excitement.  That is why we have put together a 2017-2018 version of our bachelorette party playlist.  Of course, modify as necessary- you know your group's favorite and least-liked songs better than we do!  
Pregame / Getting Ready Songs
We all know that the night does not really start when you walk into the party.  Instead, it starts while you are getting ready for the party.  Getting into the right groove can make the difference between a so-so night and the best night of your lives.  Maybe you are getting ready together as a group at a destination bachelorette party, or perhaps you are just listening to music on your own while getting prepared.  Either way, these pregame songs will help you set the mood for a fantastic evening:
Run the World (Girls)- Beyoncé.  This girl-power anthem is a great way to get ready for a night out with your girls. 
Sorry, Not Sorry- Demi Lovato.  Maybe the bride doesn't have a bad breakup in her past, but we know at least one of the women getting ready for the party does.  This "eat your heart out" ode is just the thing to remind you all how sexy you are.
Sexyback- Justin Timberlake.  Speaking of reminding you that you are sexy, this old school throwback remains current because, damn, Justin does not just bring sexy back in this song, he helps redefine it.
Fancy- Iggy Azalea and Charli XCX.  So, maybe you don't want to trash the hotel, but getting drunk on the mini bar is a patented pre-gaming move!
Crazy in Love- Jay Z and Beyoncé.  If the bride isn't feeling this song while getting ready for her bachelorette party, then it's time to get a little worried about the bride!
Honey I'm Good- Andy Grammer.  The bride is going to be looking fine af.  There will be gentlemen trying to get her attention.  This cutesy love song by Andy Grammer is one of our favorite reminders that, yeah, the bride might be tempted (and tempting), but that she's probably going to let them make someone else's night, not hers. 
My Chick Bad- Ludacris feat. Nicki Minaj.  Another anthem about sexy women, but with a little bit of an edge; this is a great song for getting ready and an even better one for pregaming.
Tik Tok- Kesha.  Because the party don't start till you walk in.
Dance Party Songs
What songs make you want to get up and move?  This might depend on who you are and what kind of music is your favorite, but we dare you to listen to our dance party favorites and not get up and move. 
Move to Miami- Enrique Iglesias feat. Pitbull.  We told you that we like a Latin/Caribbean vibe and this song absolutely has the vibe we love.
A Little Party Never Killed Nobody- Fergie, Q-Tip, Goon Rock.  Cuz you gonna dance until you drop.
Filthy- Justin Timberlake.  We already told you that the boy redefined sexy; and apparently filthy is now in the definition.  We dare you to dance to this song and not feeling like a diva. 
Tip Toe- Jason Derulo feat. French Montana.  The soca beat in this song makes it incredibly danceable, even if you have two left feet.  It is a great way to get people up and dancing. 
Single Ladies (Put a Ring on It)- Beyonce.  You know why.
Work It- Missy Elliot.  There is a reason this old school favorite shows up on bachelorette party playlists everywhere.
Despacito- Luis Fonsi, Daddy Yankee, feat. Justin Bieber.  There is a reason this song was all over the airwaves in 2017.  It's incredibly danceable, but we actually love it as karaoke song if you know a little Spanish.
I Love It- Icona Pop feat. Charli XCX. If you listen to the lyrics, this is a breakup song, but much like Lovato's Sorry, Not Sorry, it is a power anthem, not a sad song.
Humble- Kendrick Lamar.  Because who hasn't wanted to tell a B to be humble and sit down?  Something about this song reminds us of an old-school sing-off and makes us feel like we're in a Pitch Perfect movie when we sing along.  We think that makes it perfect for girls' night!
Blurred Lines- Robin Thicke, Pharrell Williams, T.I. Honestly, the lyrics of this party night anthem give us a pause, but the catchy refrain and the sheer danceability makes us put it on our list, but not till we start to get close to the end of the night.
Karaoke Songs
S&M- Rihanna.  So, we like sexy karaoke songs.  Who doesn't.  You might be bad, but you're perfectly good at it.
Buttons- The Pussycat Dolls.  Want to do a little group karaoke?  Drop all the jaws in the club with a performance of Buttons.
Toxic- Britney Spears.  Britney is great for karaoke because her cutesy little-girl voice is easy to imitate, and it is easy to capture the fun flirtatious vibe of her music.
Lady Marmalade- Christina Aguilera, Pink, Mya, and Lil' Kim.  Another group karaoke number, this sexy song is another one that makes you happy to be surrounded by your girls.
Roar- Katy Perry.  Okay, how drunk are you?  Because, this song is vocally complex enough that you either have to have some pipes or save it till the end when no one cares, because it is a really fun song to sing!
End of the Night Songs
Shape of You- Ed Sheeran.  This song could set the mood for the beginning of the night, but it is also slow enough to help you wind down.  We are in love with its lyricism and also for the honesty about modern love.
Feel it Still- Portugal, the Man.  Not sure why, but this song has a very modern "Rat Pack" vibe to it that makes us think of sitting around having the last drink or two while recapping the night.
Havana- Camila Cabello feat. Young Thug.  No real reason, we just love this song.
Death of a Bachelor- Panic! At the Disco.  A reminder that the loss of the freedom of the single life while it may be bittersweet, is going to be worth it.
Marry You- Bruno Mars.  One of our all-time favorites, we love this song as a wrap up to the bachelorette party, especially if the party is right before the wedding.  If you can't make it part of the bachelorette party playlist, we heartily recommend playing it for the bride when she is actually getting ready for the wedding.  The lighthearted happiness of this song is exactly what she should be feeling as she gets ready to get married.
Perfect- Ed Sheeran.  Yes, it is another sappy love song, but we love it.  What a great way to fall asleep after a great bachelorette party, reminiscing about the past and enjoying the future.
Conclusion
Music preferences can be pretty personal, but we think our bachelorette play list has something for everyone.   Have any other great suggestions?  Share them in our comments or include your own playlist on our community forum.