The Best Bachelorette Party Photo Props (2023 Guide)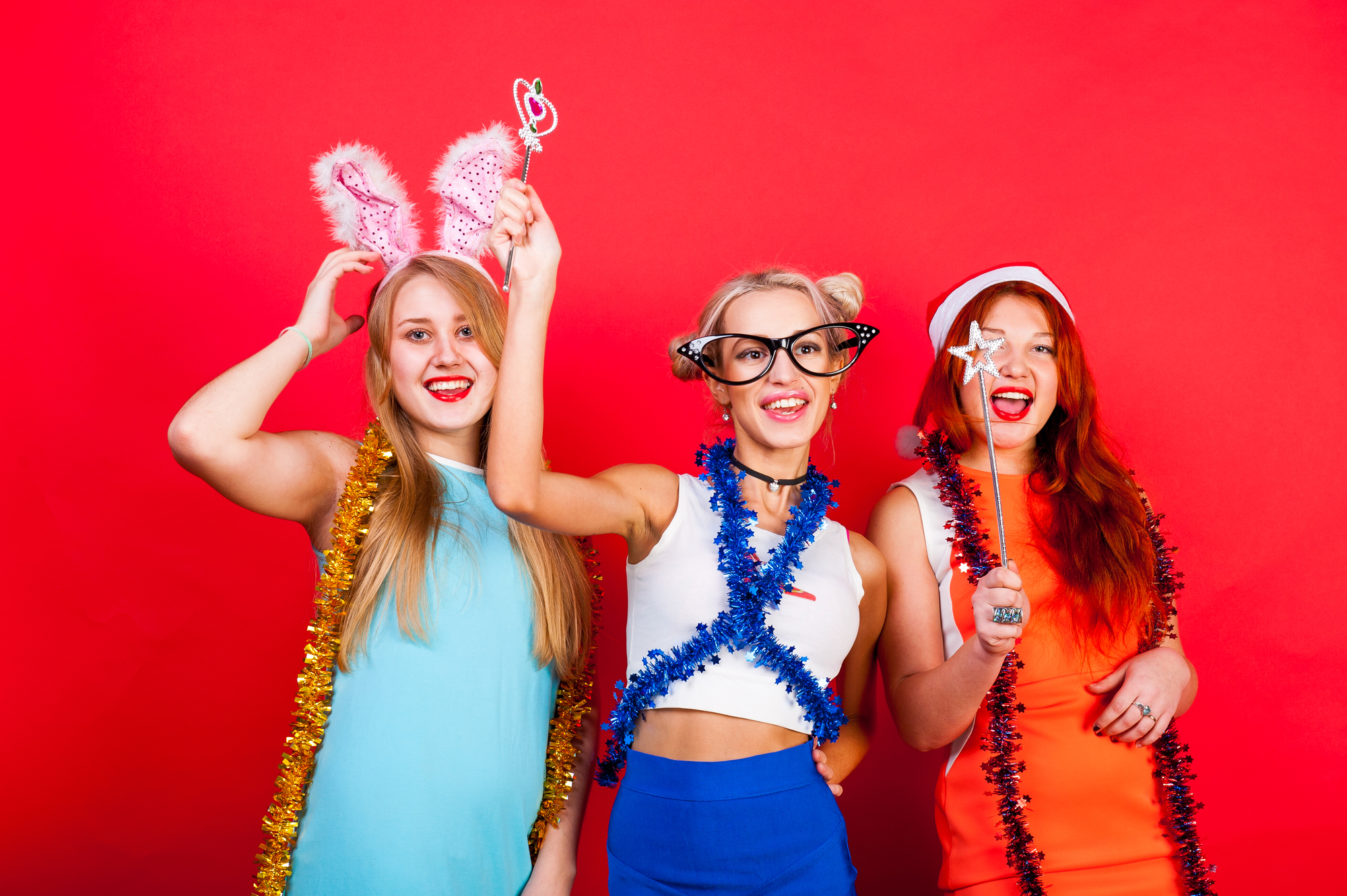 This post may contains references to products from one or more of our advertisers. We may receive compensation when you click on links to those products or services. Please also consider
donating to our website.
When you talk to bachelorettes about what they want at their bachelorette party, almost all of them love the idea of great pictures that capture what a great time people were having.  In fact, one of the biggest regrets people have is not getting enough pictures commemorating their wedding celebrations, whether those celebrations are showers, bachelorette parties, engagement parties, or the wedding.  Unfortunately, it can be harder than you think to get everyone camera ready.  While some people are always selfie-ready, with smiles on their faces and their poses perfected, the reality is that many people dread photos.  Instead of looking happy and like they are having a great time, they freeze up in photos and look a little awkward.  The way to help people break through that is by making photos fun.  That is why bachelorette party photo props are a fabulous idea.  Another fabulous idea is to have a drink or two before the photos come out; people take better photos when they are relaxed and mildly buzzed translates into great photos!  
Create Photo Opportunities
One of the best ways to make sure that you get some fantastic bachelorette party pictures is to make sure and create photo opportunities.  This means that you want to set up a way to take photos as a group, but also to take some pictures of the bachelorette with each of her guests, as well as photos with groups of guests.  If you are having the bachelorette party out and about, then you want to arrange for people to take some photos for you.  Who you pick is going to depend on where you are at.  A server is a great choice, especially if you are in a party room or have reserved a big table.  If you are out at a bar, then getting people to take some pics of you can become as much of a party activity as a practical way to get party pics.  However, if you have control of your own space, it might be worth the effort to set up a photo booth.
This guide will provide you with everything you will need to make sure you have the best bachelorette party photo props.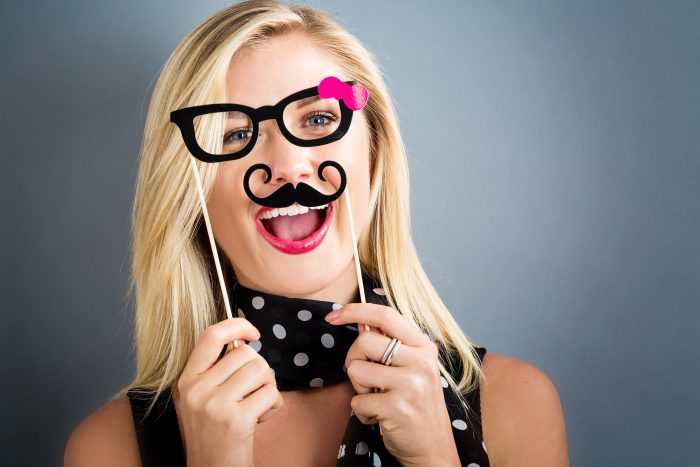 Photo Booths
When we say photo booth, what do you picture?  If you are of a certain age, you almost certainly think of an actual booth.  After all, old school photo booths were smaller kiosks that you could crowd into with a friend or two, and you would get some instantly printed pictures.  While those photo booths are still available to rent, and are a great old-school way to get some bachelorette party photo pics, the concept of the photo booth is one that has really expanded with technology.  Now, while a photo booth might still refer to the classic booth, it can also refer to any space that has been set up for picture taking.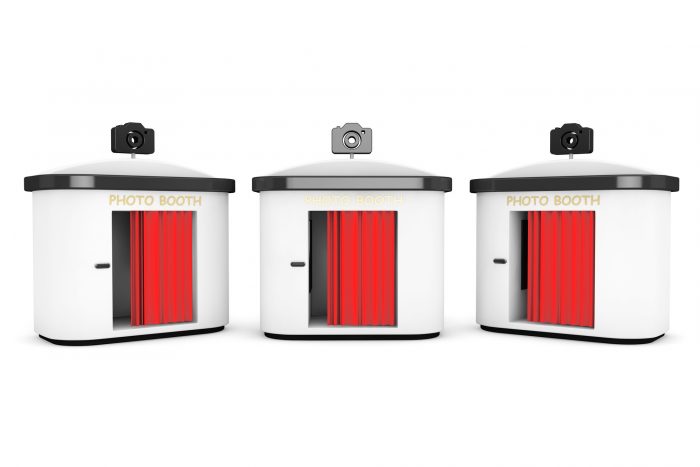 Set Up Your Photo Booth
While you can take your bachelorette party pictures anywhere, we love the idea of setting up your own photo booth.  This encourages people to take photos throughout the night, but also frees you up from picture-taking duty.  Plus, it helps ensure that you get all of the photos from the evening.
What do you need to set up a photo booth?  Sure, everyone's phone has a camera, but someone you know has a digital point-and-shoot camera and a tripod.  Borrow it.  Having a camera set up at the perfect height, for people to use when they go take their pictures, will free you from photo duty.  No one you know has one?  If you are going to be throwing the bachelorette party and maybe some showers, you might want to consider buying one and making photo booths your thing.  We like this camera set, which even comes with a remote to take the pics:
What else do you need?  Depends on how extensive you want to get, but we are going to tell you how to create a great photo booth that will give you excellent pictures, but on a budget. 
Have you ever noticed the difference that lighting can make in a photograph?  You can get the best lighting by employing a lighting umbrella or two, and using a spotlight.  You can find affordable lighting umbrellas on Amazon:
You can also get complete photography spotlights for a steal on Amazon:
Once you have your lighting figured out, you need to figure out how you are going to hang your backdrop.  How you hang your backdrop depends a lot on where you are hanging your backdrop.  Depending on the location, you could use removable strips, tape, hammer and nails, clamps, wires, or even curtain or shower rods to hang up your backdrop.  If you are going to a new location and you want to set up a photo booth, check out the location beforehand so that you have what you need to hang up your backdrop.
Design and Create Your Backdrop
One of the secrets to a great photo booth is to create a fun backdrop for your photos.  Usually, this backdrop is going to reflect the theme of the bachelorette party.  If you are having a Mermaid party, then it makes sense for the backdrop to reflect an under-the-sea theme; etc.  However, what about if you do not have a theme for the party?  Many bachelorette parties do not have any type of specific theme, but might just be focused on color combinations and generically themed.  You can make your backdrop a generic background with those colors and maybe a bachelorette party sign.  Those are great and let the guests bring the personality to the photos.  However, you can also turn your background into a prop on its own.  A greenery background lets your guests appear to be laying on a field of grass; a curtain of lights lends a magical, soft glow to photos; metallic backgrounds are a favorite; beaded curtains lend an instant party vibe; huge flowers are a lot of fun; and who can argue with a rainbow curtain for an LGBTQ bachelorette party?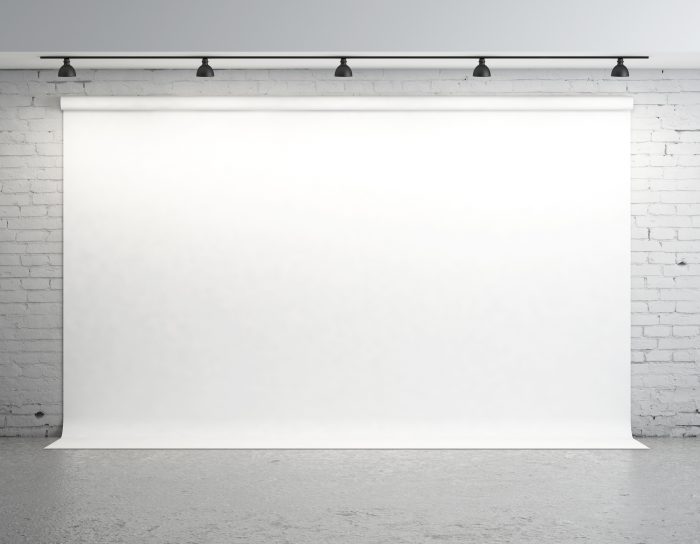 If you are not sure what you want for your backdrop, you should check out Pinterest.  There are tons of photos of great backdrop ideas that people have used for their bachelorette party photo booths, and every day people are adding tons more ideas.  However, let's face it, not all of us are super-crafty people who can create awesome photo props on our own.  That does not mean that you are stuck without a great backdrop.  Instead, think outside of the box.  If you cannot find the photo booth backdrop you want, consider looking for a shower curtain with the same theme! 
We love the huge flowers on this watercolor curtain:
This shimmer scale curtain is one of our favorite backdrops for a mermaid party:
Want a cool, rustic backdrop for your photos?  You do not have to find an old-barn for the party to get that old-barn vibe:
Cowgirl up with this cute shower curtain backdrop:
Taking some roaring 20's or gangster photos?  Consider this backdrop:
We also love this speakeasy curtain:
The magical unicorns are another big favorite with us:
For a fiesta-themed party, we love the idea of this traditional embroidery look fabric:
Of course, with a fiesta party, you may also want to go with a traditional serape blanket look:
These photo booth signs work with any type of décor, let your guests know what is going on, and tell them how to work the photo booth, just in case they do not know:
Bachelorette Party Photo Props
Once you have picked out the perfect backdrop, you want to pick the props that will really make your photos pop.  Which props you pick really depend on the theme of the party and the backdrop you have selected.  You want to make sure that they go together, because you want the photos to have a cohesive look.  You want to avoid going with a themed background and generic props, but you can go with a relatively neutral background and offer a variety of different types of themed props.  So, keep in mind that mixing and matching is a perfectly good option, as long as you do it the right way. 
If you do not have a specific theme in mind, do not freak out.  There are super-affordable sets of photo props you can find almost anywhere.  For example, on Amazon you can pick up a 72 pack of bachelorette party photo props for under $10.  This generic set contains a bunch of paper photo props, most on sticks to hold up for your photos.  It is a great intro set for a bachelorette photo booth:
Mugshots / Booking Photos
Want to show a little more personality?  We love the mugshot/ booking photo idea for some bachelorette party photos with a twist.  (Do not choose this option if any of the guests or the bride have a record and do not have a sense of humor about it).  Each sign has a reason that the person is being charged, like for being a blonde bombshell, shot queen, or booty caller:
If you are going to go with this mugshot photo option, then we think you want to choose one of these lineup backdrops, which will complete the mugshot look:
Flowers, Flowers, and More Flowers
If you are going with a floral backdrop, we love these simple and pretty floral props:
We also love the idea of using different types of flowers for people to hold as part of a flower background or even against a greenery backdrop.  You can pick up some silk flowers in bulk and your guests can use them to decorate themselves in a variety of ways:
Big 'Ole Diamond
One prop that works in a wide variety of contexts is the big diamond ring.  You can do the diamond ring with balloons, with huge costume rings, and even in blow-up toys.  We like the diamond ring piñata:
Of course, if you are going to rely on the diamond ring theme, you want to make sure everyone has a huge sparkler to sport in their photos.  We love this outrageously big, light up fake diamond ring:
Roaring 20s
People have really been loving the idea of the Roaring 20s theme, whether they call it a Roaring 20s party, a flapper party, a gangster party, or even a Great Gatsby party.  They are all set around the same time and use the same type of props to really bring the photos to life.  If you went with a Roaring 20s theme for your photo booth, you can get a ton of adorable photo props that come in ready-made sets like this one on Amazon:
Punch up the vibe with this Great Gatsby themed backdrop for the photos:
Want to kick things up a notch or two?  Go with props that are a bit more substantial, like this gangster car:
Or pick up a few costume sets so people can really dress up in their photos:
Wild, Wild West
We love the Old West photo booth opportunity, just because it is a lot of fun and can really get people out of their boxes.  Think back to when you were younger and you would visit an amusement park and head to their old time costume photo place.  The wild west photos were some of the most popular, because they were a ton of fun.  You can even create the same sienna coloring in the photos to really complete the whole old west vibe.  We love this idea for just about any type of bachelorette party.
We say start with the iconic swinging door backdrop:
Cowboy hats are an iconic part of any Old West look:
You also can't forget your six shooter:
Want to really make the photo booth fun?  Pick up a couple of costumes for people to slip on over their clothes.  We love these costume dresses:
Under the Sea
The mermaid bachelorette party theme just seems to be getting more and more popular, and you can find all types of neat accessories for a mermaid photo booth.
Want to create the look of a tail with very little effort?  Consider this cut out:
These hand held props bring classic photo prop appeal to the mermaid party:
Pull on this mermaid tail for a real mermaid look:
Fiesta
The fiesta bachelorette party theme is another one that just seems to be getting more and more popular and it works with several different types of parties, including destination bachelorette parties. 
We love the regular paper photo props:
Everyone could use some sombreros for a fiesta party:
We love the look of these huge paper flowers;
We love the vibrant colors of this fiesta backdrop, which is not just fantastic for pictures, but also a great way to continue the party theme and décor.
For every fiesta party, we think maracas are an absolute necessity:
Life's a Beach
Everyone loves the idea of a beach party.  Of course, we hope that if you are having a beach themed bachelorette party that you are getting to have it on an actual beach, but if you cannot you can still find some really cute beach backdrops:
These luau or summer-themed sunglasses are great for a beach photo booth:
We love these luau themed props, especially the fabulous flamingos:
Summer themed props are great additions for a beach themed party:
Chalk it Up
Want some flexibility with your theme?  We love these chalk signs because they let your guests really make their props personal.
Conclusion
One of the best things about throwing an epic bachelorette party is having the pictures to prove it.  While the iconic bachelorette party selfies are going to play a role, if you want some really good photos, take a little extra time and effort to set up a photo booth and supply some photo props.  Not only does this encourage guests that might be photo shy and get them to take pictures, but it also helps loosen up your guests.  The end result is not just pictures that go with the theme of your party, but pictures of guests who are more relaxed, which lets the good times come through in the photos.  As a party planner, that is exactly what you want.