Plan Your Bachelorette Party at Isla Rosa in Rosario Islands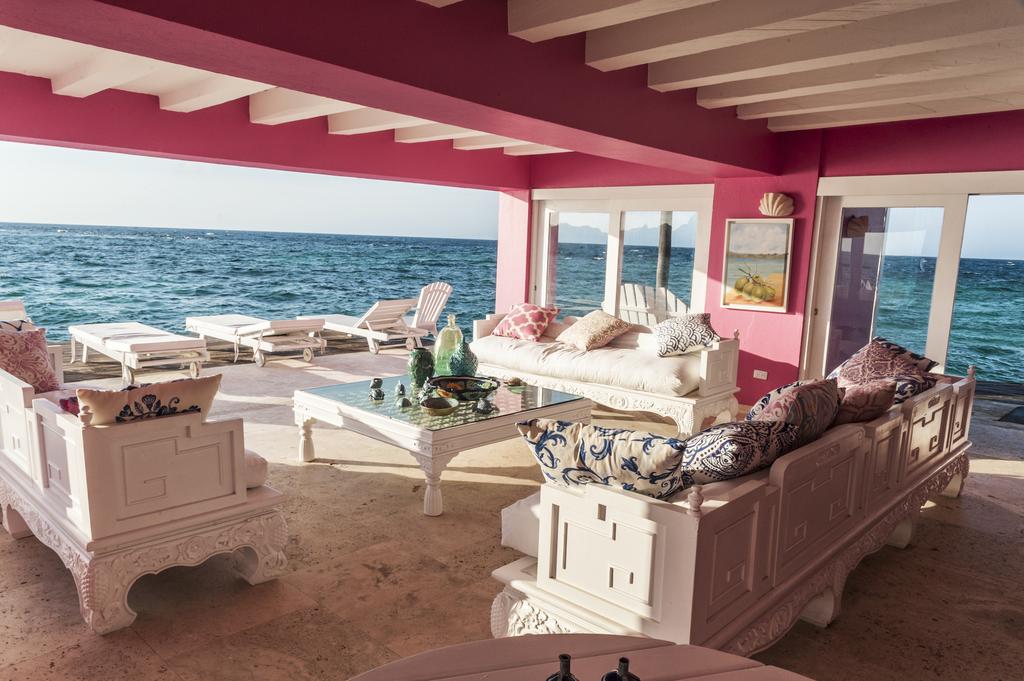 This post may contains references to products from one or more of our advertisers. We may receive compensation when you click on links to those products or services. Please also consider
donating to our website.
Location
Isla Rosa lies in the Caribbean Sea and is a private luxury island. The tropical sea breeze and turquoise water allows for a relaxing, tranquil experience, making it the perfect destination for a bachelorette party.
Located approximately 18 miles (30 km) from Cartagena, Colombia, the island is situated in the Rosario Islands Archipelago. The island's resident chef offers Caribbean and Peruvian fusion seafood cuisine only with fresh ingredients. Although the specialty is seafood, the chef can cater to any food preference and type of cuisine.
Price
The price per night is $824 with 4 bedrooms available, 9 beds, and 4.5 bathrooms. A total of 14 guest can be accommodated. Along with the grand splendor of the water and sky, the white sandy beaches are perfect for walking on barefoot and taking in the sun. If one feels adventurous, one can take a dive and see the nearby coral reefs that surround the area. For those looking to get the 'royal treatment' the private hideaway comes with cleaning, butler service, and a private chef. Some amenities include a laptop friendly workspace (with wifi), free parking, coffee maker, microwave, oven, refrigerator, stove, and private entrance. Security is also available 24 hours a day allowing guests to leave and enter any time they please as long as they use a boat to travel to and from the tiny island.
The Details
If you are planning an extended bachelorette party, do not worry, long-term stays are allowed:-) Guests can cook meals on the BBQ grill (or have the chef cook them for you) and can garden or relax in the backyard. Prices fluctuate depending on the time of year and day of the week.  Brody Jenner's fiancé Kaitlynn Carter who is currently having her bachelorette party here, paid $1,000 per night weekdays and $1,200 per night on the weekends making the total price of staying Isla Rosa $7400 for one week. Considering up to 14 guests can stay there and it includes a butler and chef, that is a bargain.
How to get there involves flying to Cartagena (airport code: CTG) and taking a boat to the Rosario Islands where Isla Rosa is located. Travel companies offer 7-hour tours from Cartagena to Rosario Islands. This can be a fun activity to do if the bachelorette party wants to see all that Rosario Islands has to offer. Because Isla Rosa is so small, the house is just a few feet away from the water. Your view for your ladies weekend will include 360 degree views of the beautiful turquoise water.
When booking flights to Cartagena, make sure you check out priceline.com, as they usually have the best prices and availability.
While the house can serve as a place for families, couples, and business, it is better suited for bachelorettes. The house itself is painted in a pink shade with white trimmed wooden features. Trees cover the tiny island and the roofs of the structures of the house offer a warm and casual atmosphere. There is a small boat on the tiny harbor that can be used to visit other small islands. The white sand has steps just a few feet away where guests can go swim in the water.
 The inside of the house is painted the same shade of pink with white wooden beams on the ceiling and white furniture in the rooms. The white dining table seats 14 and the outdoor/indoor area has three white sofas and 4 chaise lounge chairs for tanning and relaxing. The bedrooms are pink as well and have beautiful views of the surrounding waters with no windows on one side of the wall allowing the fresh air to come through. Although there is a pink scheme currently, the website, islarosa.com states they are currently upgrading the home. That means potentially new décor and new furniture.
  Still, the pink theme is perfect for your girl's weekend. So many women often use the color pink to signify a celebration of femininity. Whether it is a baby shower or a bachelorette party, nothing says 'girls just want to have fun' than a burst of pink. This kind of house is perfect for celebrating and relaxing, unwinding with the best of friends. This is why it would be great even long-term should friends want an extended vacation together. The price is so affordable with what you will receive. Imagine being stretched out on the sand next to the house and having a butler bring a freshly prepared drink or meal?
That is what bachelorette parties are about, letting loose and not having a care in the world. The best part of Isla Rosa is that it is part of an archipelago. That means guests can visit other islands if they please and really explore. When guests feel tired, they can return to the pink jewel of a home that is Isla Rosa and enjoy an excellent meal, knowing their rooms and bathrooms are clean and secure. The best feeling is going for a swim and stepping back into the house to enjoy a refreshing shower. Isla Rosa offers that due to the proximity of the water to the house. Very few places offer that and at such an affordable price.
Places that offer the level of space and fully equipped staff often cost 200% or 1000% more per day. Why not invite ten close friends and head on out to Isla Rosa to drink, eat good food, go for a swim, relax, and enjoy the finest of what life has to offer. Anyone would be a fool to pass it up. Aside from swimming and tours, guests can do other fun activities. Bachelorettes can snorkel, jet ski, and explore Cartagena should they desire mainland aesthetics.
Cartagena, Colombia is a beautiful city with a juxtaposition of old and new. The two main tourist neighborhoods in the city are Bocagrande and Old Town. Old Town has Spanish-Colonial architecture and some mom-and-pop shops next to new stores and restaurants. There are open air bars and friendly people. Guests from Isla Rosa can travel back and forth to Cartagena and or other islands in the archipelago and enjoy a variety of relaxation and leisure.
Conclusion
Make sure you consider Isla Rosa for your bachelorette party. It is a real treat and a unique jewel of the Rosario islands. Its current pink aesthetic makes the house inviting and especially fun for people that appreciate the feminine look. Anyone can come and enjoy the white sand, the beautiful coral, the excellent cooking, cleaning, and butler services, and the fun water-activities. Just picture the amazing coral reef and close friends snorkeling or jet skiing, then coming home to Isla Rosa and sitting on a white chaise to lounge and eat delicious, fresh seafood.
Life does not get better than that. And all of this is from $824-$1200 per night depending on availability, day, and pricing updates. If you divide this cost out by 10-14 of your closest girlfriends, it makes the trip much more affordable.  If Brody Jenner's fiancé can find this place good enough to have her bachelorette party, there is no reason why anyone else should not. It is such a unique destination that few places can offer at the bargain of a price. It is quality and luxury in beautiful and pleasant surroundings. Nothing can truly beat that, especially for parties.
You can book this property directly on airbnb.com and booking.com.
If you sign up for airbnb.com with our link you will also get $40 OFF your first reservation.