Bachelorette Party Hotel & Resort vs Rental House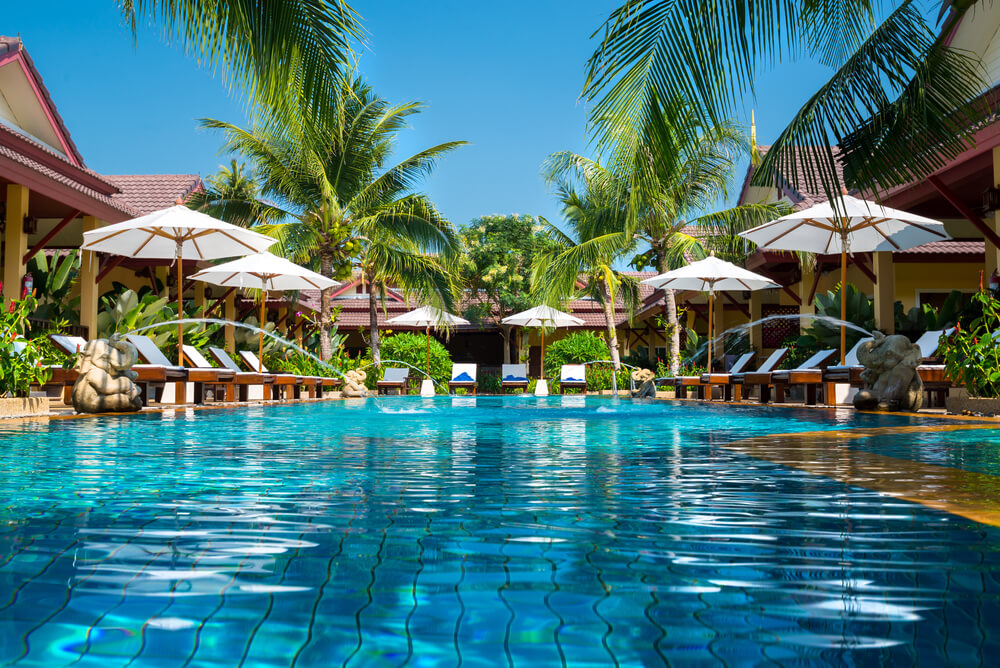 This post may contains references to products from one or more of our advertisers. We may receive compensation when you click on links to those products or services. Please also consider
donating to our website.
So you narrowed down your search of the best bachelorette party destinations to one.  Now comes the difficult part of finding a place where you and your girlfriends can pregame, socialize, play drinking games, and hopefully sleep.  
There are really only two options when it comes to accommodations and that is several hotels rooms or one rental house that can sleep all guests in the party.  You were probably wondering the pros and cons of hotel & resort vs rental house, so we went ahead and helped you out.
Hotel
This tends to be the most popular option amongst bachelorette parties, but that doesn't mean it's the best one.  Check out the pros and cons for booking a hotel.
Pros
Daily Maid Service – Yes this means you can make a complete mess of your bed or bathroom and when you come back from a long day of laying in the sun, drinking, or eating, your room will be back to the way it looked when checking in.  This is definitely a great option if your group is more the messy type.
On-Site Amenities – Another plus is that most hotels and resorts offer many amenities to guest.  Things such as a gym for working out, a spa for relaxing with the ladies, a pool and jacuzzi for bronzing your skin, a restaurant and bar for grabbing some cocktails before heading out.  
Security – Don't forget you are going to be a bunch of women that are most likely drunk.  With that being said it's always a good option to have security available 24/7 to make sure that you get to your rooms safely and to deal with any unruly guests.
Perfect Location – No matter what city or state you decide to spend your bachelorette weekend, you can always find multiple hotels within the heart of the city.  This means you can most likely walk to all the restaurants, lounge
Cons
Max Occupancy – The most amount of people you can squeeze into a room is four, and that is with two ladies per bed, and one bathroom.  This also means if you have a very large party you will have to book multiple rooms, which may not be the most cost effective decision.
No Parties – Although in the early hours you can probably have everyone in one room for a few shots, you will not be able to play loud music, sing karaoke, or warm up some pizza bites at 2am when you are completely wasted.  You never know who your neighbors will be in a hotel room, and if they are that older couple that has been sleeping since 9pm, you might be in for some trouble. 
If you decide the pros outway the cons, we recommend booking your hotels with booking.com, as they usually have the best prices (and also offer group discounts)
Rental House
Renting a house has been gaining more popularity the past 3-5 years especially as more and more inventory (homes) becomes available in popular destination.
Pros
Keep the Party Together – With a house you can keep the entire group together, which could make the weekend more fun.  Given that most houses will have multiple bedrooms.  There will also be plenty of bathrooms, so you don't have to cram 8 ladies into one bathroom to shower and get ready.
More Privacy – A vacation rental house will offer you much more privacy.  Whether you are lounging out by the pool (you can even go topless) or walking around the house in your nightgown, you don't have to worry about guests you don't know invading your space or fun.
Dinner Parties – Whether you and the ladies want to work as a team and prepare a gourmet meal, or you want to hire a chef to come cook dinner for you, you will have complete access to a kitchen and dining room.  This will also come in handy when you are trying to cook some late night appetizers from the freezer.
Party Time?  Whether you want to have a pool party or dance party in the living room, a house offers you much more flexibility for late-night shenanigans.  You won't have to worry about a neighbor calling security or the police (this does not apply to condos or apartment rentals)
Cons
Uber Ride Away from Fun  – Usually the large rental houses are sometimes on the outskirts of the city, which means it could be 15-20 minutes from the daytime and nightlife activities.  This is not a problem if you sign up for Uber and reserve an UberXL for your guests, but know this will be an added expense especially with all the round-trip rides.
No One to Clean Up – Normally rental houses to do not include daily maid service, which means you will be required for making the beds, keeping the bathrooms clean, and washing dishes (or loading them in a dishwasher)
Hefy Security Deposits – Renting a house usually comes with a hefty security deposit, especially for groups (more so for bachelor parties).  This is not a problem as they are always 100% refundable, unless of course you damage the house.
If you decide the pros outweigh the cons, we recommended booking your rental house with either Airbnb or Homeaway.  Don't forget to also check out our article on the best rental houses for a bachelorette party.
Additional Note:  Some of the most luxurious rentals in Costa Rica, Mexico, and Panama, include daily maid service, a chef, security, a waitress, and even a DJ.  If this is true to the house you decide to rent, you are eliminating many of the cons of booking a hotel room.  Just know that for an additional cost you can most likely get the following staff for any rental in the U.S. as well.
Conclusion
if you want to keep all your group together under one roof with more privacy, rental house is the way.  If you would rather be in the middle of all the action only a walking distance from all activities and someone to clean up your mess, a hotel is a way to go.  Discuss both options with your group along with all the pros and cons for each and then make your best decision based on the feedback provided.  Either option you choose will have no effect on the final outcome, which is to have a very memorable bachelorette party.
Have any other pros or cons we should include on this list?  Please leave them in our comments below or post to our forum.