How to Create the Best Bachelorette Party Hashtags (2023 Guide)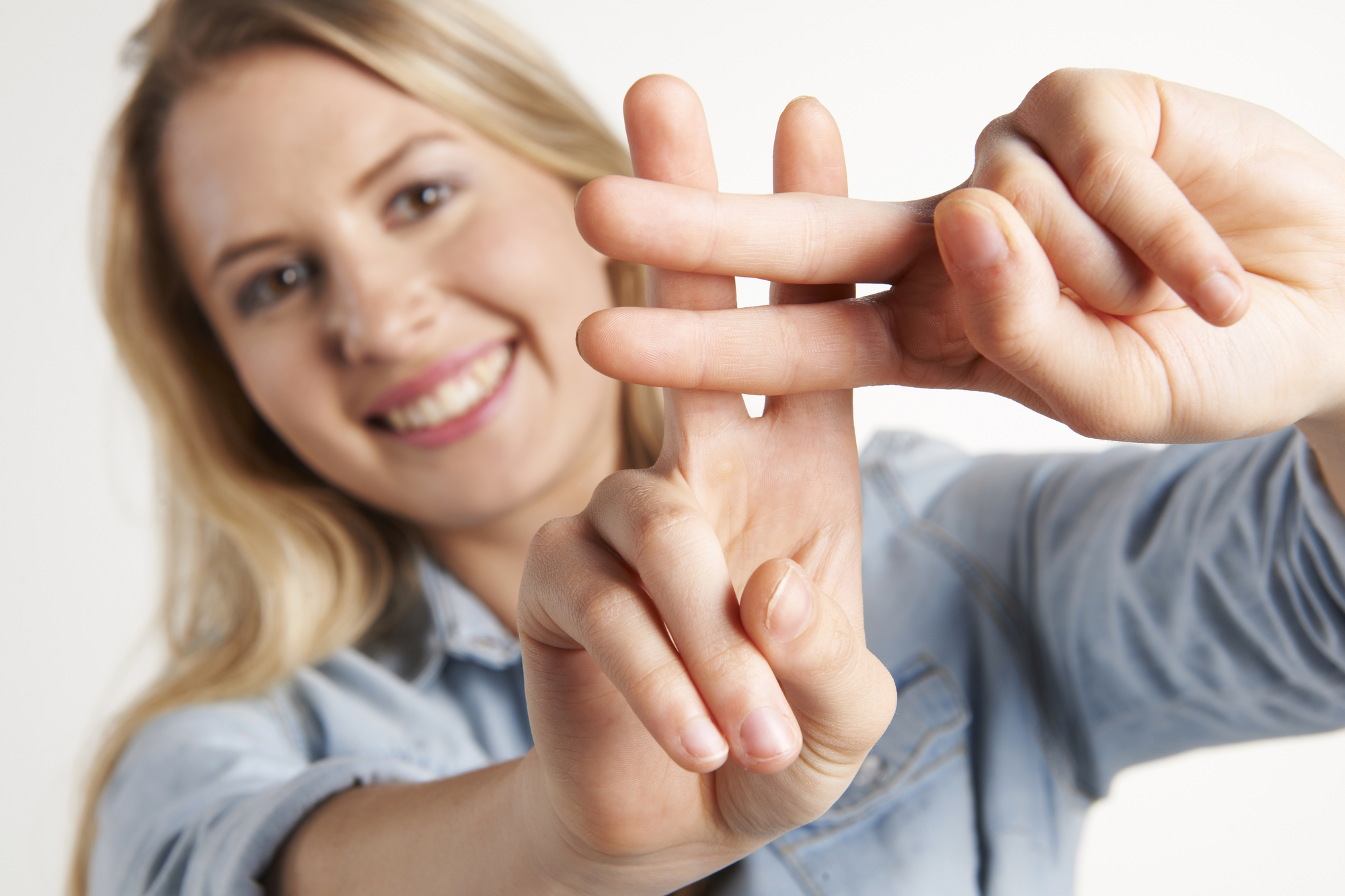 This post may contains references to products from one or more of our advertisers. We may receive compensation when you click on links to those products or services. Please also consider
donating to our website.
Let's face it; social media is a huge part of modern events. Hashtags are a big part of a social media presence, helping call attention to an event.  This might seem like a minor detail, but hashtags have become a surprisingly stressful part of wedding planning, as brides and grooms struggle to come up with the perfect hashtags, not only for their big day, but also for the events that come before it.  A bachelorette party is one of those events that needs a great hashtag.  The hashtag will help you find related posts on social media, letting you easily pull the memories and photos together, whether you are searching the day after the party or a year later.   
How Important is Social Media?
Still not convinced you need a hashtag for your bachelorette party and other wedding-related events.  Well, The Knot conducted a couples' survey that asked about some social media habits.  The found out that almost 30% of brides post about getting engaged within hours of it happening, that 55% of brides use hashtags for wedding events, and, that of the 45% of brides that didn't a full 10% regret not doing so.  The whole reason is that hashtags help people collect photos and other digital memories.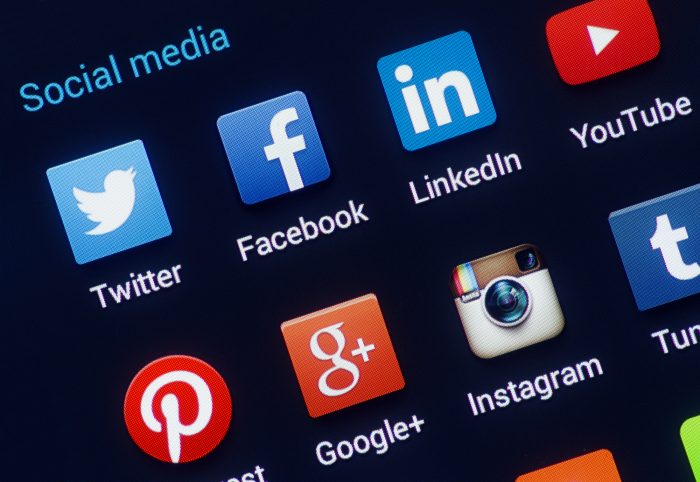 Creating a Unique Hashtag
One of the tricks about hashtags is that you want them to be unique, but you also want them to be understandable.  The person reading the hashtag should immediately understand that it is about a bachelorette party.  That is why we want you to take some of the pressure off of yourself to come up with a hashtag that no one else has ever created.  That is not necessary.  You do not have to have a hashtag that no one else on Instagram has ever used or ever seen.  Instead, focus on creating a hashtag that is unique to your circle of friends and the people you interact with on social media. 
Steps to Creating a Great Hashtag
One of the best ways to set your hashtag about from other hashtags is to personalize it.  Use the bride's name, incorporate your theme, or, if it is a destination party, use your destination as part of the hashtag.  You can also use elements like time of the year to add some personal details to the hashtag.  Consider adding dates to the hashtag to separate it from similar hashtags.  Go all the way back to your high school English classes and think about things like rhyme and alliteration.  If you can rhyme the bride's name or the destination, it makes the hashtag sound catchy.  If not, consider using words that start with the same sounds.  Finally, when you write the hashtag, make sure and capitalize each of the words in it to make sure the message in your hashtag is clear.  When words run together in a hashtag, it might be difficult to determine what the actual hashtag is trying to say.   
Core Elements for a Bachelorette Hashtag
One thing you will see in a bachelorette hashtag is the use of creative ways to refer to the bride-to-be.  While these elements are not stand alone hashtags, they can be incorporated in a variety of ways in different hashtags:
Bachelorette Party Hashtag Examples
Bride-to-Be Hashtags
#Bachelorette
#Wifey
#FutureWifey
#WifeyForLifey
#WifeForLife
#WifeyToBe
#Bridezilla (be careful with this one- you want to be playful, not hurtful)
#BridetoBe
#FutureMrs.
# Feyoncé
#BacheloretteBash
#MissToMrs.
#TeamBride
#BossBride
#BossBabe
Generic Hashtags
Here are some hashtags that will work for many bachelorette parties, regardless of theme or location.  Many of them can easily be combined with the bachelorette's first or last name. 
#HotMessExpress
#HappyBrideHappyTribe
#WhatHappenedLastNight?
#LastFlingBeforeTheRing
#WeWon'tRememberThis
#DidWeDoThat?
#OperationBacheloretteParty
#LastNightBeforeMr.Right
#KissTheMissGoodbye
#BacheloretteBash
#MissToMrs.
#TeamBride
#IDo
#IDoCrew
#EngagedAF
#BachShitCrazy
#SamePenisForever
#SheSaidYes
#SheSaidYaaas
#Bridin'Dirty
#CoolBride
#NotARegularBride
#YouCan'tSipWithUs
#KissMissGoodbye
#SquadGoals
#BrideSquadGoals
#AlmostWifeyLifey
#HereComesTheBride
#ItsBrideTime
#GettingMarried
#GettingMeowied
#FindYourBrideTribe
#FindYourBrideSquad
#VeilBound
#AVowToParty
#TheyLivedAppleyEverAfter
#MakingMemories
#GoodFriendsGreatAdventures
#AlmostWife
#BachMadeInHeaven
#HappyBrideToBe
#WithMySistersBeforeMyMister
#GirlsJustWannaHaveFun
#BrideVibes
#RaisingHellBeforeTheVeil
#RaisingHellBeforeTheBells
#SaidYesToTheBest
#Let'sGetBached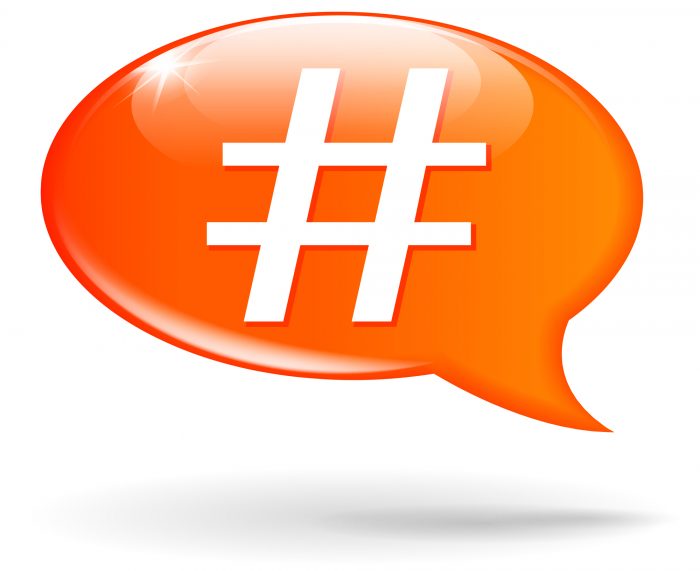 Bride's Name Hashtags
Here are some hashtags that are great, but only work when you put the bride's name in them. 
#____'sGettingHitched
#WeSurvived___'sBacheloretteParty
#_____'sSquad
#____'sBrideTribe
#____'sBrideSquad
#____'sBigNight
#____'sLastFling
#____'LastFlingBeforeTheRing
#____'sSupportTeam
#____'sBacheloretteBash
#____'sBacheloretteWeekend
#HitMe____OneMoreTime
#GirlsNightWith______
#WhatHappensWith___StaysWith____
#____'sLadies
#____Girls
#____TheBachelorette
#____'sLastHurrah
#____'sLastStand
#____InLove
#Operation_____
#PartyOn______
#____OrBust
#_____'sBachOrBust
#LastCallforMs______
#GoodbyeMiss(Last Name)
#______MetHerMatch
#______'sFinalFling
#______'sGrandFinale
#______'sTakesABow
#_____FoundHerHunk,We'reGettingDrunk
#_____FoundHerHunk,We'reGettingCrunk
#_____'sDrinking Team
Groom's Name Hashtags
Some hashtags only make sense when they use the groom's name in them.
#____SaidYes!
#StokedToBeA____
#____SaidYes
#FutureMrs.____
#Don'tTell_____
#What____Doesn'tKnowWon'tHurtHim
Location Hashtags
Here are some great hashtags that you can personalize by adding the location of the bachelorette party, either at the beginning or the end of the hashtag.
#WeCameWeSawWePartied(Location)
#____SaidYesWeSaid(Location)
#BacheloretteSquadIn(Location)
#BrideTribeIn(Location)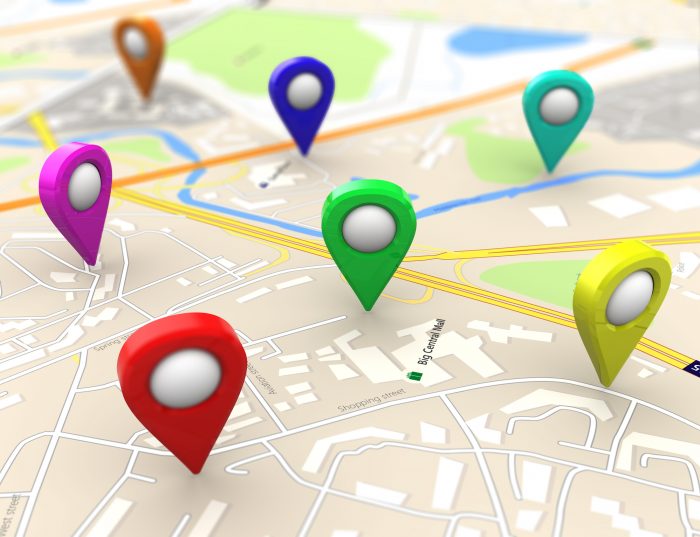 Boozy Bachelorette Hashtags
Lots of bachelorette parties have an emphasis on drinking, and there are some great bachelorette hashtags that pay homage to the drinks to be drunk at the party. 
#OneLastSyrah
#BadAndBoozy
#SipHappens
#Let'sGetLit
#BoozeBabesBachelorette
#BoozyBachelorette
#BeerBabesBachelorette
#ChampagneCampaign
#OneLastSyrah
#VinoBeforeVows
#RoseAllDay
#BrewCrew
#Bride'sBrewCrew
#BrewBeforeIDo
#PourDecisions
#It'sMyPartyAndI'llWineIfIWantTo
#WhenISipYouSipWeSip
#WedWhiteAndBoozed
#Bride'sDrinkingTeam
#BuyHerAShotShe'sTyingTheKnot
#PopTheChampagneShe'sChangingHerName
#CheersBitches
#PopTheBubblyShe'sGettingAHubby
#Poppin'Bottles
#HePoppedTheQuestionWe'rePoppin'Bottles
#DrunkInLove
#WhiskeyBentVeilBound
#WhiskeyBentHellBound
#GettingBoozy
Austin Bachelorette Hashtags
It is no secret that we are big fans of this small Texas city, which is the self-proclaimed Live Music Capital of the World.  Here are some great Austin-themed bachelorette party hashtag starters.
#AustinBacheloretteParty
#DirtySixth
#DirtyBrideOnDirtySixth
#DirtyGirlsHitDirtySixth
#SixthStreetSisters
#TexasHillCounty
#SXSW
Going to Austin?  Make sure you read our guide on how to plan the perfect Austin bachelorette party.
 New York City Bachelorette Hashtags
Visiting the Big Apple for a bachelorette is one way to have a classy, classic, memorable bachelorette party experience.  We love the idea of highlighting something that is absolutely linked to New York in any NYC bachelorette party hashtags
#BigAppleBach
#BigAppleBachBash
#BabesInTheBigApple
#TheCityThatNeverSleeps
#TheCityNeverSleepsNeitherDoWe
#BroadwayBabes
#BroadwayBash
#TheGirlsHitNYC
#SexiesInTheCity
Going to New York?  Make sure you read our guide on how to plan the perfect New York bachelorette party.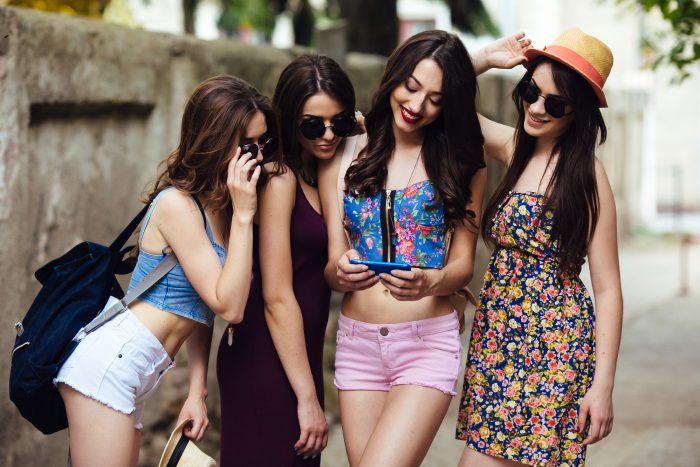 Savannah Bachelorette Hashtags
If you are having a bachelorette party in Savannah, you know what kind of vibe you are trying to create.  Traditional, yet hip, this is a bachelorette party that is going to be about more than just boozin' it up, though there will probably be plenty of drinking going on.  We love these hashtags for a Savannah bachelorette party.  Of course, personalize as necessary.
#PoppinBottlesinSavannah
#SavannahWithMySisters
#MimosasWithMyMaids 
#LowCountryParty
#LastFlinginGeorgia
Going to Savannah?  Make sure you read our guide on how to plan the perfect Savannah Bachelorette Party.
Atlanta Bachelorette Hashtags
Atlanta is one of those bachelorette destinations that seem to surprise people, but they always have a great time.  We love it as a destination, but we also like the shout out to the city when the party is just thrown by locals.  Here are some of our hashtag starters for the ATL:
#WhereMyPeachesAt
#BachInTheBigPeach
#ATLBacheloretteBash
#DirtyDirtyDivas
Going to Atlanta?  Make sure you read our guide on how to plan the perfect Atlanta bachelorette party
Atlantic City Bachelorette Hashtags
People overlook Atlantic City as a bachelorette party destination, but it has all of the key ingredients you need for a great destination bachelorette party, with the added bonus of being easy to reach for most people on the East Coast.  Some Atlantic City hashtags include:
#AIFamily
#JerseyShore
#GTL
#LuckyLadies
Going to Atlantic City?  Make sure you read our guide on how to plan the perfect Atlantic City bachelorette party.
Boston Bachelorette Hashtags
So many people forget about Boston as a party city, when reality is that Boston parties harder than most places on Earth.  If you are heading to Boston for your bachelorette party, here are some of the hashtags that we recommend:
#BostonBachelorette
#BostonBach
#BostonBachBash
#BostonBacheloretteBabes
#BostonBruinsBacheloretteBabes
#BeansBeerBabesBostonBachelorette
#SouthieSocial
Going to Boston?  Make sure you read our guide on how to plan the perfect Boston bachelorette party.
Bahamas Bachelorette Hashtags
Does anyone really need a reason to go to the Bahamas?  No.  These tropical islands have an allure all their own, but heading there for a good friend's bachelorette makes an awesome experience even better. 
#BahamaBabes
#BeachBabesInTheBahamas
#BahamasBachBash
#BahamaBach
#BahamaMamas
#BahamaBachelorette
#BoozeBabesBahamas
Going to Bahamas?  Make sure you read our guide on how to plan the perfect Bahamas bachelorette party.
Cancun Bachelorette Hashtags
Everyone loves a trip to Cancun, a perennial party town that is affordable and accessible from almost anywhere.  Keep in mind that any hashtags that work for beach parties are going to be great for Cancun, as will many of the summer-themed hashtags.  Here are some others you might want to use:
#CocoBongo
#CancunBacheloretteParty
#FiestaInCancun
#CunCrawl
#PlayaTortugas
#PlayaMujeres
Going to Cancun?  Make sure you read our guide on how to plan the perfect Cancun bachelorette party.
Charleston Bachelorette Hashtags
One of the places we recommend for bachelorette parties when a group is so diverse that picking a location gets tricky, here are some of our favorite bachelorette hashtags for Charleston:
#CharlestonLastFling
#SouthCarolinaShorties
#HolyCityHoeDown
#ChucktownChicks
#LowCountryBrideTribe
Going to Charleston?  Make sure you read our guide on how to plan the perfect Charleston bachelorette party.
Chicago Bachelorette Hashtags
The Windy City has a reputation for a lot of things, and bachelorette parties may not be what pops in your head when you think of Chicago.  However, Chicago has a lot of adult-themed entertainment for bachelorette parties, if you get what we're saying.  It makes for a great bachelorette party experience. 
#WindyCityWeekend
#WatchinThemWorkItInTheWindyCity
#ChiTownFling          
#ChiTownPreRingFling
#WindyCityWasted
#BacheloretteBash
#BluesBabes
Going to Chicago?  Make sure you read our guide on how to plan the perfect Chicago bachelorette party.
Dallas Bachelorette Hashtags
With a nickname like the Big D, the hashtags for a Dallas bachelorette party practically write themselves.
#DallasDilettantes
#BacheloretteBabesintheBigD
#DirtyDallasDivas
#It'sAPartyY'all
Going to Dallas?  Make sure you read our guide on how to plan the perfect Dallas bachelorette party
Denver Bachelorette Hashtags
We are not saying that you are only going to Denver for a bachelorette party so that you can all get high AF without breaking any laws, but we aren't not saying it either.  Of course, Denver bachelorette party hashtag ideas are going to include some pot references.  However, we also know that Denver has been an awesome destination city for years and that it isn't all about the smoke.
#MileHighParty
#ColoradoChicks
#BacheloretteBeerTour
#AMileHighAtAMileHigh
Fort Lauderdale Bachelorette Hashtags
Is there a city in the U.S. more synonymous with wild parties than Fort Lauderdale?  Maybe New Orleans at Mardi Gras, but at spring break, Fort Lauderdale becomes the party capital. 
#FortLauderdaleFling
#SouthFloridaSisters
#SistersInTheSunshineState
#FortLauderdale
Going to Fort Lauderdale?  Make sure you read our guide on how to plan the perfect Fort Lauderdale bachelorette party.
The Hamptons Bachelorette Hashtags
If you are heading to the Hamptons for a bachelorette party, you might think the destination is so classic that you are going to avoid trendy things like hashtags.  Then you get to the Hamptons and see that it is not just full of old-money types and actual celebrities, but also tons of media influencers.  So, slap a hashtag on it!
#SheGotTheHunkWeGotTheHamptons
#HungoverInTheHamptons
#HanginInTheHamptons
Key West Bachelorette Hashtags
If Key West is not one of your favorite places to visit, we have to conclude that you have never been to Key West.  This funky little town at the very southern edge of the continental U.S. has everything you could want in a tourist destination, offering a very Caribbean vibe in a destination you can reach with a drive. 
#KeyWestBacheloretteSquad 
#PartyWithTheConchs 
#WhatHappensInEden….
#LastFlingFantasyFest
Going to Key West?  Make sure you read our guide on how to plan the perfect Key West bachelorette party.
Lake Tahoe Bachelorette Hashtags
If the bride is the outdoor type, then no doubt Tahoe is on your short list of potential bachelorette destinations.  If it makes the cut, consider these hashtags:
#TahoeWithoutThebeaux
#FlannelAndFizzFling
#GirlsinTahoe
#TahoeTribe
Going to Lake Tahoe?  Make sure you read our guide on how to plan the perfect Lake Tahoe bachelorette party.
Las Vegas Bachelorette Hashtags
Vegas is a classic bachelorette party destination.  We are going to supply the hashtags, even though we are big fans of the idea that what happens in Vegas, stays in Vegas.  By the way, that saying makes a terrible hashtag if you are actually posting photos, but a great hashtag if you only post blank screens.
#DesertDivas
#PoolParty
#BetOnThisBach
#LaVidaVegas
Going to Las Vegas?  Make sure you read our guide on how to plan the perfect Las Vegas bachelorette party.
Miami Bachelorette Hashtags
Miami, Miami Beach, South Beach- whatever you call it, visiting Miami for a bachelorette party pretty much guarantees a hot time.  From the weather to the parties, Miami brings the heat.
#SOBESweethearts
#BeachBumBachelorettes
#HotAndHumidBeachesandBachelorettes
#HotBeachesHotterBitches
Going to Miami?  Make sure you read our guide on how to plan the perfect Miami Beach bachelorette party.
Montreal Bachelorette Hashtags
Unless people have visited Montreal, they might not get some of the hashtag references you could use.  That's okay.  In fact, that's what can make some of your Montreal hashtags really unique.  Consider:
#Club281Crew
#MontrealMissToMrs
#MontrealMademoiselles
Going to Montreal?  Make sure you read our guide on how to plan the perfect Montreal bachelorette party.
Mykonos Bachelorette Hashtags
Mykonos is known for many things, but we love that it has been featured in a couple of movies recently and love the idea of incorporating that into a Mykonos hashtag:
#MamaMiaWe'reInMykonos
#WanderWomen
Going to Mykonos?  Make sure you read our guide on how to plan the perfect Mykonos bachelorette party.
Myrtle Beach Bachelorette Hashtags
We have been in love with the idea of going with our girlfriends to Myrtle Beach ever since we saw the movie Shag. 
#BeachBabesBachelorette
#ShagSisters
#MyrtleMamas
#LastFlinginMyrtleBeach
Going to Myrtle Beach?  Make sure you read our guide on how to plan the perfect Myrtle Beach bachelorette party.
New Orleans Bachelorette Hashtags
Is there anything quite like a trip down to New Orleans?  Between the decadent food, the live music, the culture and art everywhere, and the copious amounts of booze and partying every night, this city just screams decadence, which makes it a great place for a bachelorette party.
#BigEasyBachelorette
#MardiGrasMamas
#BourbonCowboyBabes
#BourbonBachBash
#BabesonBourbon
#FrenchQuarterFling
Going to New Orleans?  Make sure you read our guide on how to plan the perfect New Orleans bachelorette party.
Orlando Bachelorette Hashtags
Sure, you can go to Orlando and skip the theme parks, but then why go to Orlando?  We recognize the important role those parks play in most of our suggested hashtags:
#DisneyOrBust
#DisneyBabes
#DisneyDivas
#PartyLikeAPrincess
#Mrs.Minne
Going to Orlando?  Make sure you read our guide on how to plan the perfect Orlando bachelorette party.
Palm Springs Bachelorette Hashtags
Another sleeper in the bachelorette party destination category, this desert town in California always surprises people with how much it has to offer, even when nearby Coachella is not having its gigantic music festival.
#CoachellaCrew
#DesertDivas
#SpaSisters
San Diego Bachelorette Hashtags
Another surprise destination in California, San Diego has gorgeous beaches and tons of things to do.  If you are lucky enough to party there, here are some hashtags to consider:
#AmericasFinestLadiesInAmericasFinestCity
#PartySiliconBeach
#Sundog
#LastFlinginSanDiego
San Juan Bachelorette Hashtags
Puerto Rico is an amazing island to visit, is back open for business for tourists, and could use the boost.  In addition, it is a great tropical destination that you can visit, even if some people in your group don't have passports:
#SunshineAndSnorkels
#TropicalTribe
#SanJuanSisters
#SunSandSanJuan
Santorini Bachelorette Hashtags
Visiting Greece is an amazing experience, and Santorini is one of the most popular destinations for bachelorette parties. 
#GoddessesInGreece
#SantoriniSisters
Scottsdale Bachelorette Hashtags
When we first heard rumors that people were heading to Scottsdale for bachelorette parties, we were a little surprised.  However, after checking it out for ourselves, we found that this desert haven is actually a great place to party.
#ScottsdaleSweeties
#CactusCrew
#SexyInScottsdale
Vancouver Bachelorette Hashtags
Canada remains an incredibly popular bachelorette party destination because it is easy to reach, but still offers a European flavor that we can't get in the U.S.  Nowhere is that more evident than in beautiful Vancouver, with its stunning array of gorgeous gardens and very Continental feel.
#VancouverBeforeVeil
#VancouverBachelorette
#VancouverGirls'Trip
Nashville Bachelorette Hashtags
There are some great bachelorette hashtags that will work with Nashville.  Not all of them are Nashville specific; they may also work with any cowgirl themed bachelorette party, any bachelorette party where you plan on visiting honky tonks, and some might even work in other popular bachelorette destinations like Austin or Dallas, where you could still have a honky tonk theme.
#_____'sLastBashinNash
#_____'sNashBash
#______'sNashlorette
#______'sNashloretteParty
#______'sGettingHitched
#TheBride'sLastRide
#______'sLastRideBeforeShe'sABride
#______'sLastRodeo
#BootsAndBlingBeforeTheRing
#TheseBootsWereMadeForWalkin'DownTheAisle
#HonkyTonkin'
#HonkyTonkHoedown
#HoedownBeforeTheGown
#HowdyLet'sGetRowdy
#Ain'tGoin'DownTilTheSunComesUP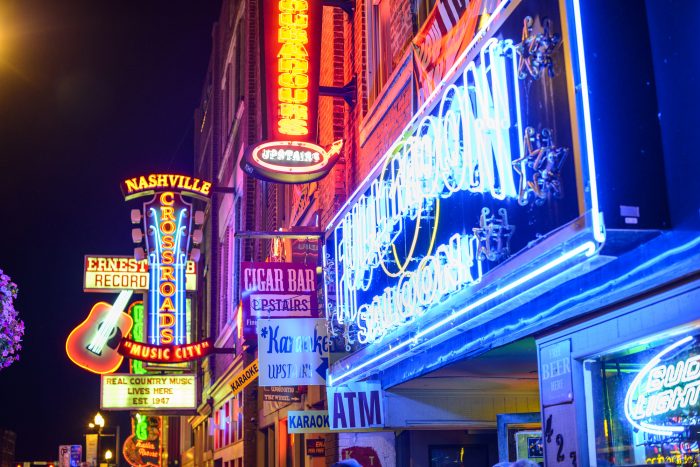 Fiesta Bachelorette Hashtags
The fiesta theme is super-popular for bachelorette parties.  It is also one that is used a lot for bachelorette parties that happen in Mexico.  Here are some great bachelorette parties that will work for fiestas and destination parties.
#TacoBoutAParty
#NachoAverageBride
#NachoAverageBach
#FinalFiest
#LastOle
#NoTimeToSiestaIt's____'sFiesta
#DrinkingMargaritasWithMySenoritas
#FiestaSiestaTequilaRepeat
#OneTequilaTwoTequilaThreeTequilaFloor
#TacoBoutLove
#HolaBeaches
#HolaBrideHolaBeaches
#NachoAverageBridesmaids
Having a Fiesta?  Make sure you read our guide on how to plan the perfect Mexican fiesta bachelorette party.
Sailing or Cruise Bachelorette Hashtags
Whether you heading away on a 3 or 4 day cruise, or simply having a boat-based party in your local lake or on your local river, the nautical bachelorette party is an extremely popular theme.  Here are some great hashtags for your nautical bachelorette.
#LastSailBeforeTheVeil
#NautiBride
#NautiCrew
#Feelin'Nauti
#Let'sGetNauti
#BoozinAndCruzin
#Let'sGetShipfaced
#IDoCrew
#Bride'sBestMates
#Bride'sCrew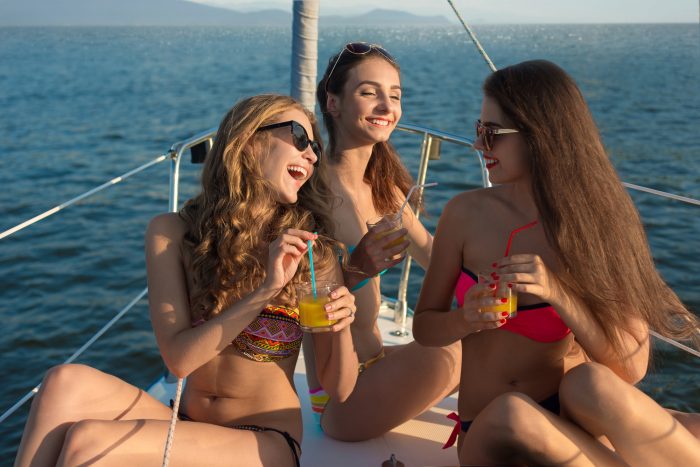 Beach Bachelorette Hashtags
The beach is another wonderful theme for bachelorettes.  Some of the most popular bachelorette destinations are beach destinations.  You could use any of these hashtags for any of the popular beach destinations, like South Padre Island, Destin, Panama City, Miami, Key West, Pensacola, Orange Beach, Cancun, Cozumel, Cabo, Puerto Vallarta, Jamaica, the Bahamas, Bermuda, Aruba, Puerto Rico, Costa Maya, Costa Rica, Galveston, Myrtle Beach, Atlantic City, Malibu, and Hawaii.  They would also work for tons of other beach destinations.  Of course, sometimes there is a bachelorette party with a beach theme, but no beach.  We have plenty of information available about how to bring the beach to your party or beaching on a budget in our articles.  So, these hashtags will work if you are creating your own beachless beach bash. 
#GoodTimesAndTanLines
#BeachinBride
#BeachinBabes
#FinalFlamingle
#AlohaBeaches
#AlohaBride
#Aloha(Bride'sLastName)
#TropicLikeIt'sHot
#PartyLikeAPineapple
#SunSandAndARingOnHerHand
#CheersBeaches
#BeachBach
#BeachBachBash
#BabesBeachBach
#SunSurfSisters
Going to the beach?  Make sure you read our guide on how to plan the perfect beach bachelorette party.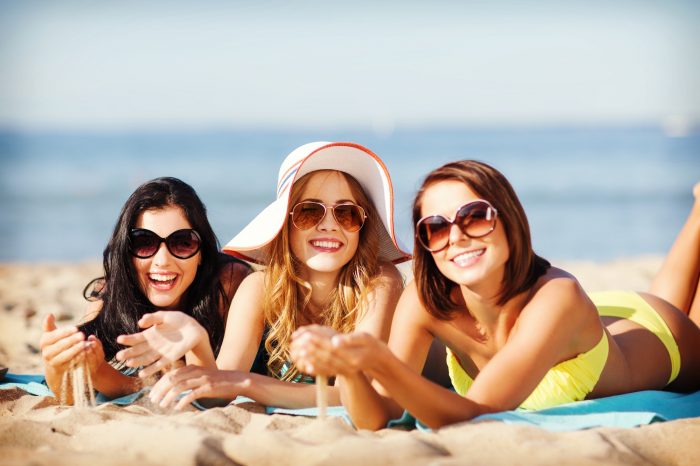 Mermaid Bachelorette Hashtags
We were not sure how long the mermaid bachelorette party trend would last, but it is not only still going strong, but actually getting more and more popular. 
#LosingTheTailForAVeil
#____'sTradingTheTailForAVeil
#LastSplash
#OneLastSplash
#MermaidSquad
#MermaidTribe
#MermaidCrew
Make sure you read our guide on how to plan the perfect mermaid bachelorette party, for amazing ideas.
Disney Bachelorette Hashtags
You may have seen that angry mom's rant about young, childless people heading to the Disney parks, but most bachelorettes know that Disney World and Disneyland are tons of fun if you are heading there with the tribe rather than with toddlers.  Don't let the haters keep you and your crew from enjoying a bachelorette bash at the happiest place on Earth.  If you go there, keep these hashtags in mind.
#BibbidiBobbidiBachelorette
#Let'sDrinkTink
#FutureMrs.Mouse
#LookLikeABeautyDrinkLikeABeast
#PartyInAGalaxyFarFarAway
#ExpeditionEngagement
#PartyLikeAPrincess
#____'sHappilyEverAfter
Read our guide on how to plan the best Disney bachelorette party.
Harry Potter Bachelorette Hashtags
It should come as no surprise that a generation raised on some of the best fantasy books ever, the Harry Potter series, loves the Harry Potter theme for bachelorette parties.  Whether you are throwing a Harry Potter themed party at home or heading out to one of the Universal Studios Parks to immerse yourself in the Wizarding World of Harry Potter, you can use one of these great Potter themed bachelorette hashtags
#SheFoundAKeeper
#FromMuggleToMrs
#ButterbeerBabes
America/ July 4th Bachelorette Hashtags
We are not going to get political, because we think anyone of any political stripe can be wild about the red, white, and blue.  In fact, we have found that a number of brides like to take on an America theme for their bachelorette parties if the bride or the groom or both happen to be members of the U.S. military.  It is also a popular theme when a bachelorette party happens to coincide with the Fourth of July weekend.  Here are some bachelorette party hashtags that help you celebrate the stars and stripes.
#PartyLikeAPatriot
#RedBrideAndBlue
#RedWhiteAndBlueBacheloretteCrew
#StarSpangledHammered
Summer Hashtags
With so many bachelorette parties occurring in the summer, figuring out a summer hashtag is easy, but also surprisingly challenging, because it can make things a little trickier to come up with something unique.  Many of these will also work for tropical destinations, regardless of the season.  Here are some cute starters for your own summer bachelorette tags. 
#HotBachInTheSummertime
#BringTheHeat
#GettingTansMakingMemories
#SummerBrideTribe
#SummerSisterSquad
#SummerSquad
#SummerSisters
#Sun'sOutBunsOut
#GirlsJustWannaHaveSun
#SummertimeAndTheLivinIsEasy
#SummerShenanigans
#SummerDaze
#HereComesTheSun
#HotDaysHotterBride
#HotDaysCoolBride
#HotDaysCoolNights
#SummerFun
#SummertimeFine
#SummerSquad
#SunbathingSenoritas
#SunbathingSquad
#SunkissedSisters
#SunkissedBride
#HotDaysCoolParty
#HotTempsCoolParty
#SunshineSavesLives
#FunInTheSun
#SunshineForDays
Fall Hashtags
While summer may be the most popular season for bachelorette parties because of when many weddings occur and because of vacations, other seasons deserve a shout out.
#PumpkinsAndPrincesses
#PumpkinSpiceAndEverythingNice
#CiderCrew
#HarvestHotties
#A-MazingMamas (very specific if you visit a corn maze)
Winter Hashtags
We love the idea of a winter bachelorette party; it is the perfect thing to bring sunshine to a dreary winter day or to celebrate the endless sunshine that only happens when the ground is covered in snow. 
#HotChocolateHotties
#SnowBabes
#TheSmoreTheSmerrier
#HotToddiesAndHotTubs
#CookieCuties
Spring Hashtags
Because so many weddings occur in early summer, it is very likely that your bachelorette party will happen in the spring. 
#SpringFlingBeforeTheRing
#SummerWeddingSpringFling
#FlowerFiesta
Conclusion
As you can see, there is a virtually endless array of hashtags to create and choose from to create the perfect bachelorette party hashtag.  The only real rule is to choose something the bride will like and that everyone in the party can remember for when they are tagging photos.