Amazing Bachelorette Party Gift Bags (2023 Guide)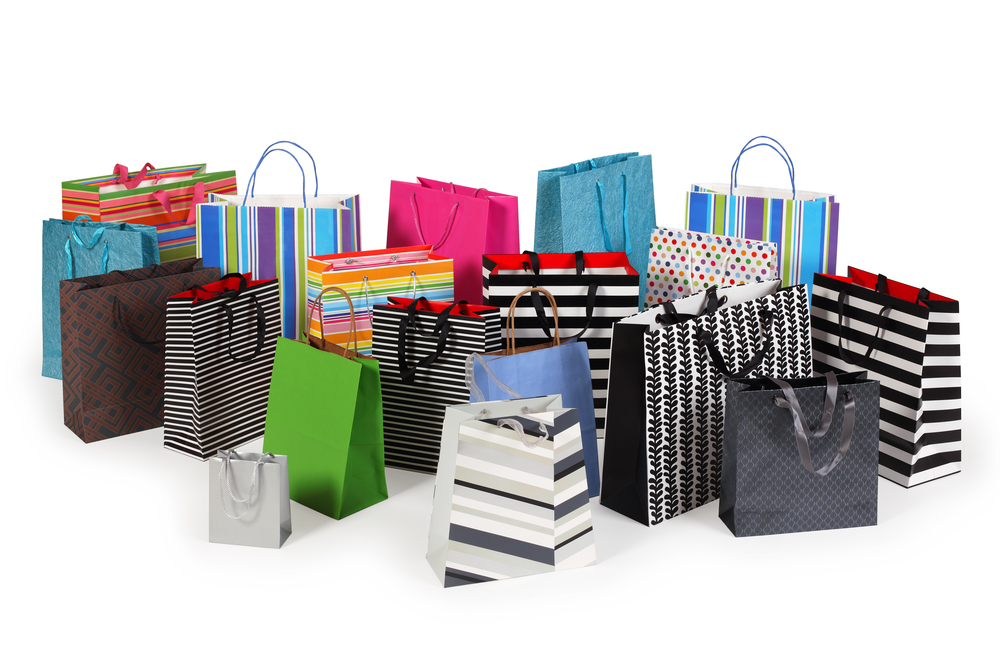 This post may contains references to products from one or more of our advertisers. We may receive compensation when you click on links to those products or services. Please also consider
donating to our website.
Swag bags. We all love them. Think back to your first gift bags. You probably got a cute little themed party bag as you ran out the door from a friend's birthday party. As you got older, the themed goodies got cuter, until you hit that age when parents no longer think goodie bags are necessary. (Why they think that is anyone's guess; we all love a goodie bag). You know who else loves a gift bag? The ladies at your bachelorette party. You can customize perfect swag bags for your group of girlfriends. They are a great way to thank your friends for being there for you, give them a favor that will help them remember your party, and help you extend the party theme. At Your Bach Party, we have you covered. We have great ideas about different bachelorette gift bags, and both theme-specific and generic ways to stuff the bags full of things that your party goers will truly enjoy.
To Swag or Not to Swag
Look we are not going to pretend like bachelorette gift bags are a necessity for every bachelorette party. They are not. They can be relatively expensive, and, if you are on a super strict budget for the bachelorette party, then they are an easy-to-cut expense. We are not judging you if that is the case; as everyone here has had a time when our dreams visions were deeper than our pockets! So, if you are trying to watch a budget and need places to pinch pennies, then foregoing a goodie bag is one way to reach that goal.
However, if you have the budget to splurge on the bachelorette party, then we are going to strongly suggest you splurge on goodie bags. This is especially true if you are having a destination bachelorette party or if your guests have had to travel to be at your bachelorette party. In this day and age, going to a wedding and attending a bachelorette party usually mean making a big commitment of time, and often a large financial commitment as well. Your guests are showing you how much they care by making the effort to be there for them. A gift bag is a great way to thank them for their effort and to show them that you care about them and are not just thinking about yourself and the wedding. This is super-important, because, no matter how chill and awesome you are in your everyday life, the odds are probably pretty high that you have acted like a bridezilla at least once in the wedding planning process!
Do You Want a Theme?
One of the first choices you make when putting together your goodie bags is whether or not you want to go with a bachelorette party theme. A theme may seem like a great choice if your party already has a theme to it, but that might not actually be the best way to go. For example, you may have gone traditional bachelorette party and chosen something like an outrageous penis theme, which does not lend itself to high-class swag in the gift bag. So, do not feel like you have stick with the same theme as your bachelorette party when designing your gift bag and its contents. On the other hand, if you are having a party with certain themes, then designing a gift bag to compliment those themes can be super-handy for your guests. It really depends on the type of party you are having and the type of theme you want to celebrate.
Bachelorette Party Gift Bag Ideas
The Morning After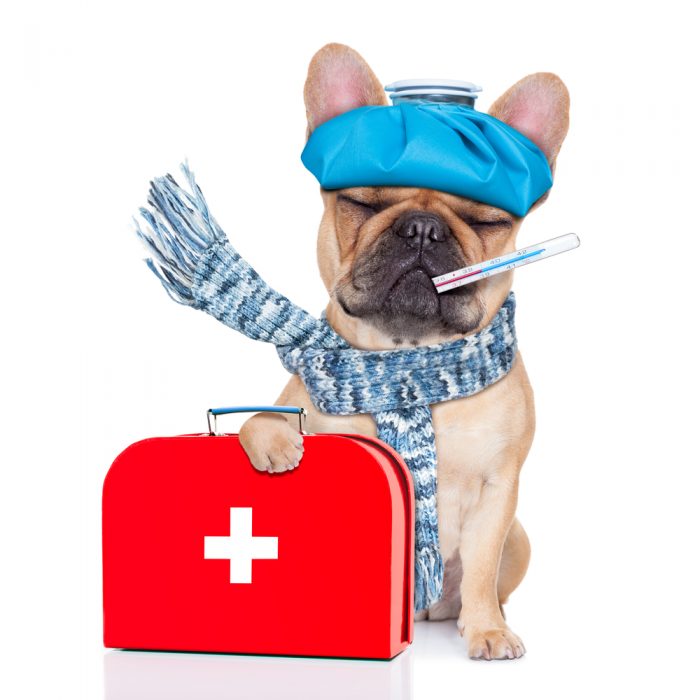 If you are planning a bachelorette blow-out celebration with booze, boys, and besties, then you might want to plan a morning after gift-bag for your bachelorette party. What type of goodies do you stuff into one of these Rx bags? Think hangover recovery. So, hydration, pain killers, maybe some anti-nausea medications.
Pain-reliever Packets
If you are anticipating pounding heads, make sure and include some pain-relievers in your swag bag.
Alka Seltzer
This time-tested relief for indigestion can help with a variety of stomach issues.
Preggie Pops
Can't handle the thought of the fizzing bubbles the morning after? Then, take a tip from some older ladies and throw in some Preggie Pop drops. These ginger candies really do help with tummy troubles!
Eye Drops
No one wants red, hungover looking eyes.
Sunglasses
You know how the sun is just too bright after a night of drinking? Make sure your girls have some protection for their peepers.
And, some Pedialyte for Rehydration
Bag It Up
These bachelorette bash hangover recovery bags are a great way to put the stuff together:
The Beach Babe
Heading to the beach, on a cruise, to the lake, on a boat, or even to a nearby pool? Then the beach babe may be the swag bag for you and your crew. What is in the beach babe? Everything you need to take along for a great day at the beach. This is a highly customizable gift bag idea, which really hits across a ton of budget points. If you want to make it inexpensive, you can find a lot of the components, including the tote bag, at your nearest dollar store. If you want to go for the luxe version, you can go with customized options. It is really up to you. So, take our ideas or add your own, for your beach babe bachelorette bag!
Totes Necessary
For beach babes, no little gift bag will do, you need a roomy beach bag to store all of your goodies. You can find totes in a wide variety of styles, many that might fit your specific theme. For the generic tote bag, we like these personalized bride tribe bags.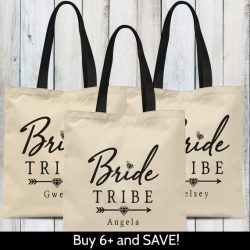 Sunscreen
Perhaps the most important thing to throw in a beach bag; sunscreen not only saves your skin in the long-run, but also helps prevent sunburns that can ruin an entire bachelorette weekend. We like Alba because it is reef-safe, in case you plan on doing any snorkeling or diving.
Beach Towels
There are so many adorable beach towel options out there, and we love a cute monogrammed towel and some of the high-end options that are out there. However, when it comes to getting a great bang for your buck, it is hard to beat the traditional Turkish bath towel. Highly absorbent, and fast-drying, these towels do not pick up sand like terrycloth towels do, making them a great beach go-to.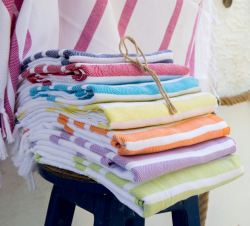 Sunglasses
Even if your girlfriends always have some super-stylish shades with them, we highly suggest throwing in an extra pair of sunglasses for your goodie bag. Sunglasses are easy-to-lose, especially if you are out in the waves or rough water. This way, they can stow their stylish specs and still protect their peepers.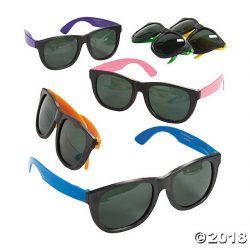 A Great Beach Read
Okay, so your girlfriends might not get the time to settle down with a beach read while they are with you at your bachelorette party, but a good beach book is always a welcome addition to your beach bag. We suggest you go with paperbacks, because they might get wet. Pick books you know your girlfriends will like. Not sure what they want to read? You can check out this list of great beach reads for 2018, or go with one of our all-time favorite romance novels, Ain't She Sweet by Susan Elizabeth Phillips:
Coozies/Coolies
Of course, you want to keep your beverages cool in the hot sun, so make sure and tuck a coolie into their bag.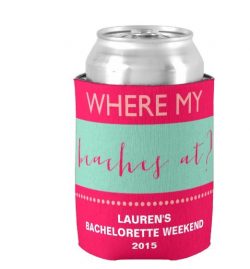 Flip Flops
No one wants sand in their shoes, so throw in a pair of flip flops to make sure everyone has some beach-ready footwear. Flip flops run the gamut of prices and styles, but we have found that we can always get a pair of decent, basic flip flops from Old Navy for less than $5 a pop.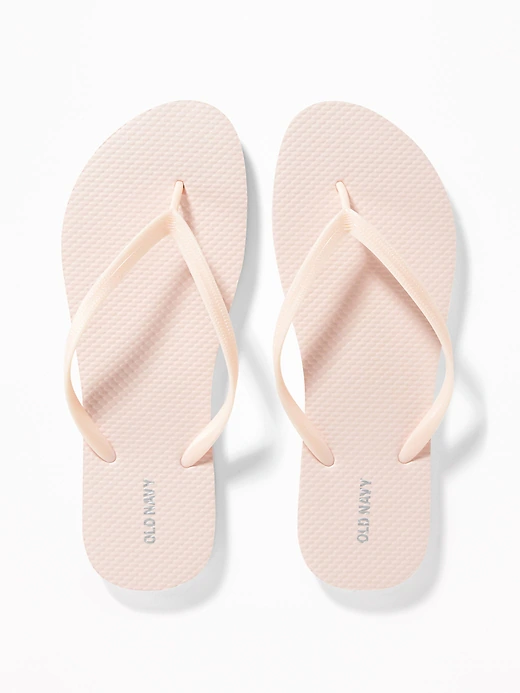 Rosé All Day
Are you a rose gold and champagne kind of gal? Those colors are not just a popular décor theme for bachelorette parties, but are also showing up in wedding colors and in home décor. You can carry the theme to your bachelorette party, and give it the appropriate adult twist, by incorporating the idea of Rosé wine into your theme.
Blushing Bachelorettes
These blush colored bags are a great way to introduce the rose gold theme and have plenty of room for all of your favorite items.
Wine
If your theme is Rosé All Day, you have to include some wine in the goodie bag. There are a ton of wonderful, affordable options out there, and the best way to pick them may be to go to a reputable liquor store near you and ask for suggestions or join a wine club, like NiceWines.com and ask for their recommendations. However, if you want something that is a little cheesy, a little cute, and certainly themed for a bachelorette party, then you want to check out the Groupon deal for Bachelorette Rosé.
You may also want to include a classic Korbel Brut Champagne Mini, depending on the size of your bag: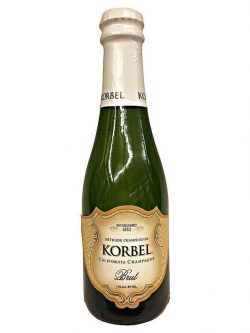 Tattoos
Use those golden accents in an adorable way, with these Bride Tribe flash tattoos.
Wine Stopper
While many of us are in the "finish the bottle" group of wine lovers, we realize that sometimes you just want to have a glass of wine. That is why this adorable Love wine stopper is a perfect addition for this theme.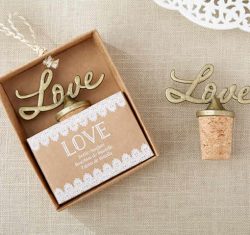 Personalized Wine Tumbler
If you have never tried one of these stemless stainless steel wine tumblers, then you do not know what you are missing. They are the perfect summertime drink companion, keeping your drink the perfect sipping temperature, even when it is super-hot outside. They make a great anytime gift, and are perfect for a wine-themed bachelorette party favor.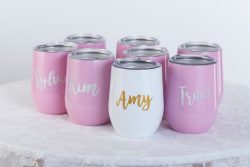 Wine Bag
These personalized wine bags are a great way to present any wine-themed gifts and they also go well with the rustic wedding trend that remains popular.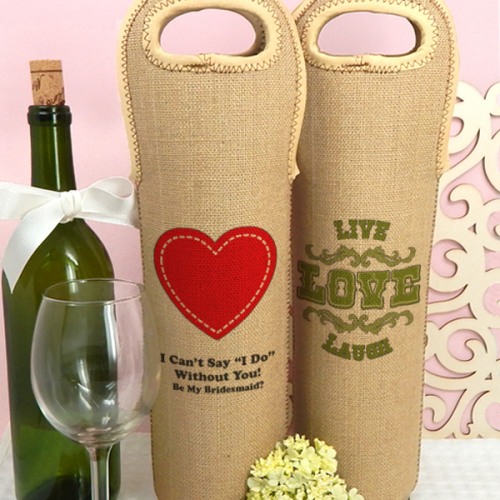 Mermaid
We love the whimsy of the super-popular mermaid theme for bachelorette parties. It is a theme that can run a little kitschy, but that you can also handle in a very classy manner, depending on your personal preferences.
Want to give some cute gifts, but not sure you want to fill up a giant gift bag? These mermaid tail favor bags are the perfect size for when you want to give your guests a little something: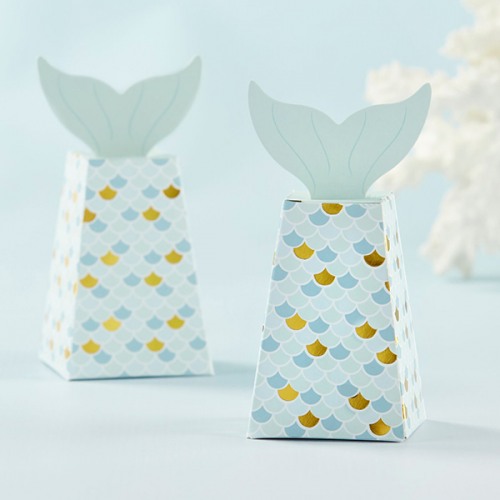 Wine Stopper
We love this mermaid wine stopper, because it captures what we like to think of as fairy tale elegance:
Bottle Opener
Likewise, the patina on this bottle opener and the way that it blends into the tail design is one of our personal favorites:
Coozie/Coolie
Keep your drinks cool, even if you are in the sun, sand, and surf, with these party our tails off mermaid themed bachelorette coozies.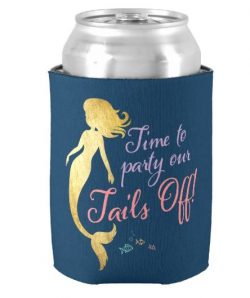 Pool Float
If you are taking your mermaid party to the water, then consider handing out your favors beforehand and including this mermaid-tail float in with the swag.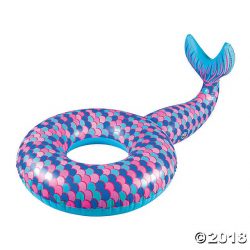 Votive Holder
Not all mermaids drink like fishes, so consider something beautiful that will evoke the ocean and the shimmer of a mermaid's tail, like these gorgeous votive holders.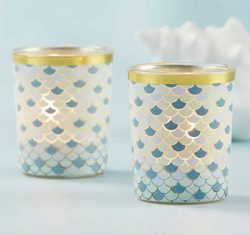 The Basics
Looking for a swag bag that will help your girlfriends weather any type of bachelorette party? We love these ideas because they are pretty universal, and we love the idea of handing them out at the beginning of the party, rather than the end.
An Amazing Market Bag
Looking for a bag that your girlfriends will use over and over again? Consider splurging on these personalized market bags. Big enough to fit all of your swag, and then some, these bags replace totes, shoppers, and other bags, letting you all streamline and consolidate. You can monogram them or add a different kind of personalized message.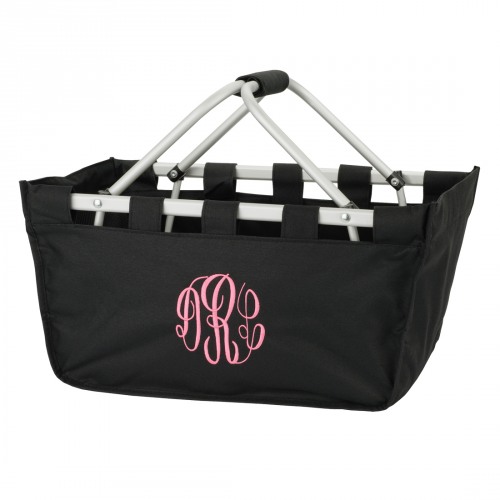 Sashes
Set yourselves apart from the crowd with these bachelorette party sashes.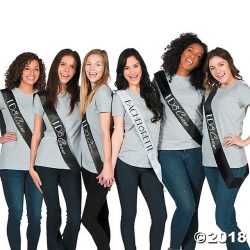 Credit Card Bottle Opener
How many times have you needed a bottle opener, but did not have one handy? You can solve one of life's annoying little problems and give your gals a way to remember your party with these handy, personalizable credit-card sized bottle openers: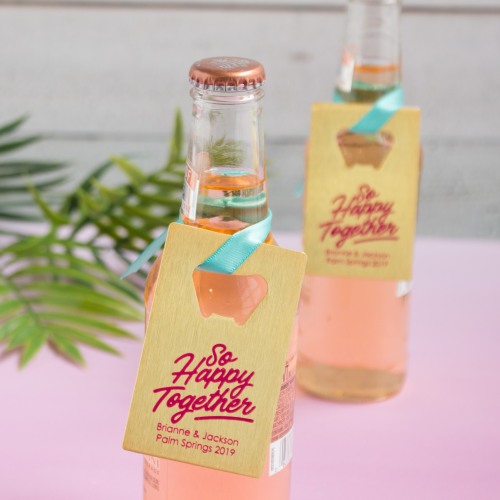 Coozies/Coolies
It is never a bad idea to have a way to keep your drinks cold. Plus, these coozies gives them all a personalized reminder of your party.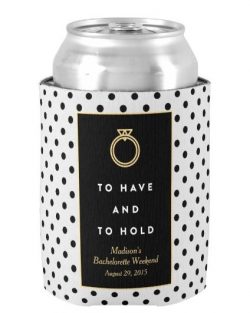 Lip Balm
Drinking, partying, laughing, eating. Your lips are going to get a workout at a bachelorette party. Keep everyone's pouts happy with some cute personalized lip balms.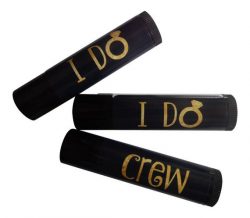 Hair Ties
You know your squad is going to show up with fabulous hair and dressed to kill. However, when you party like a rockstar, sometimes you pay the price, and you do not want their fabulous hair to get in the way. That is why we love the idea of these "to have and to hold…your hair back" bachelorette party hair ties.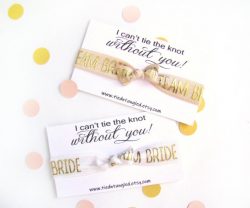 Condoms
Listen, take it from us, bachelorette parties can get really rowdy. If you think any of your friends are likely to make some new friends and party with them at the bachelorette party, then slip some personal protection into their goody bags.
A Little Bit Naughty
People take all kinds of different approaches to bachelorette parties, and we are fans of all of them. However, we have to admit, we like a little raunch in our bachelorette parties. One way to add that little bit of naughty is to give a goodie bag with an adult-theme.
Pecker Candy
Penis shaped candy is a bachelorette party tradition, and we think a naughty swag bag is a great place for it.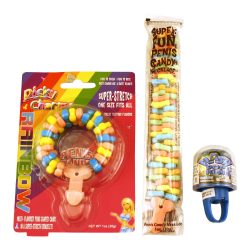 Drinking buddies
Pick your favorite drinking buddy and let him grace your glass for the evening.
Drinking Games
Nothing livens up a raunchy party quite like a little drinking game. We like the ones where people are encouraged to open up and share some secrets.
Looking for other games?  Check out our article on bachelorette party games.
Fiesta
The fiesta theme remains a bachelorette party favorite, and we love it for designing a goodie bag because it lets us add in bright colors and fun items that do not really fit with other themes. Since a fiesta is just a party, we say it is okay to use this theme for your swag bags, even if you are not using it for your bachelorette party.
Bag it Up
She is nacho average bride, and it is nacho average party, so these nacho average bach bags are perfect to hold your loot.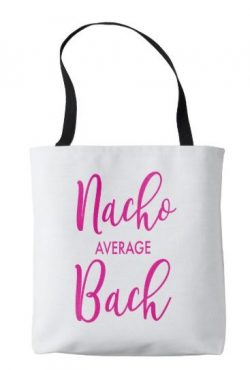 Coozies/Coolies
By now, you know that we love a coozie as a party favor. They are lightweight, compact, usable, and personalizable. We love this fiesta-themed one almost as much as we love the tequila it mentions.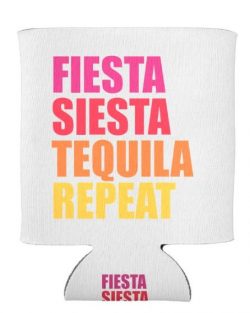 Shot Glasses
Speaking of tequila, these personalized shot glasses are perfect for any party. Have the money to spend on a splurge? Include a high-end bottle of tequila in the bag.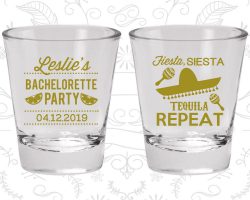 Fiesta Hair Ties
We love these hair ties, which look like miniature serape blankets.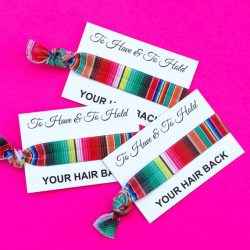 DTF Shirts
You know, down to fiesta. What did you think we meant? These adorable shirts are great for any bachelorette fiesta, and cute enough to wear again.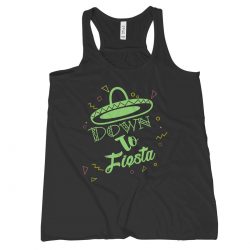 Conclusion
Although goodie bags are not a bachelorette party must-have, they are a fun and easy way to show your girls that you appreciate all you are doing for them. Looking for more ideas on how to create the ultimate swag bag? Head on over to our forums, where other party planners are happy to share their ideas.