Bachelorette Party Food Ideas (2023 Guide)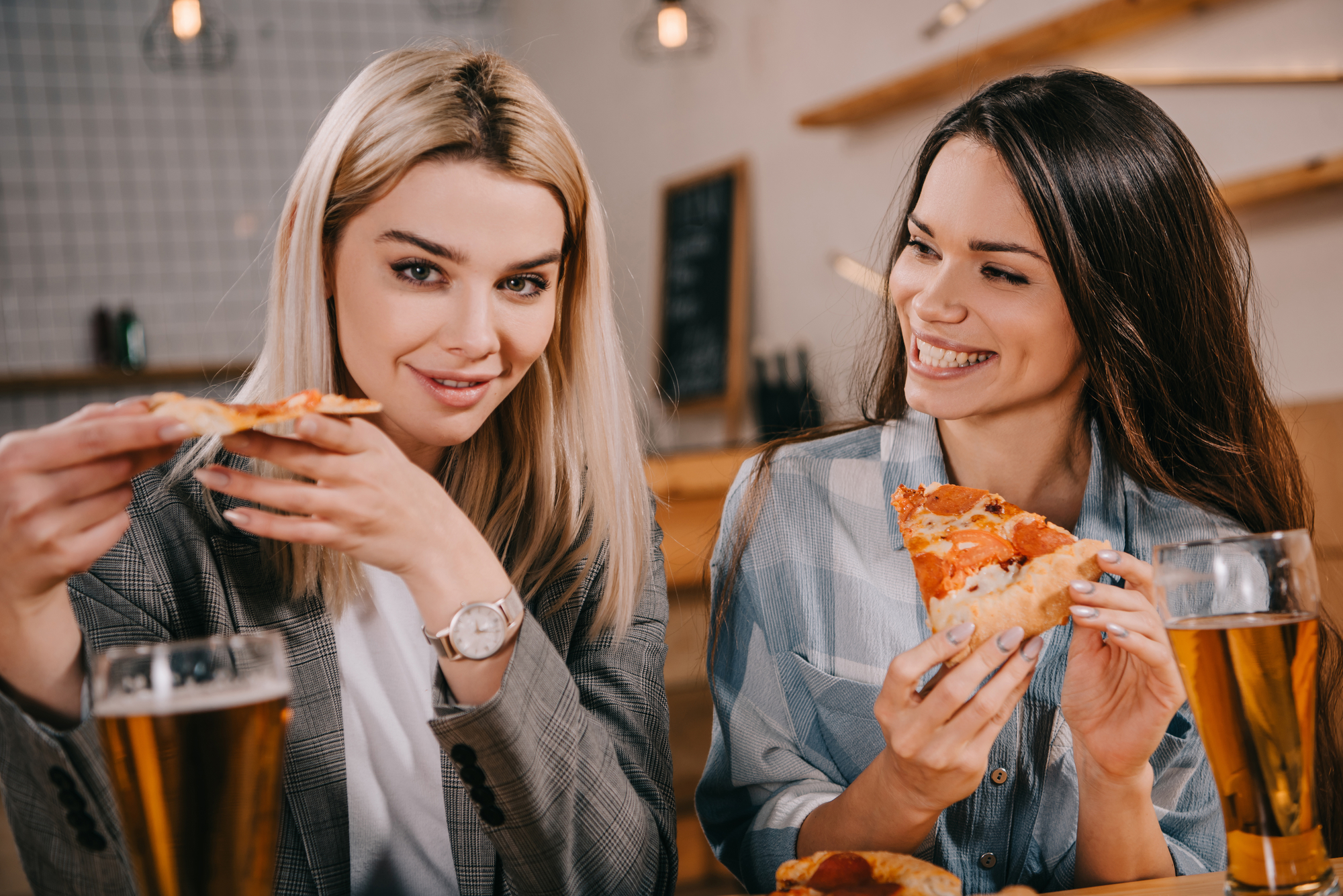 This post may contains references to products from one or more of our advertisers. We may receive compensation when you click on links to those products or services. Please also consider
donating to our website.
If you are hosting a bachelorette party, you have probably already come to the realization that you are going to have to feed all of those people something.   If you are heading out to a brunch, lunch, or dinner then people can pick their own food and decide what they are going to eat.  However, if you are starting off the party at your place before hitting the bars or hosting some type of shindig where the food duties are on you, then you are going to want to put together an easy, affordable, delicious bachelorette party menu.  This is a lot easier than it sounds, so do not worry that you are going to be spending all of your time handling food duties.  Instead, you can throw together a high-quality menu with relatively little effort, making sure that your girls have something in
What Type of Menu Do You Want?  
Before you can start planning your menu, it is important to think about the kind of menu that you want.  Are you serving a sit-down dinner?  Do you have a theme that can be continued with an in-theme menu?  Are you looking for appetizers and other finger foods?  Are you serving a brunch, lunch, or dinner?  Before you can start planning your menu, you need to have a good idea of what kind of food you want to serve.  Then, you need to consider whether or not the bride of any of the guests have any special dietary needs?  Are there any food allergies, food sensitivities, or religious food requirements?  Does anyone eat a special menu, like vegetarian, vegan, low-carb, or keto?  While you are certainly not required to create an entire menu that focuses on any one guest's special dietary needs, you do need to make sure that you have food that all of your guests can eat and enjoy. 
Do You Want to Eat Penises?
This is an important question.  If you look around for bachelorette party food ideas, you are going to see penis-shaped pastas, penis-shaped egg molds, penis cookie cutters, ideas for penis cakes, penis-shaped suckers, etc.  The naughty take on food is not limited to penises; there are plenty of boob and vagina themed foods for LGBTQ bride.  Deciding whether or not you want to include these foods is kinda important.  Your group will either think they are hilarious or find them a little off-putting.  If you are guessing whether or not they will appreciate them, we are going to suggest skipping these sexually themed foods or at least not featuring them as a central part of your menu.  Want to include them?  Then, maybe have penis-shaped pasta in a pasta salad, rather than committing to an entire selection of penis-shaped foods.  The reasons we suggest this is that, our experience is that people may laugh at novelty foods, but they do not really tend to eat them.  If you want food that does not go to waste, you want to use the penis sparingly!
Do You Have a Theme? 
Is there a theme for the bachelorette party?  Some themes naturally lend themselves towards certain types of food.  Doing a fiesta party?  Then, your menu is going to lean towards Mexican and Tex-Mex favorites.  Having a brunch?  Obviously, you will want to pick some breakfast favorites for your guests.  Mermaid party?  You will probably have plenty of seafood on the menu.  So, keep your theme in mind when planning the menu.  Also, remember that many things can be tweaked and designed to mesh with your theme.  For example, anything that is artificially colored can be colored to go with whatever theme you choose. 
Bachelorette Party Brunch
Brunch is the go-to meal for many a bachelorette.  Which is fantastic, because brunch is a super-easy meal to throw together, with casual elegance and effortless style.  If you are having a brunch, then we highly suggest you have a mimosa or bellini bar.  These two cocktails are not only breakfast and brunch-time favorites, they are also an affordable way to liquor up your bachelorette party!  This menu is great for a stand-alone bachelorette brunch or as one of the meals to include if you are renting a party house for a destination party.
Spinach Salad (recipe serves 6 as a side dish)
1 large bag of washed spinach leaves
2 jars of mandarin oranges (drained)
½ chopped red onion
1 point sliced strawberries
Your favorite vinaigrette dressing (we love Brianna's Creamy Balsalmic)
Easy Quiche (serves 6-8)
Frozen pie crust (in pan)
6 large Eggs
¾ cup milk (for an extra decadent quiche, substitute half and half)
2 cups of your favorite quiche fillings
Mix eggs and milk, season according to taste (a little dash of pepper and salt is enough for some folks, but we add some Tony Chachere and garlic powder) add in the quiche fillings, and pour into the frozen pie crust. Place the pie crust on a cookie sheet and put into a 350 degree oven for 40 to 50 minutes or until the top is golden-brown and a knife inserted into the center comes out clean.  
Quiche is a classic brunch favorite for lots of good reasons: it tastes good hot, room temperature, or chilled; it is super-affordable; it can be prepped ahead-of-time; and it can be customized for a wide variety of dietary restrictions.  For the two cups of filling, there are some classic combinations: bacon, spinach, and white cheese; mushrooms, peppers, and cheese; ham and cheese; and shrimp, crawfish, and cheese.  We use pre-shredded cheese and add about ¼ cup of frozen mirepoix (also known as the Cajun trinity, this is a mix of chopped celery, onion, and bell pepper that adds some flavor and crunch to almost anything savory) mix from the grocery store.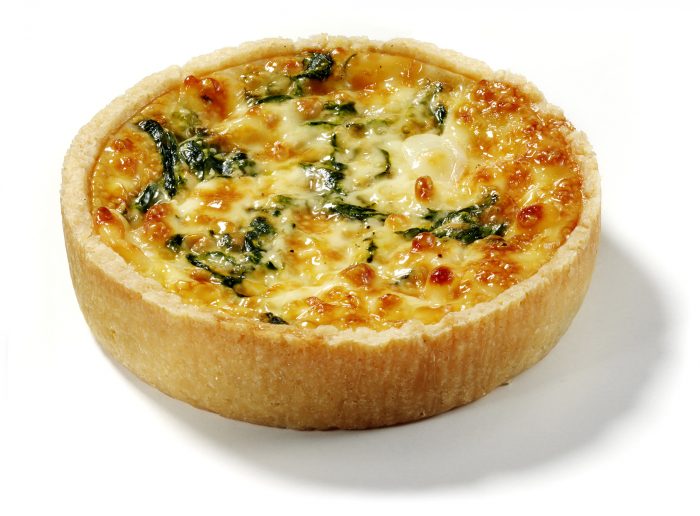 French Toast Casserole (serves 8 to 12)
Everyone loves French toast, but it is simply not practical to make individual French toast for every guest at a brunch.  Instead, you can use this decadent make-ahead French toast recipe, and pop it in the oven to serve piping hot at brunch!
1 loaf French Bread
3 cups half-and-half
8 large eggs
2 T. sugar
1 t. vanilla
1 t. bourbon or whisky
¼ t. cinnamon
¼ t. nutmeg
Slice the French Bread into even-sized slices; enough to cover the bottom of the casserole dish or pan that you are using.  (For a 9×11 pan, and a standard-sized loaf of bread, this means approximately 20 1-inch slices).  Grease the pan, then line with the pieces of bread.  Mix together all other ingredients in a mixer and then pour the custard over the pieces of bread.  Refrigerate overnight, then cook at 350 degrees for 35-45 minutes. 
You can keep this recipe simple and sprinkle the French toast with powdered sugar when you pull it out of the oven or top it with a special topping or cream-cheese icing.  We like it served with plain maple syrup!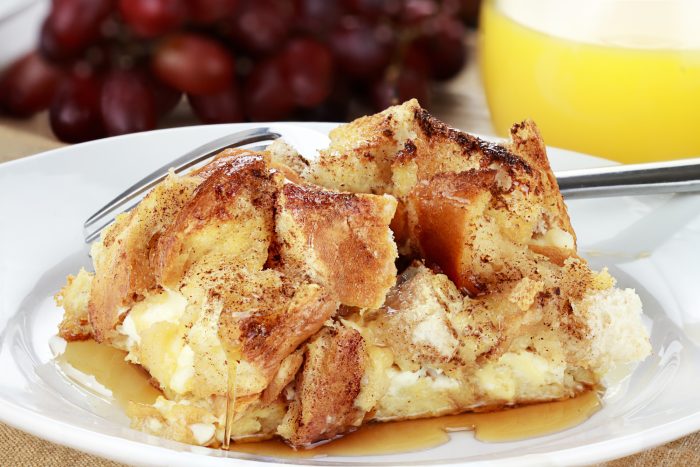 Bachelorette Party Lunch Menu
Looking for something with more savory options and less of a breakfast feel?  No problem. We have you covered with this easy menu, which lets you do a lot of the prep work ahead of time, and still makes you seem like a master chef.  We use pre-cut fillets in this recipe, because that makes them easier to serve, since they are already portioned.  4 fillets should be about a pound of salmon, and you can always ask your seafood counter to help ensure you have evenly sized fillets.  You can also use this recipe to cook an entire salmon, but you may need to adjust your cooking time for even cooking.
Salmon with Lemon and Dill Butter Sauce (serves 4)
4 ¼ pound salmon fillets
¼ cup of butter
2 lemons
2 T. lemon juice
1 t. fresh or dried dill
Salt to taste
Pepper to taste
Slice into circles and line the bottom of a greased 9×11 baking pan with the lemon slices.  Place the salmon fillets on top of the lemons slices.  Mix together melted butter, lemon juice, and dill weed and pour the mixture evenly over the salmon fillets.  Sprinkle with salt and pepper.  Bake at 350 degrees for 25 minutes.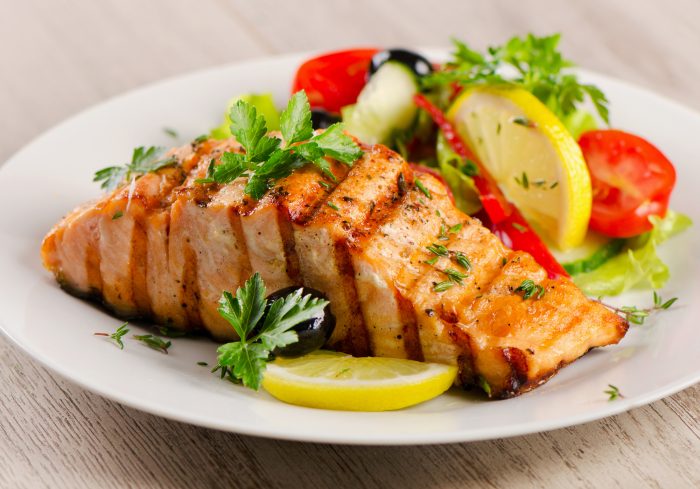 Steamed Asparagus (serves 4)
1 bunch of asparagus, washed, and with the ends snapped off
¼ cup white wine
1 T. lemon juice
2 T. butter
1 T. crushed garlic
Pour the wine into a microwave-safe baking dish.  Lay the asparagus in the dish, avoiding it being jumbled together.  Add the lemon juice and crushed garlic to the melted butter and pour over the asparagus.  Microwave on high for 4 to 7 minutes.  Remembers, asparagus is supposed to retain some crispness when you cook it; less time is usually more!
Dill Potatoes (serves 4)
1.25 pound or 1/4 package of pre-washed, mix-color baby potatoes (our absolute favorite for this recipe is the Perfect Pair mini potatoes you can find at Sam's Club). 
½ c. butter
2 T. dill
1 t. powdered garlic
Salt
Place potatoes in a greased 9×9 pan.  Mix dill and powdered garlic into melted butter and pour over potatoes.  Bake for 25 minutes in a 350 oven.  (Note that the baking time for the potatoes and the salmon is the same, which means you can prepare them at the same time).
Banana Pudding
Banana pudding is one of those desserts that feels simultaneously sinful and like you are taking a step back into childhood.  It is also a great dessert for entertaining, because you make it ahead and then chill it, so there is no prep-work required before serving.  We are including a recipe that uses a boxed pudding mix to keep things simple for folks, but you cannot go wrong if you use the classic homemade recipe on a box of Nilla Wafers! 
1 large package of instant vanilla pudding mix
2 c. half-and-half
¾ c. milk
1 t. vanilla
1 box of vanilla wafers
6 bananas, sliced.
Using a hand mixer, beat pudding mix, milk, vanilla, and half-and half for 2 minutes or until mixture thickens.  In your greased casserole or trifle dish, lay ¼ of the vanilla wafers.  Cover with 2 sliced bananas.  Cover with 1/3 of the pudding.  Repeat layers, ending with a layer of vanilla wafers on the top.  Bake at 325 degrees for 20 minutes. 
Now, there are two ways you can handle your banana pudding.  You can bake it, chill it, and serve it covered with whipped topping or sprayed whipped cream, which is easy and delicious.  However, if you want to take it up a notch, then before you baked your pudding you are going to want to make a meringue layer for the top, cover it with the meringue, and bake at 325 degrees for 20 minutes or until the meringue begins to brown.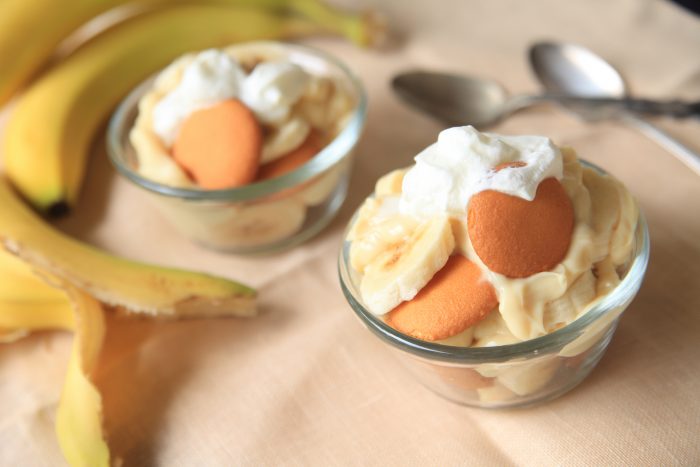 Meringue
4 large egg whites
2/3 c. granulated sugar
1 t. vanilla
Beat egg whites and vanilla at medium speed with a mixer until soft peaks begin to form (usually 1 to 2 minutes, but if you are experiencing humidity, this can take a lot longer).  Gradually add sugar and beat on medium until stiff peaks form (usually 3 minutes).  Then stop beating; if you continue to beat the mixture, your peaks will start to break down. 
Bachelorette Party Dinner
If you are planning a whole dinner for a bachelorette party, it can get a little daunting.  That is because nighttime bachelorette parties usually have an additional activity attached to them, which means that you are likely to be dining and dashing.  Going in for a full-dinner means that you are going to be stuck with clean-up when you get back and that your departure can be delayed if anyone fails to show up for dinner on time.  We thoroughly dislike this idea.  So, if you are throwing a bachelorette party dinner and you feel like you have to provide the sit-down experience, we are going to suggest you serve some variation of our lunch menu.  Otherwise, if you are throwing an evening or night-time bachelorette party, we are going to suggest you just lay in plenty of appetizers and finger-foods for your crowd.  We are also going to suggest that you save yourself the hassle of a lot of cooking and prep-work and use your local warehouse club's frozen appetizer and fresh party sections to round-out a great appetizer menu.
Here are some of our favorites: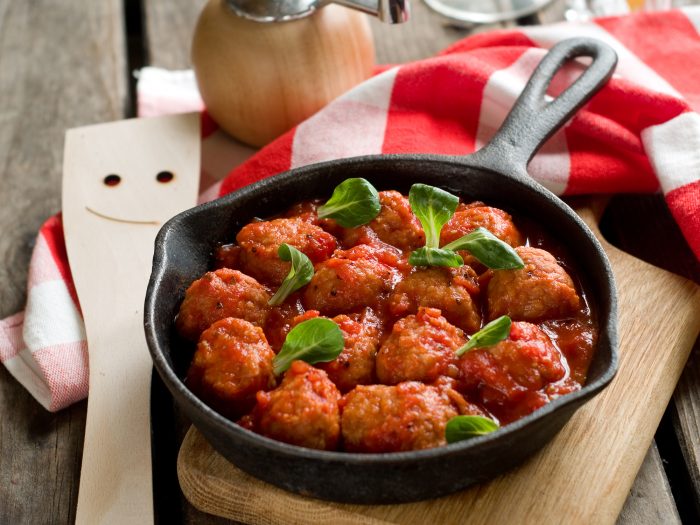 Boozy Bonuses
Now that we have given you some great ideas for bachelorette party menus, we want to give you some options to help round out the menu at almost any bachelorette party.
Drunk watermelon slices
Watermelon
¾ cup liquor
1 c sugar
2 t. lime juice
Sea salt or rimming sugar
Mint (optional)
Slice a watermelon and place in a baking dish.  Combine your liquor, sugar, and lime juice in a saucepan, dissolve the sugar, and then pour over the watermelon.  Let the liquor sit in the watermelon overnight.  For a mojito-themed treat, we use rum and will garnish with rimming sugar and mint.  For a margarita-themed treat, we use a combination of Triple Sec and Tequila and will finish with a sprinkle of sea salt.  
Drunk strawberries
Strawberries
Champagne
Sugar
The amounts you use depend on how many strawberries you want.  Clean strawberries and place them in a bowl.  Sprinkle liberally with sugar.  Then pour champagne over them.  Want some more kick?  Use vodka instead of champagne!
Grown Up Root Beer Floats
Vanilla Ice Cream
Your Favorite Alcoholic Root Beer
Put a scoop or two of vanilla into a chilled beer mug.  Cover with root beer.  Enjoy.  (Helpful hint- not everyone likes root beer.  No problem.  You can easily recreate this recipe with rum and coke or an alcoholic grape soda. 
Chocolate Truffles
1 pound dark chocolate (make it easy on yourself and get it in chips)
1/3 cup heavy cream
2 T. butter
1/3 c. alcohol of your choice
Cocoa powder, coffee, sea salt, powdered sugar, or chopped nuts
Place the chocolate in a bowl.  Heat the cream and butter, but do not boil.  Pour heated cream and butter over the chocolate, add alcohol, then mix until smooth.  Chill until cold-enough to easily work with (usually 2 hours in the fridge will do the trick).  Use a tiny ice-cream scoop or melon baller to make bite-sized balls.  You can also roll by hand.  Roll finished truffle in chopped nuts, cocoa powder, powered sugar, sea salt, or even sprinkles. 
We absolutely love this recipe because it is so easy, requires no baking, and can be modified to suit anyone's tastes.  You will frequently hear these made with whisky or bourbon, but we like them with amaretto covered with chopped almonds, or with Irish Cream and dusted with a combo of finely ground coffee and cocoa powder!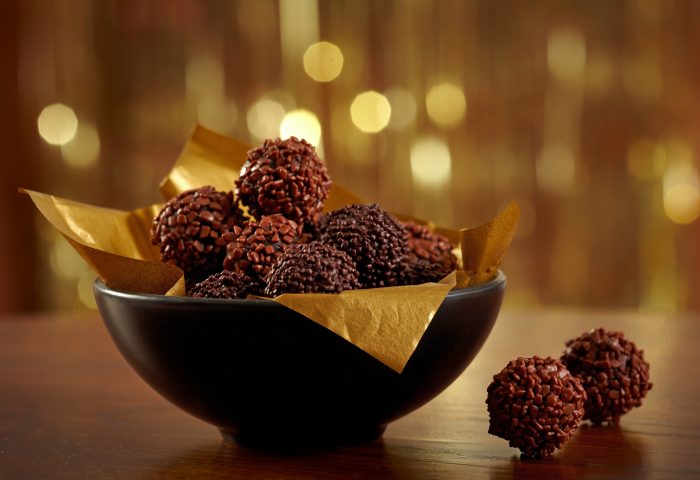 Sophisticated Jello Shots
Jello shots are a fun way to get your drink on, but, their normal little plastic cup appearance makes them a little out-of-place at a classy bachelorette party.  Have no fear; it is totally possible to make a sophisticated looking Jello shot. 
6 small citrus fruit (you can use lemons, limes, or oranges for this recipe, and the fruit you choose will probably depend on what goes best with your party theme)
2 packages of Jello (whatever flavor you choose)
1 c. of the alcohol or alcohols of your choosing; flavored vodkas work really well here!
Cut the citrus fruits in half and hollow them out.  Mix together your Jello according to package directions, substituting 1 c. of alcohol for 1 c. of the water.  Using something milder, like champagne or wine?  Substitute all of it in the recipe.  Pour the Jello mixture into the hollowed-out citrus shells, then refrigerate till set.  Once set, cut into wedges.  We love a pretty visual contrast with these adult shots, so try pink flavors, like strawberry or pink lemonade, inside the lemons, blues with the greens for an underwater feel, and reds with the oranges!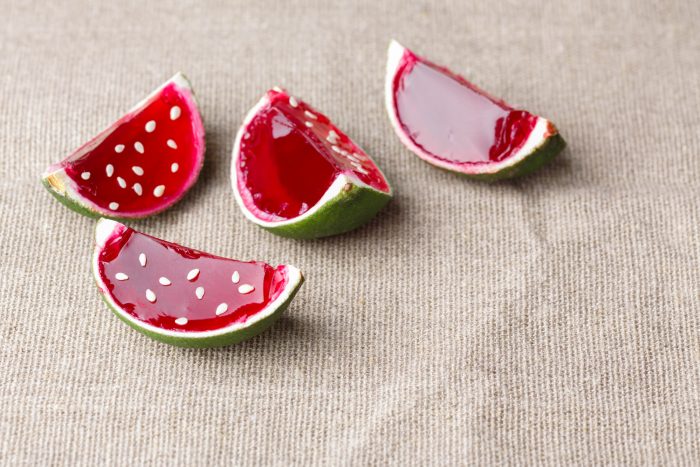 Vodka-Soaked Gummy Bears
Pour the vodka over the gummies and let sit for at least 4 hours.  The longer you let them sit, the more powerful they will be.  This is a dessert where it is perfect to use "naughty" themed items, like penis or boob shaped gummies.  Looking for a milder impact?  You can use champagne instead of vodka. 
Conclusion
You may be completely stressed out about bachelorette party food, but you do not have to be.  Whether you are expected to provide a full meal, some snacks, or just some awesome desserts, we have you covered.  Looking for more ideas?  Head over to our forums and find out what other bachelorette party planners have done for their menus.