Bachelorette Party Email Invitations (2023 Guide)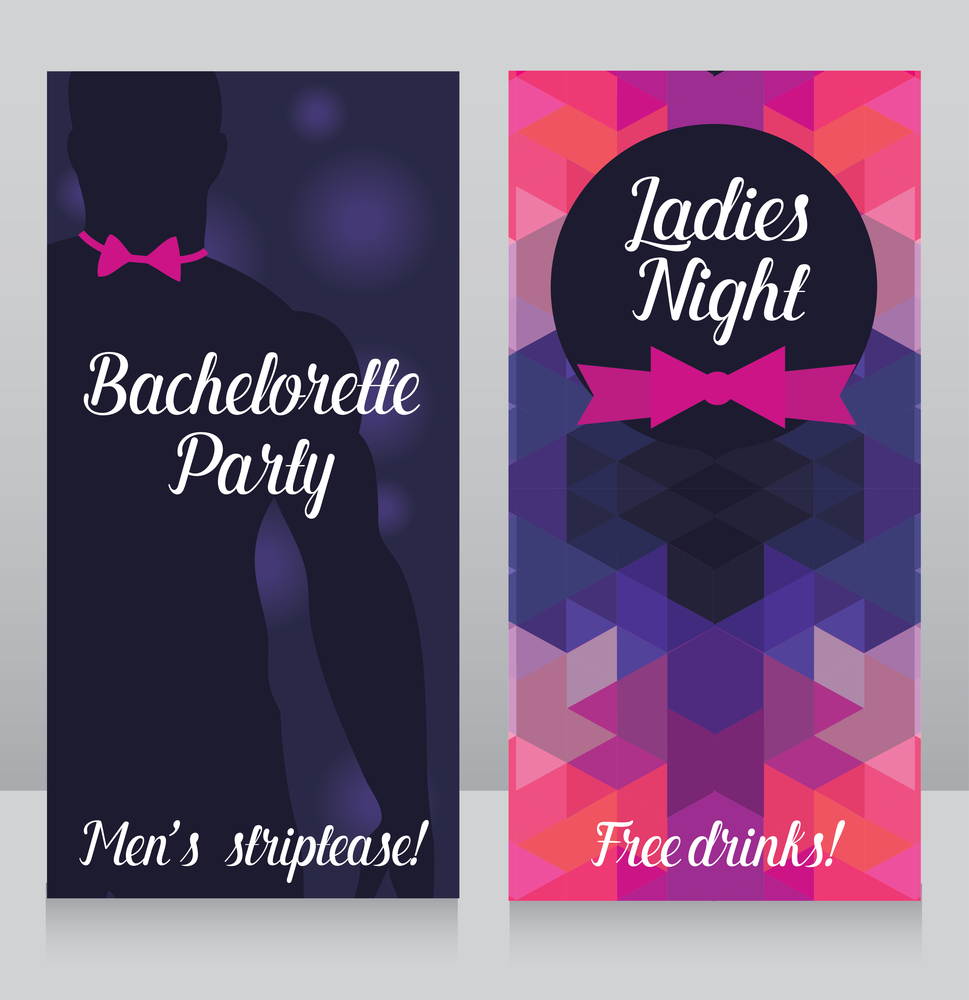 This post may contains references to products from one or more of our advertisers. We may receive compensation when you click on links to those products or services. Please also consider
donating to our website.
If you are in charge of the planning process, then you know you have to pick the bachelorette party invitations. While this may seem like an easy step, it is actually one of the more stressful parts of bachelorette party planning. That is because the invitations help set the tone for the party. You want them to be informative without being too wordy, enticing, and let the guests know what kind of party to expect. You also want them to be visually appealing, fun, and tell a little about the bride. When you think about it, that is an awful lot to ask for from an invitation, but we can help you find it. One way to make the invitation process easier is to choose electronic or email invitations. Using these invitations helps you manage your guest list, keep track of RSVPs, and send reminders or updates to everyone on your guest list. Because electronic invitations offer all of these advantages, we are happy to eschew tradition and embrace the technology age by foregoing paper invites.
Are Electronic Invitations Right for Your Bachelorette Party?
We firmly believe that, in almost every scenario, electronic bachelorette party invitations are the way to go. They are usually free, they let you remind people to RSVP, you only need email addresses, Facebook contact, or cell phone numbers to send them, and you can send updates to your guests. For the purposes of planning bachelorette parties, you literally could not ask for more. Unless the bride hates them. Some brides would be broken-hearted if you sent out email invitations. It might seem silly to you, but you gotta deal with the bride you have, not the bride you want. If you are planning the ultimate party for your bestie for the restie and her heart is set on some adorbs paper invites, then, we hate to break it to you, you are going to have to suck it up and send out paper invites. However, do not let that break your heart. You can always send out an electronic save-the-date, or a similarly themed reminder after you have sent the paper invites, so that you can have all of the advantages of an electronic invitation, while still giving the bride what she wants!
Where to Get Them
When you hear the words "electronic invitation," you almost certainly think of Evite. This industry powerhouse has cornered the market on paperless invitations and offers some of the best guest-list and party management tools out there in the electronic invitation marketplace. However, they do not always have the style that you want. By expanding your horizons, you might be able to find an invitation that is even more perfect for your party at a site like Paperless Post, Green Envelope, or Minted.
To help you with your process, we have selected some of our very favorite bachelorette party invitations from each of these sites, and are also providing templates so that you know exactly what information you need to use each of these services.
Minted
Minted is a very well-known source for paper invitations and it has recently entered the online invitation department. Sometimes their invitations are free, sometimes they come with a price tag, but they are always more affordable than paper options. What we love about Minted is that it really helps you customize invitations for your party. When you go to design your invitations, you are given a menu screen that looks like this: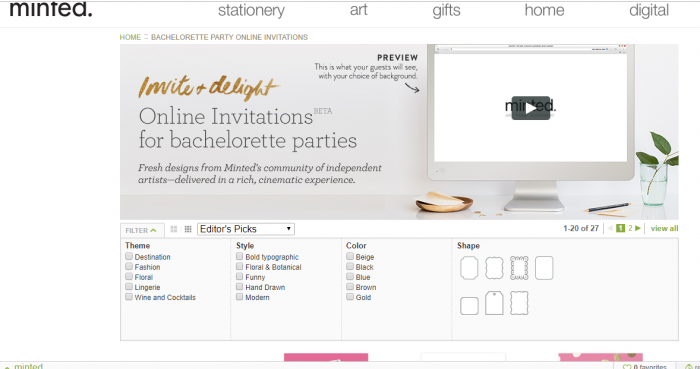 You are given the option of picking a theme, a style, a color, and a shape for the invitations, which can help you narrow down the selection process.
Minted offers frequent new designs; sells party décor and thank you notes that match their online invitations; has guest management software that lets you track RSVPs, poll guests, and send guest updates; lets you integrate your email invite guest list with any existing Minted guest lists; and offers plenty of opportunities for personalization including using personalized photos in your invitations.
We love these rustic Mason jar invitations, which are perfect for the bride planning a country-themed wedding or for a destination bachelorette party that is out in the country, in Nashville, or even in Austin: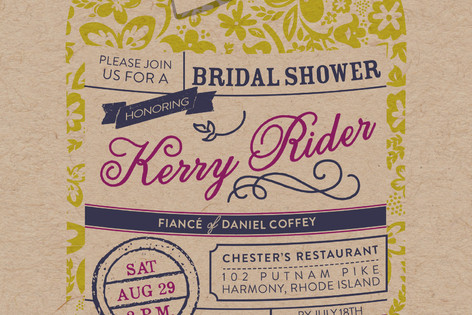 For a brunch, we love the simple lines of this cocktail-themed invitation: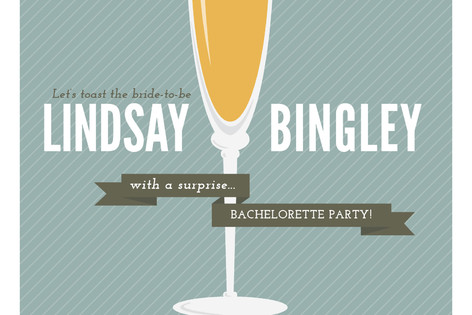 This highly personalizable girls' getaway invitation has plenty of room for you to include all of the details that you need for a destination bachelorette party invitation: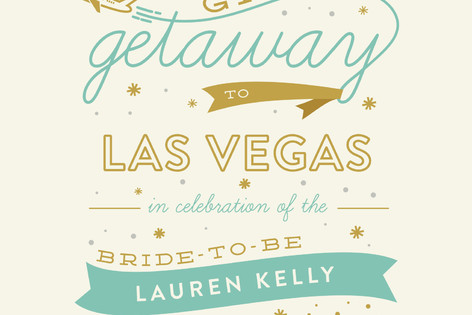 When using Minted, the information you need is going to depend on the invitation style that you selected, because some invitations have spaces for information that other invitations do not have. We are using a destination bachelorette party invitation for our how-to, because it is a pretty thorough example. However, if you look at the Mason Jar invitation that we included above, you will notice a space for the groom-to-be's name. So, just be aware that you may need additional information when creating your special invitation.
Once you have selected your invitation and opted to personalize it, you will see a screen that gives you more personalization options: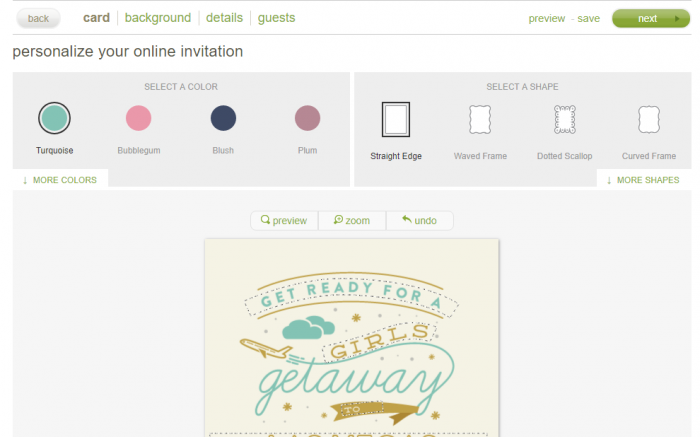 After picking your color scheme and shape, you will be asked to select a background: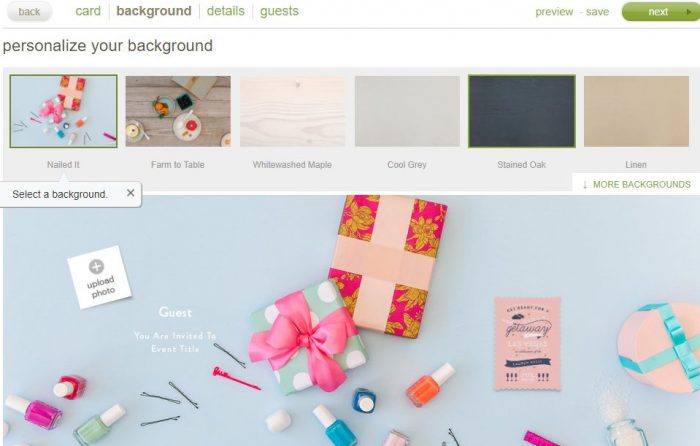 For some backgrounds, you may be given the opportunity to upload a photo, but that step is optional.
Next, you will be asked to put in your event details. You may be asked for details that do not appear on the invitation; go ahead and enter any details you want the guests to have: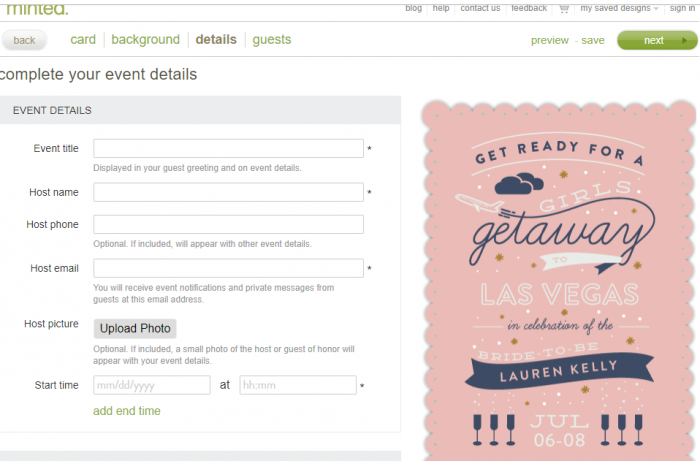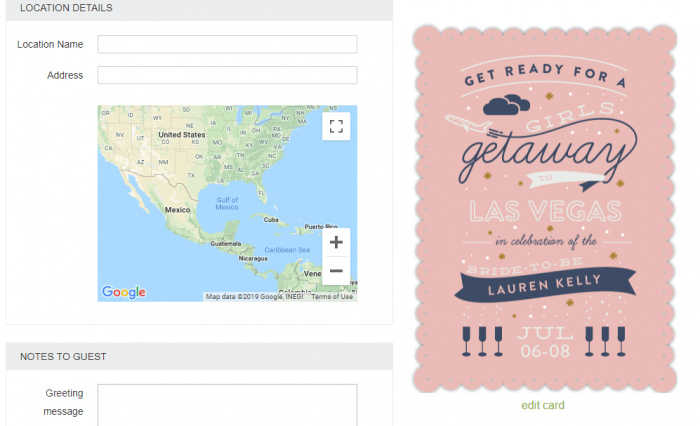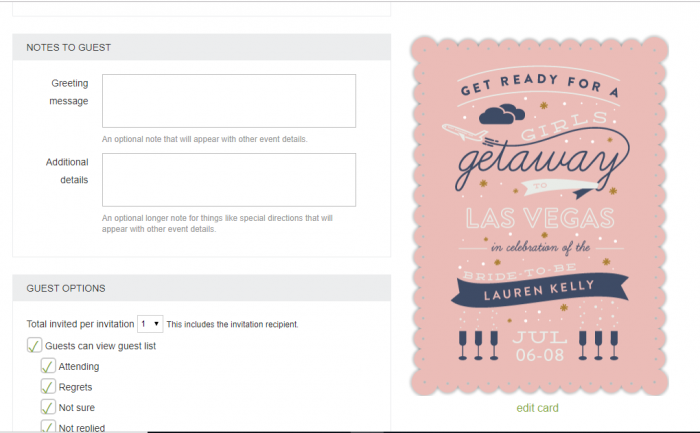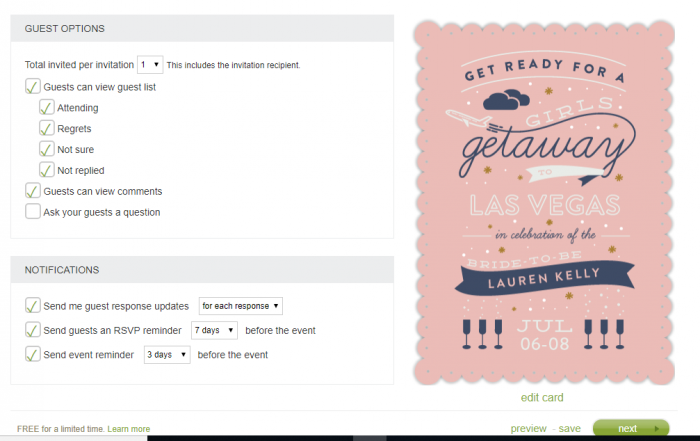 Paperless Post
Paperless Post is one of our very favorite sources for electronic bachelorette party invitations because we love their designs. The offer flyers and cards, and each of them have some of their own unique elements. Flyers are a little less formal and may have .gifs, moving parts, and seem a bit more whimsical. Cards come in envelopes and have a better RSVP tracking system. There are also price differences, as Paperless Post does charge for some of its email invitations.
When you visit their bachelorette party invitation site, you see a welcome screen that will look something like this: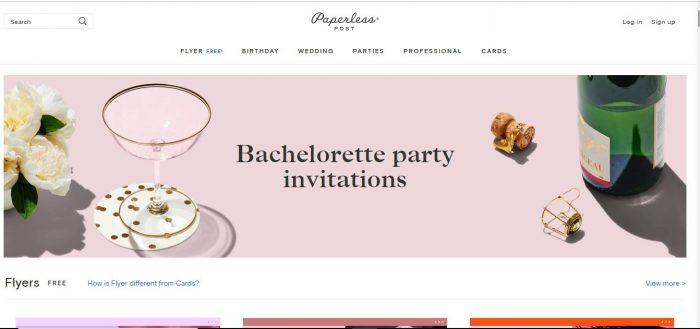 Rather than providing you with a menu to personalize your invitations, you simply scroll down or to the side to see more options for both flyers and cards.
We love this Bewitching Flyer design: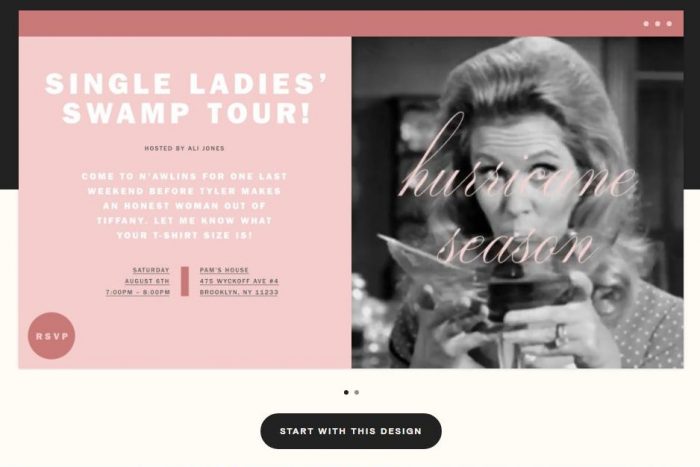 This card is perfect for a girls' trip to Vegas or even Nashville: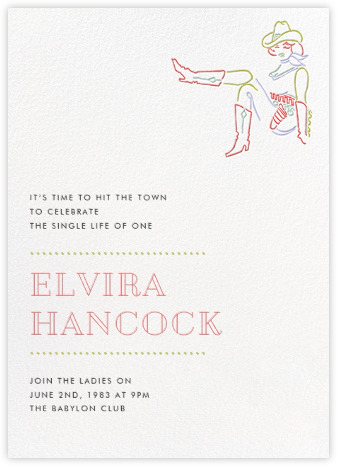 How about brunch and a spa day?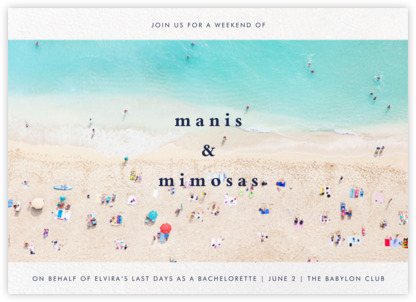 For a destination bachelorette party to just about anywhere: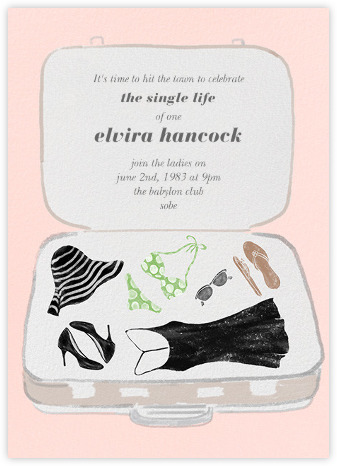 Planning a night of total drunken debauchery? Let your guests know what to expect with this card:
We are not usually a fan of calling our friends bitches, but this invitation is too adorable not to include on our list: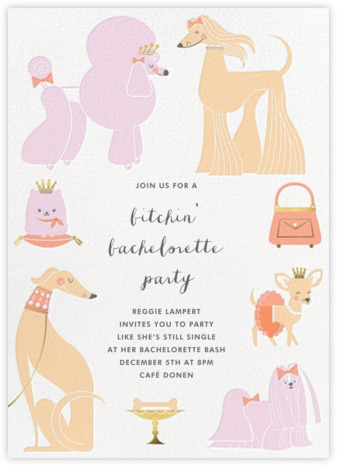 Once you have selected the invitation you want to send, it is time to personalize it.
First, you get the option to choose a custom background: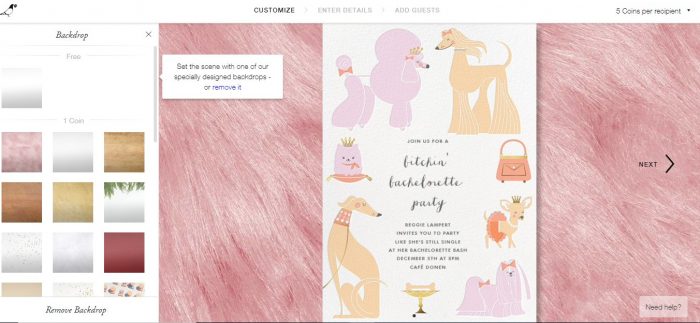 Then, you get to edit the text on your invitation. A menu on the left lets you change the typeface, formatting, and color of the text. To change the text, itself, you actually move over to the invitation and type in the text box. This is different from the other services we highlight, which provide you with fill-in-the-blank information spots. It allows a higher degree of customization for the user, but is also a little bit more difficult to use: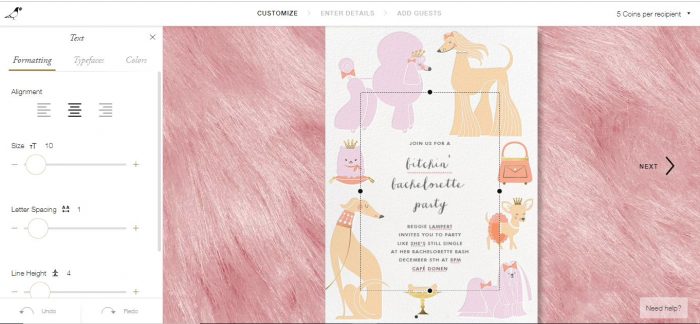 Then, you get to pick your envelope liner: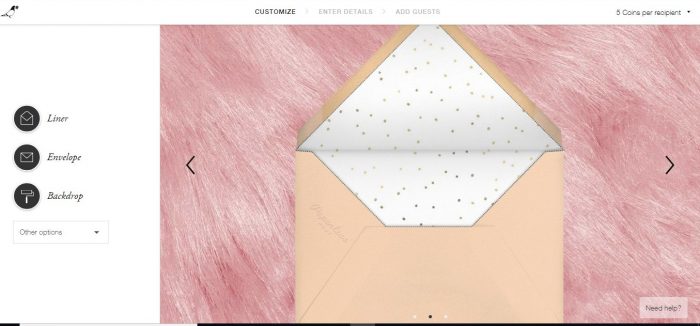 And your envelope front. Don't forget to pick an adorable stamp to go on the front: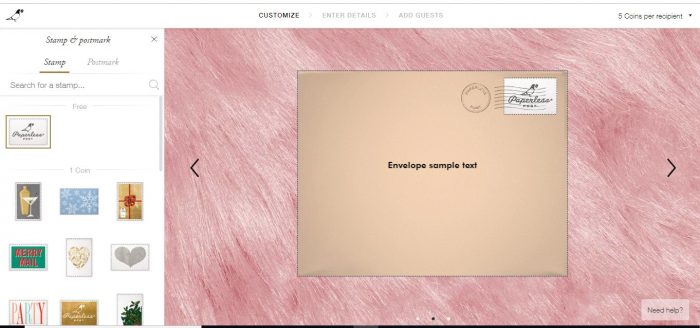 Pick your reply card options. Paperless Post lets you pick from invitation with RSVP, greeting card, save-the-date, announcement, and a card with a website link: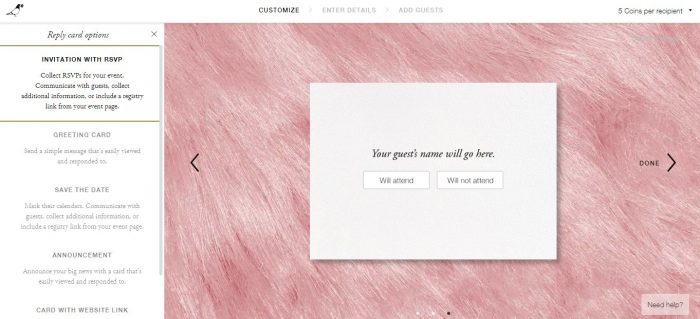 Once you have designed the invite, you are given an opportunity to enter event details, which your guests will be able to see after they open their email invites. You will get options to add an event registry, include a comment wall, or include your phone number so that guests can contact you: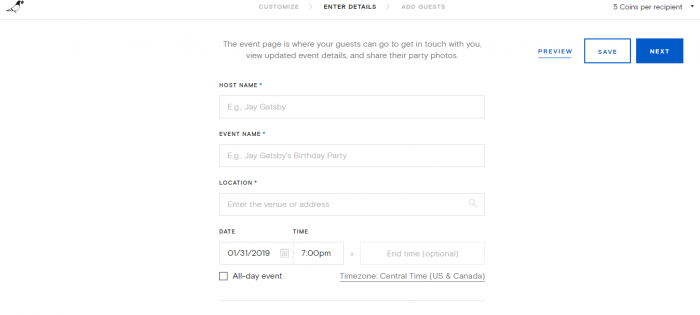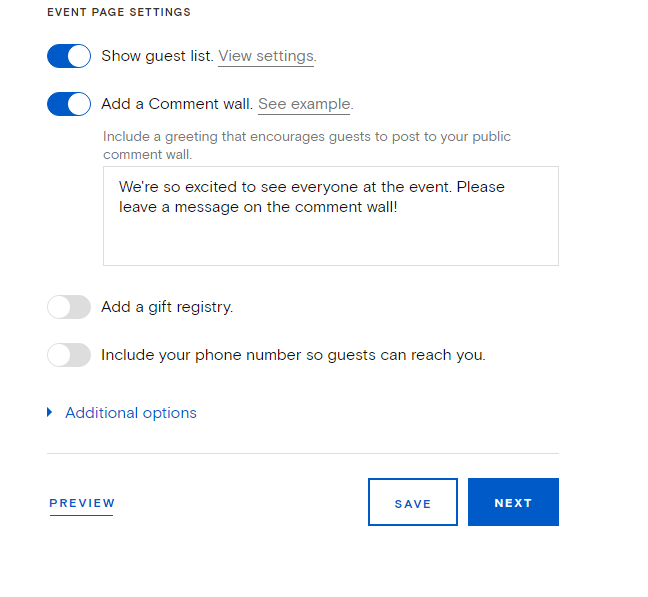 After you have finished creating your invitation, you get to enter guest details for delivery. You will need the guests' names and email addresses: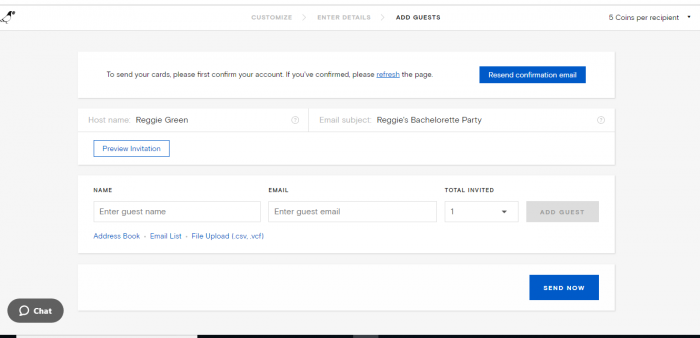 Green Envelope
If you are thinking that a photo card is right for your bachelorette party electronic invitation, then we think you just might fall in love with Green Envelope. This site provides highly-customizable electronic invitations, many which can be used with photo cards. They also have some really cute cards that do not require photo customization.
Looking for an invite that is brash, bold, and a little unusual. Give your guest the finger (no, not that finger, the ring finger) with this eye-popping invite: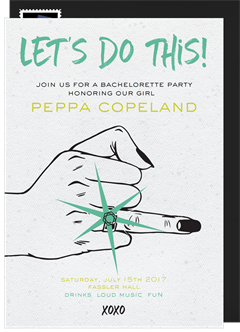 Sophisticated girls' getaway in the wine country? These invitations will help set the tone: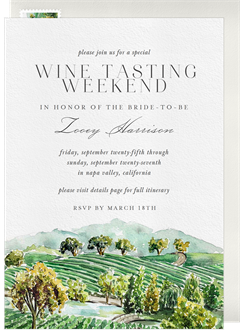 We love this ring-y bling-y invitation: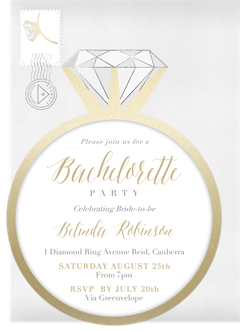 You can even find invitations tailored to very specific events. Here is one that is great for a painting party: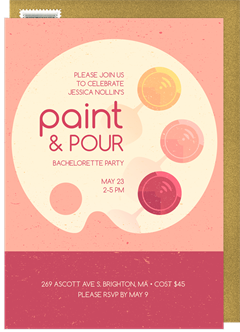 This invitation is perfect for a poker party or a destination bachelorette party to Las Vegas, Atlantic City, or any other gambling destination: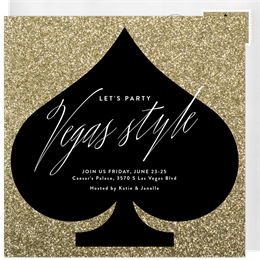 Once you have selected your invitation design, you can begin customization. Once you opt for customization, you are going to see a screen that allows you to add text, add image, add video, add a link, or reset. It will look something like this: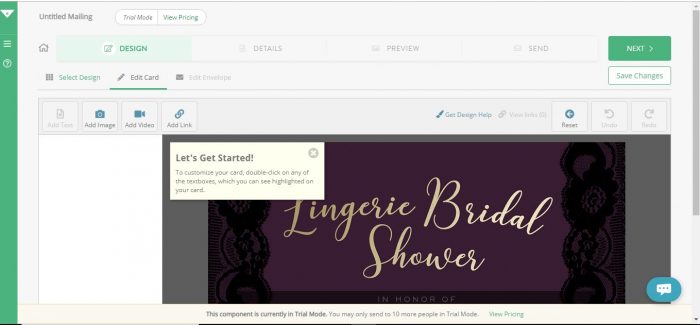 When you are editing text, a box will pop up on the right that lets you customize that text: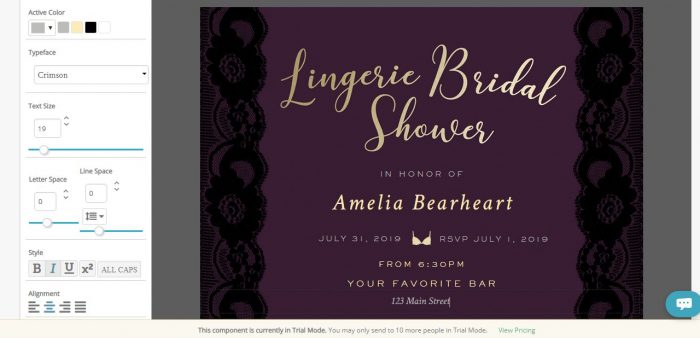 After you have edited your card, you will get the chance to edit your envelope. You will get to choose style, lining, text, stamp, wax seal, and background. You can also choose the default envelope option: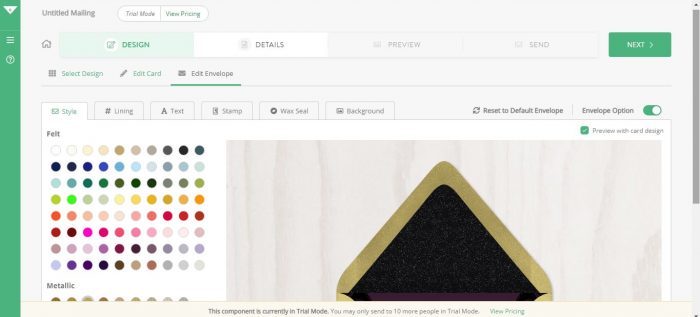 Then, you are asked to choose your mailing type. The choices available include: invitation + RSVP; save the date; thank you note; and card/announcement: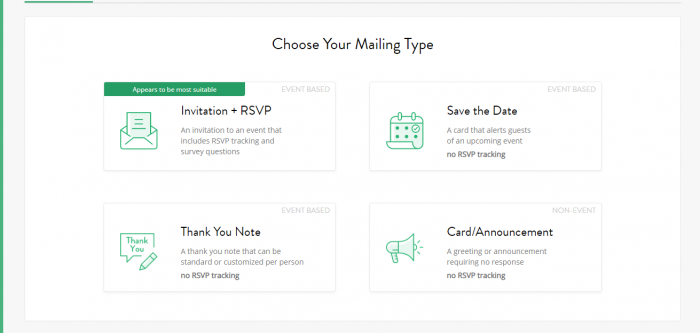 Once you select your mailing type (invitation + RSVP is best for bachelorette parties), you will have the chance to enter your details: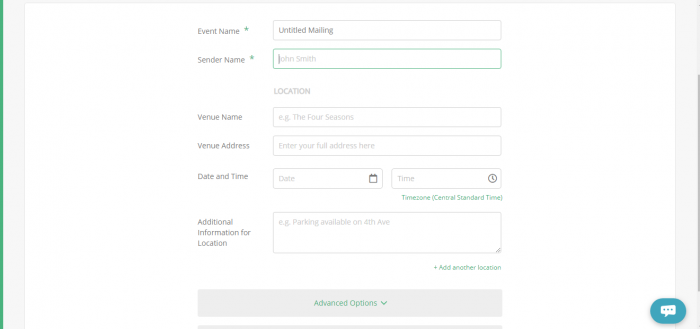 At the bottom of that page, you will see a drop-down box that offers you advanced options. You can choose whether to resend cards, add music to the cards, add links to external websites, add a photo gallery, add attachments, make the card shareable, add gift registries, include other languages, or change the mailing type: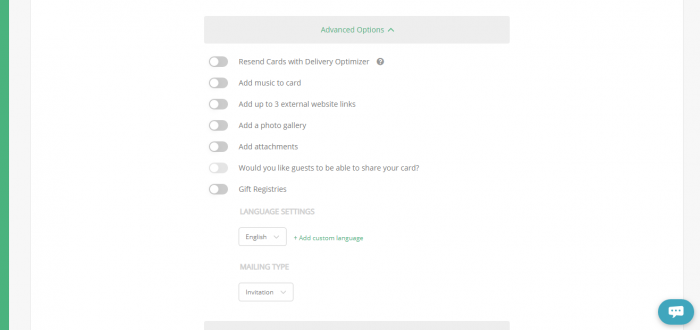 After you have completed your invitation, you can customize your RSVP page. Notice that it gives you the option of collecting payment, which can come in very handy if you are planning a destination bachelorette party where you need people to have travel funds to you by a certain date: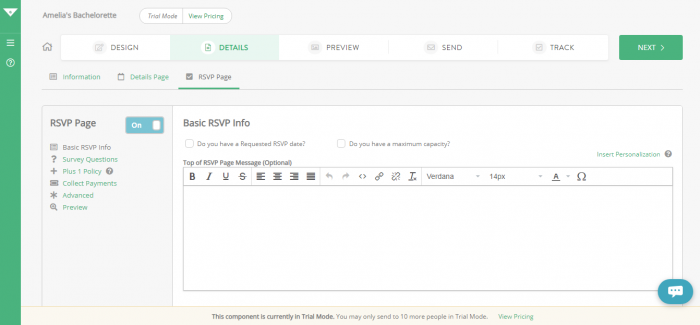 You can then add recipients. You are given the option of adding them individually or importing them from existing contacts: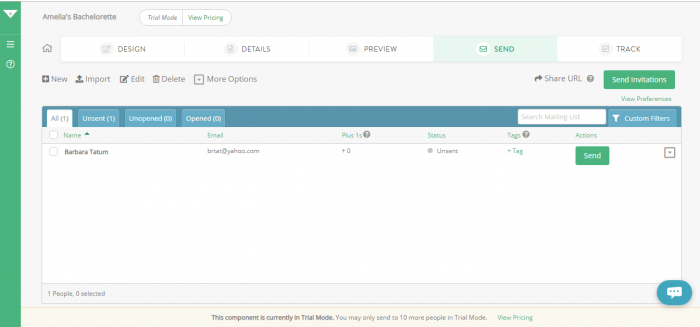 Evite
You have almost certainly heard of Evite. It is probably the best-known of all of the electronic invitation sites and it has some great party-management functions as well as a large selection of invitation designs. We are Evite fans. It is hard not to be. Evite lets you invite guests by text, by email, and using social media like Facebook. It has an easy system for managing RSVPs, lets you determine when you will get notifications, lets you communicate with your guests if you have a change or information that they need to have, and lets you auto set updates and event reminders.
Evite has such a huge selection of invitations that you can find ones that are very specifically tailored to your party. For example, check out this invite for a Palm Springs bachelorette: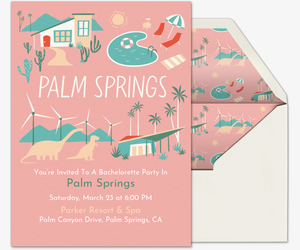 This ring on a golden background remains one of our all-time favorite electronic invitations for any type of bachelorette party:

This be wine invitation is an adorbs play on the "be mine" wedding theme:

Do your plans include a spa day? Then, we suggest you consider this invitation:

Evite is extremely user-friendly. Once you have selected an invitation, you are taken to a screen to enter event details: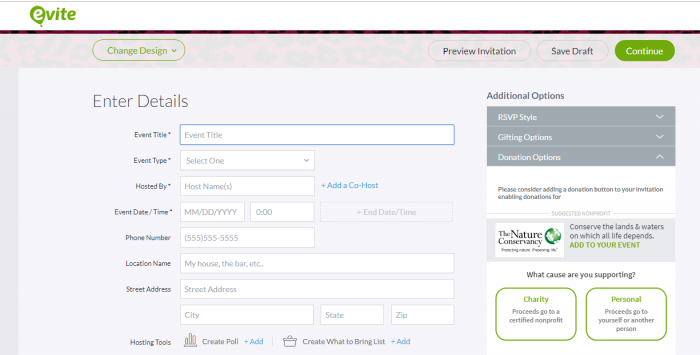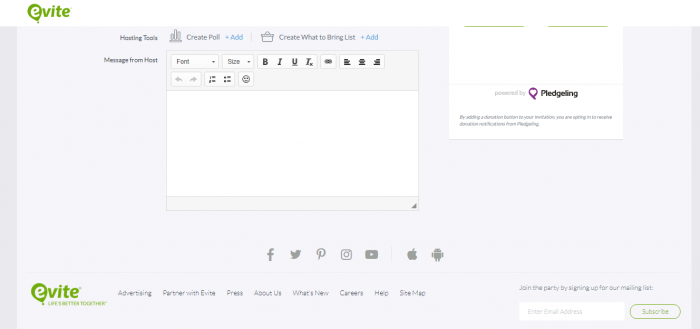 This easy-to-use screen lets you include all of the party details, write a message to the guests, include a list of things to bring for potlucks, create a poll for the party, handle your RSVP options, set up registry links and other gifting options, and even set up a donation option for your guests. It is all on one screen, simplifying the whole process!
Once you have finished the invitation's details, you can add guests by phone or by email address: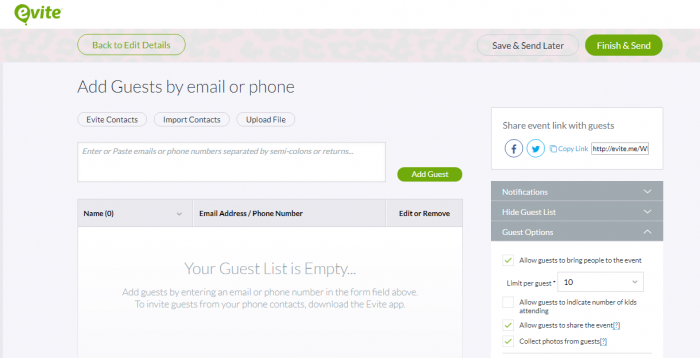 You will also get options at the bottom of the screen to share the Evite via social media using Facebook, Twitter, Instagram, YouTube, and Pinterest.
Conclusion
As you can tell, we are in love with the idea of electronic invitations to make your bachelorette party planning process super-simple. There are so many adorable designs available that you are sure to find one that is perfect for your party. If you do not, many sites will help you customize your party invitations. So, save a tree and your sanity and use electronic invitations for your bachelorette party!