Bachelorette Party Balloons (2023 Guide)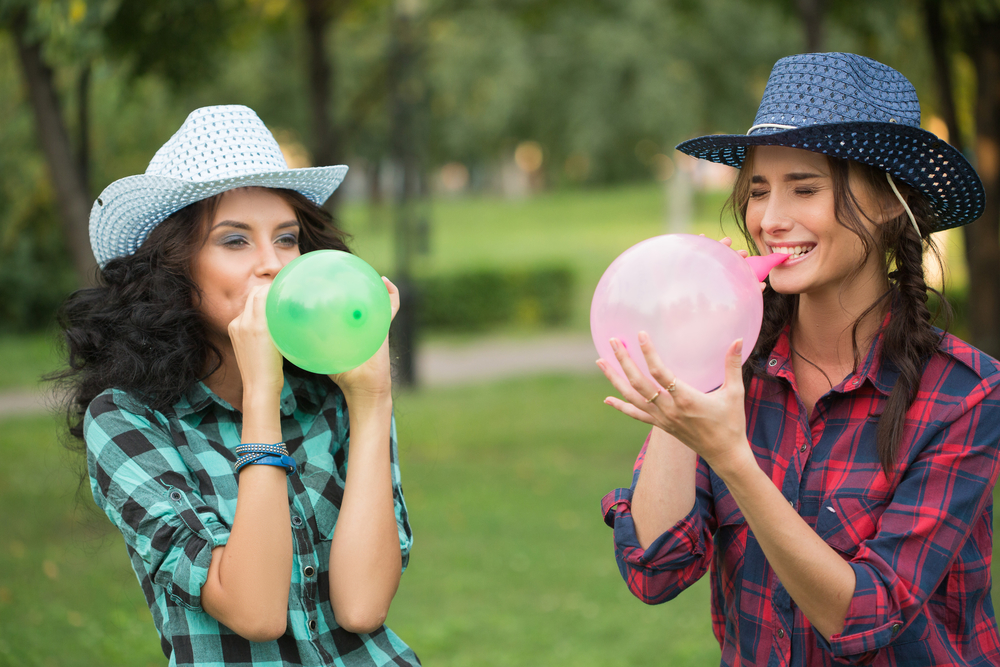 This post may contains references to products from one or more of our advertisers. We may receive compensation when you click on links to those products or services. Please also consider
donating to our website.
Bachelorette party decorations can run the gamut from low-key to over-the-top. You can pick from tons of different themes and each theme has its own type of decoration that helps you extend that theme. Whatever theme you pick, chances are good that there will be bachelorette party balloons to match the theme. Even if there are not, there are plenty of bachelorette party balloons that you can find to match almost any theme. Read on for our 2018 top picks for bachelorette party balloons.
Why Choose Balloons
Everybody loves balloons. Whether you are sticking with a theme or striving for elegant décor, you can find balloons that liven up the look of the party. Keep reading for our top picks, grouped into some of the year's most popular bachelorette party themes.
Bachelorette Party Balloons
Pink and Gold Balloons
We love the pink and gold theme of these bachelorette party balloons. Plus, the value of this set is hard to beat. The all-in-one set includes a pink BRIDE foil balloon, two pink heart foil balloons, 12 latex balloons in a mix of pink, gold, and white confetti, a ring foil balloon, and a bonus metallic curtain that coordinates with the other balloons.
If you need some fillers to add to our top pick, or simply want some plain pink and gold balloons to match your existing décor, we love these simple latex balloons.
Okay, so we may be stretching the elegant theme a little bit with our choice of "drunk in love" balloons, but the pink color will coordinate with any of the popular pink and gold décor, and it would make for a great topper for a photo booth.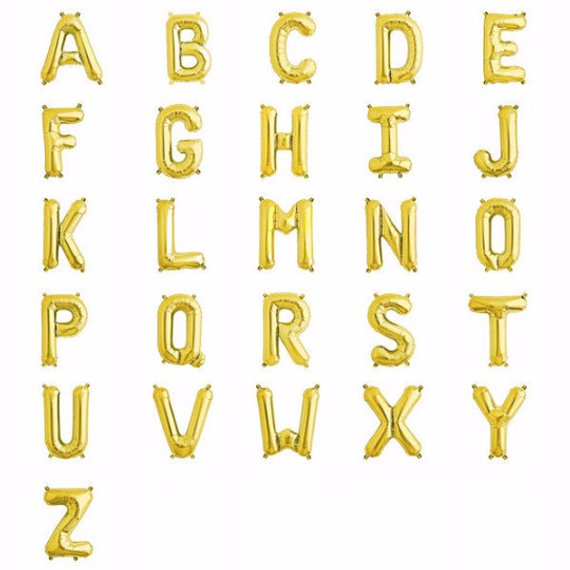 Want to include the bride's name or a personalized message? Then choose this option where you can pick your own letters for a balloon message.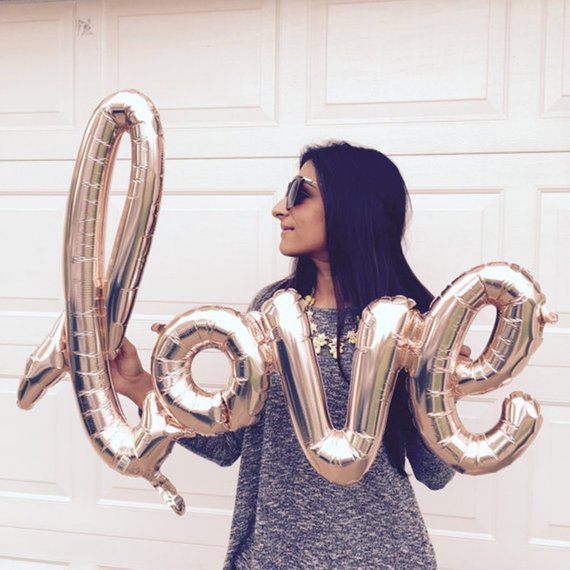 Add some romance to the party with this sweet, cursive "love" balloon. We adore this balloon for bachelorettes, bridal showers, Valentine's Day, engagement parties, and even for wedding-day photo shoots.
We love this oversized set for an over-the-top bachelorette party display. It is perfect as the backdrop for a refreshment table and we think it would look fantastic in some beginning-of-the-party pictures!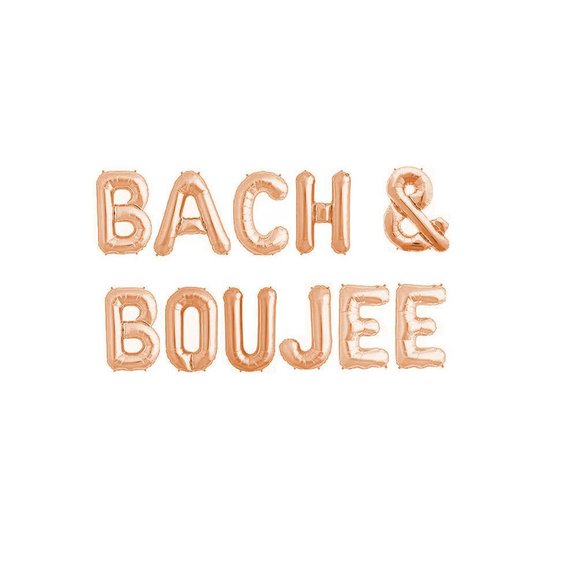 We love this bach and boujee set because, yeah, if you are having a rose gold themed bachelorette party, you are probably at least a little boujee, and there is nothing wrong with that!
Black and Silver Balloons
Looking for a nighttime look for your bachelorette, but still want it to have a sophisticated flair? Black and silver might be the color scheme to choose.
This set includes a big bling balloon, black and silver balloons, plus assorted decorations to help bring a bachelorette party's whole look together.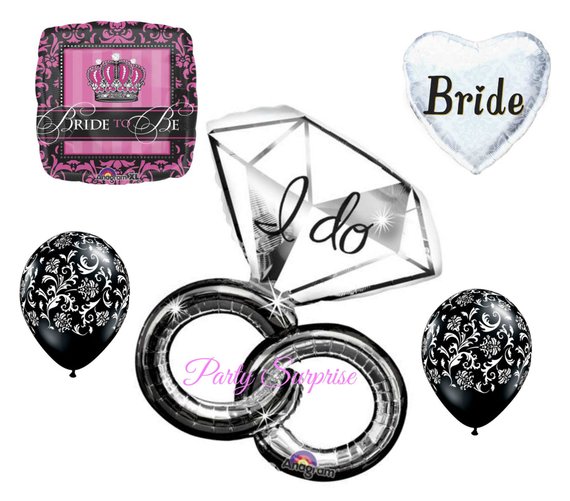 Some black and silver sets are pretty basic, which is why we love this set that incorporates lots of bling, a heart bride balloon, and even pulls in a tiny bit of pink for a little visual punch!
Mermaid Balloons
The mermaid theme is super-hot for bachelorette parties right now. Seems like plenty of brides are ready to trade their tail for a veil. Here are some great balloons to help you capture that theme and even give you some under-the-sea flavor for your decorations.
These basic mermaid balloons are not visually stunning on their own, but placed in bunches the color combination helps mimic the green to blue to purple variations of the deep sea. We love the idea of using them for an indoor pool bachelorette party!
Likewise, this garland helps you set up an undersea look, and would be a great addition to buffet tables or archways!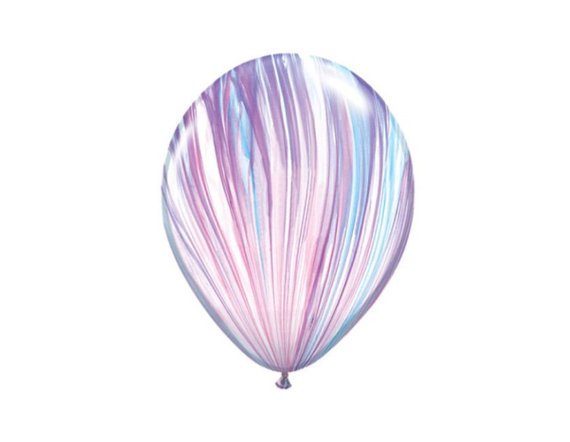 We love the colors in this balloon and how they mimic a gorgeous shell or underwater pearl!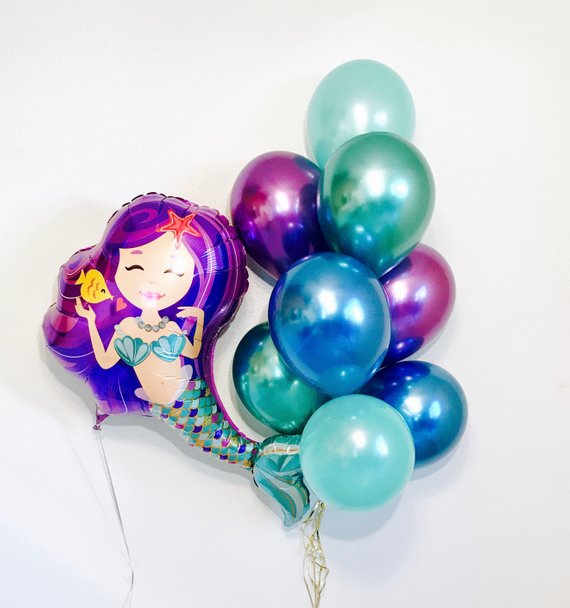 Sometimes, you need an actual mermaid-shaped balloon to help set your tone!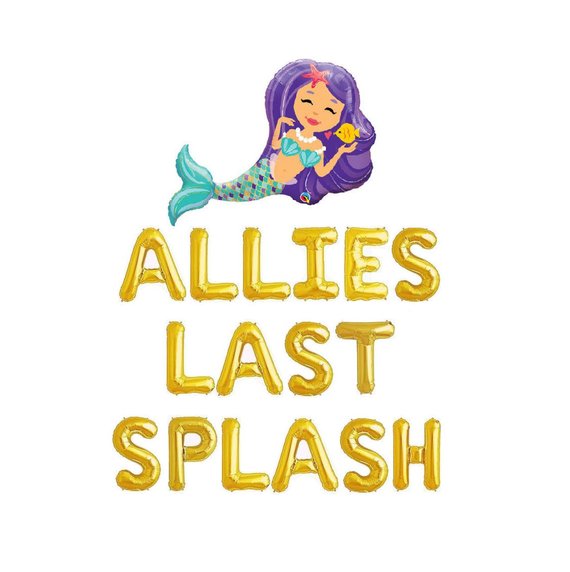 These last splash balloons are perfect for any bachelorette party, but we really love the idea of using them for a swimming party with mermaid tails!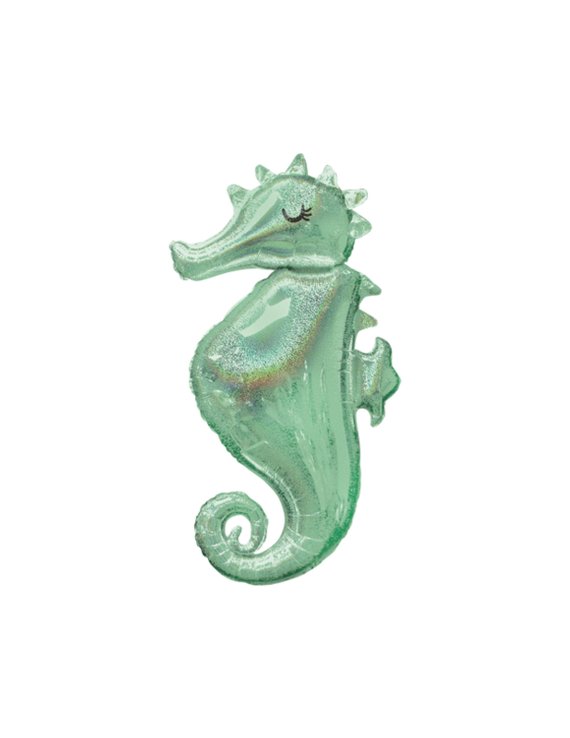 Not strictly a mermaid. Okay, not a mermaid at all. But, come on, this seahorse balloon is just too cute not to have at a mermaid-themed bachelorette!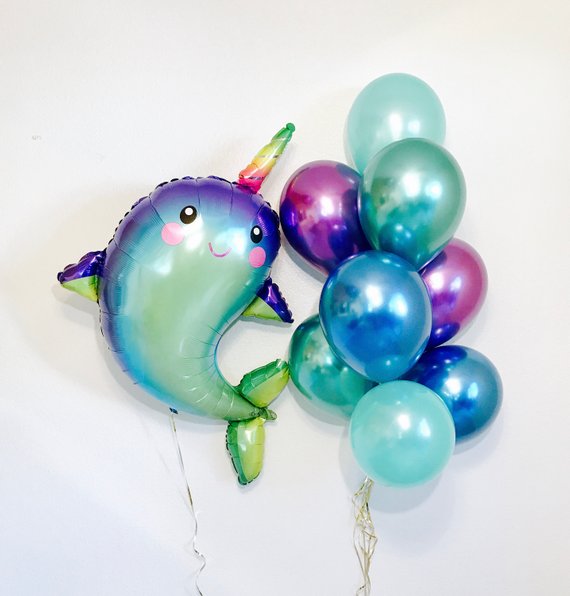 We didn't even know that narwhal balloons were a thing, but now we think that every person who goes to a bachelorette party should get one, just because they are about the cutest balloons we have ever seen!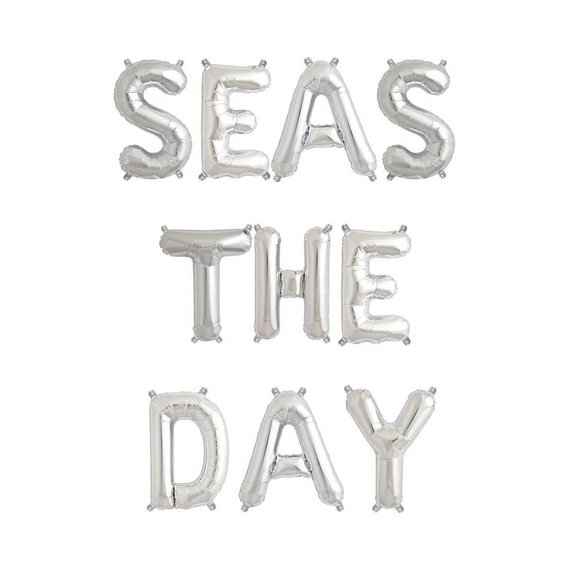 We love the reminder to seas the day for a mermaid bachelorette. It would be equally cute used at a beach, cruise, or nautical themed party!
Black and Pink Balloons
Before rose gold and pink became the go-to color for neutral themed bachelorette parties, bachelorettes loved the black-and-pink theme. Though it is not quite as popular as it once was, it remains a trendy decorating idea, especially for nighttime bachelorette parties.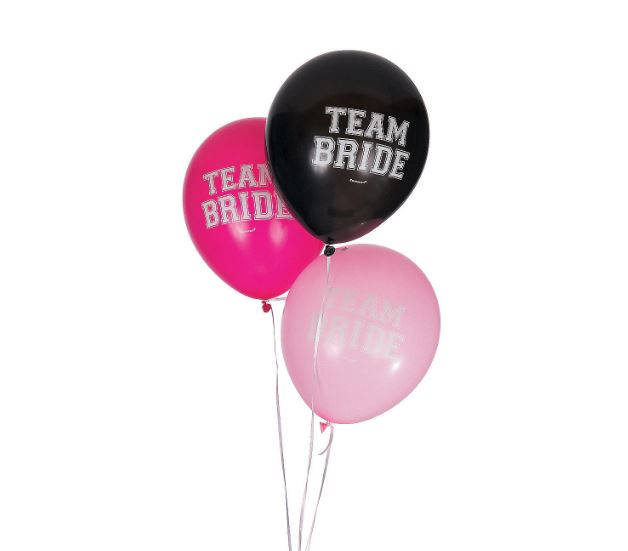 Show you are part of team bride with these basic black and pink bachelorette balloons.
Want a bunch of on-theme balloons? These white, pink, black, and gold bachelorette balloons can blend into almost any bachelorette theme and add a festive look, especially to large party spaces. You can also get creative and use them in crafting balloon archways or other features for the party.
Big Bling Balloons
Does anything scream "bachelorette" quite as much as a big diamond ring? We love these balloons for almost any type of bachelorette party. They will also work well for engagement parties, bridal showers, and even rehearsal dinners!
This four pack comes with two plain rings and two rings that say "I do." They are a perfect choice to add a little flair to any bachelorette party.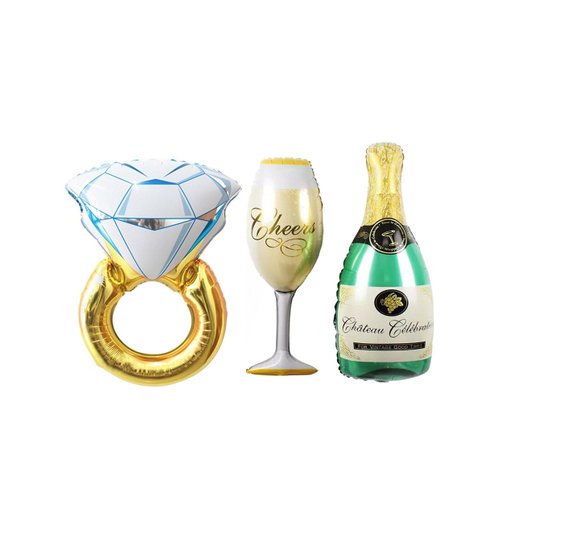 What goes well with some big bling? How about some big bubbly?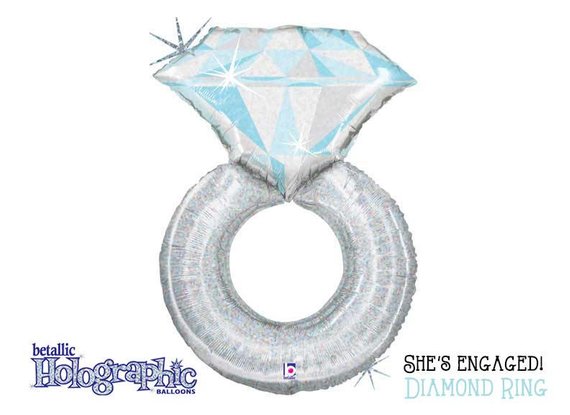 Sometimes you have a bride who is very concerned about the color of the metal and wants a silver-toned theme. No worries, you can still get a big bling balloon and stick with the theme, like this platinum and ice looking ring!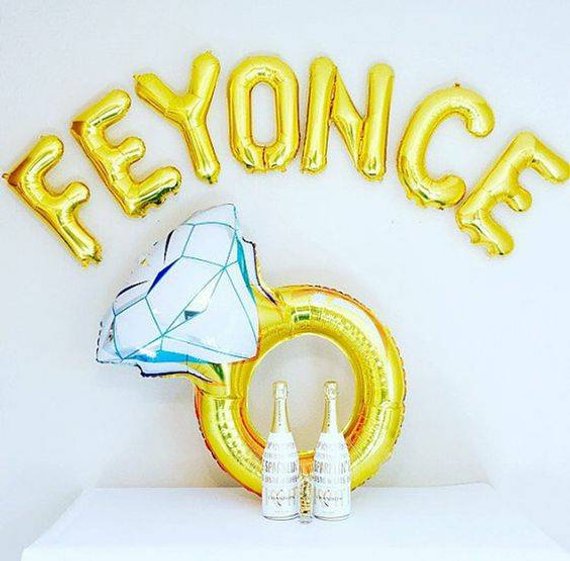 Pay homage to the ring and to Queen B at the same time with this sassy Feyonce/ Big Bling balloon duo. We are fans of the Queen, so we love this pair and think it would add a little dash of sass to just about any bachelorette party.
Basic Balloons
Some bachelorette balloons do not really have a theme, but would go well in a variety of bachelorette party scenarios. We are including them here in our "the basics" section, because they are basic party staples that can be used across a range of party types. You, however, will not be basic for using them in your party décor!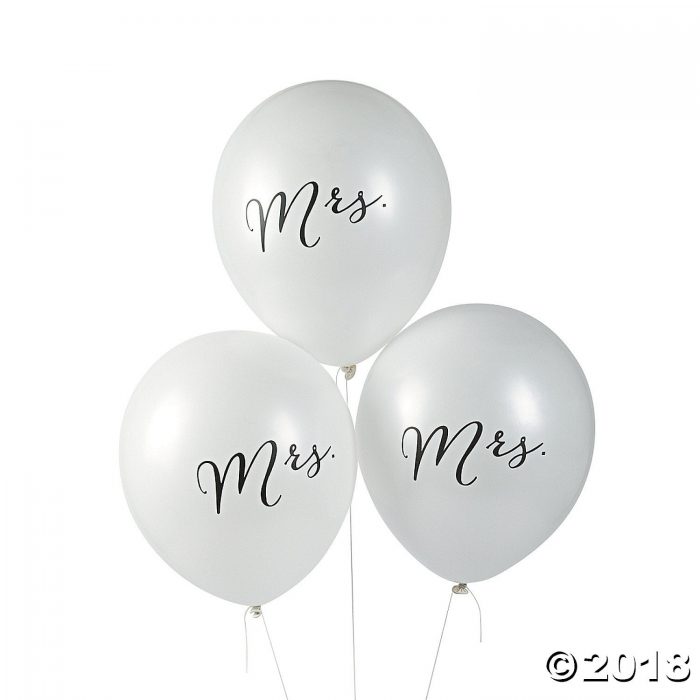 We like the idea of the "Mrs." balloons as part of a bouquet that is attached to the bride for the night as she goes from club-to-club!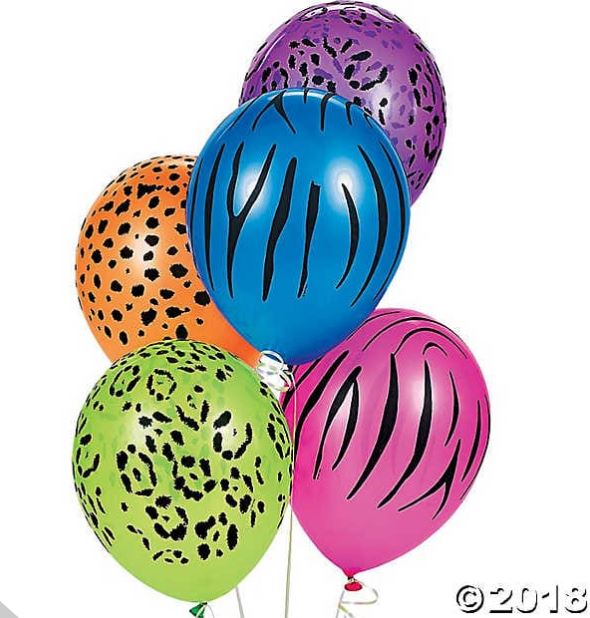 People seem to either really love or really hate animal print. If the bride is in the first category, then feel free to go as campy-as-you-please with these neon animal-print balloons. If the bride is not in the first category, we respectfully suggest that you forego this option!
Because there will be drinking and toasting, right?
What's even better than balloons to add to the party vibe? Bright lights. These LED balloons combine lights and balloons together to create a festive vibe for any situation. We love the idea of using them as decorations for an outdoor bachelorette pool party!
We love jumbo confetti balloons. We do not love them at weddings, where confetti can ruin a carefully crafted look that took the bride hours to create. However, we love them at bachelorette parties and have seen some fabulous photo shoots with the popped balloon showering the bride and her tribe with the confetti!
You already know we love the idea of a champagne balloon, but can you get any more adorable than this bubbly popping balloon? No, you can't. However, turn on the dirty part of your mind for a moment and you can easily imagine how this adorable balloon could be reconfigured and paired with some of our naughty balloons to look like an entirely different type of cork popping!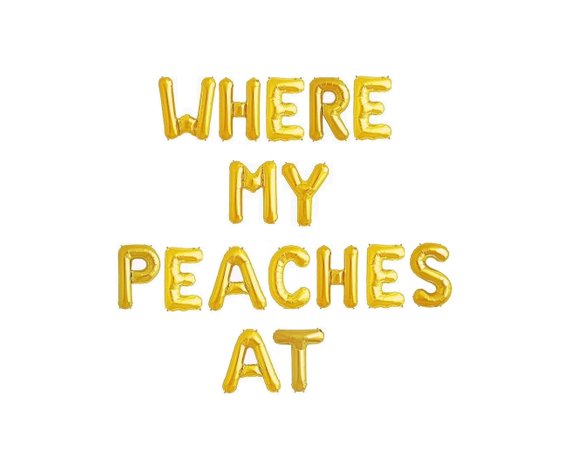 This is not really a basic balloon, but it is not themed either. This "where my peaches at" is, in our opinion, a very classy take on the "where my bitches at" theme that is so popular in today's bachelorette parties. Sure, it is perfect for a bachelorette party in Georgia, but, if we are honest, who doesn't want to be someone's peach?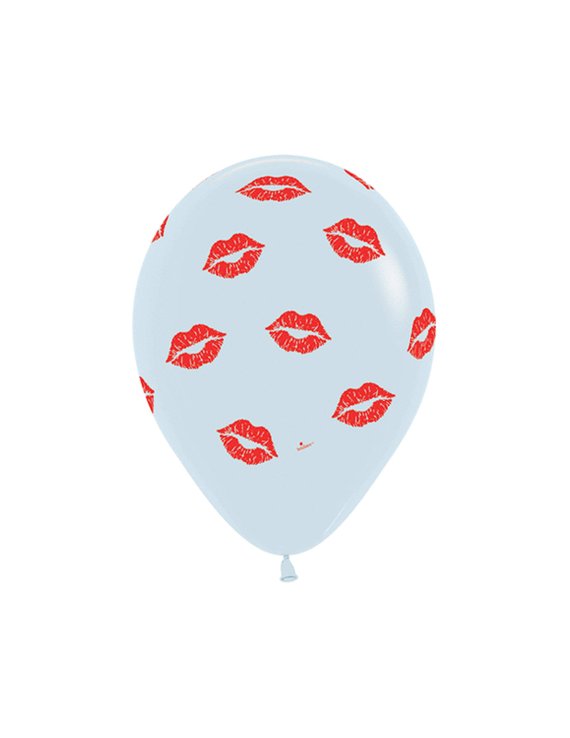 If you will be collecting kisses as any part of the bachelorette party, then we love the idea of sporting a "hot lips" bouquet or even a single balloon to add to your bachelorette party look.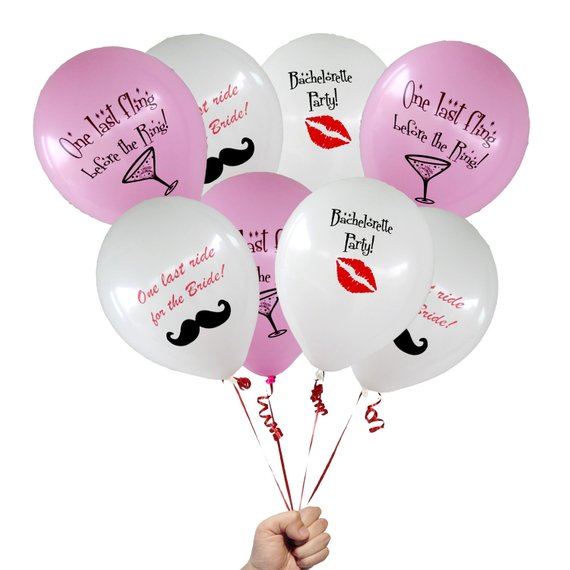 These assorted balloons can be used with a variety of decorations and bring together some of the most popular trends from outside of the bachelorette party planning universe, like the ubiquitous hipster moustache!
Naughty Balloons
While classy and elegant balloons can be beautiful, there is something a little shocking about a naughty balloon that makes us love them. Here are some of our favorite "adult" balloons: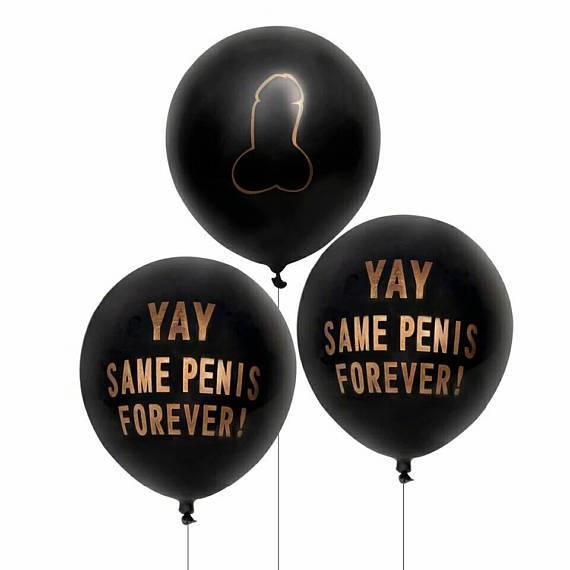 The same penis forever. The balloons speak for themselves!
Is the bachelorette a little crazy? What about her friends? If so, we love this bach shit crazy balloon.
These inflatable penises are not-quite-balloons; they are more like beach balls, but they are a perfect addition to a naughty bachelorette party.
These "blow bob" balloons put your mouth where his bob is! They make for entertaining decorations for a risqué bachelorette, and can also be used for a bachelorette party game; whoever blows bob the quickest wins!
The iconic penis balloon can be put together with similar balloons for a display or slipped into an otherwise sedate bouquet for a naughty surprise!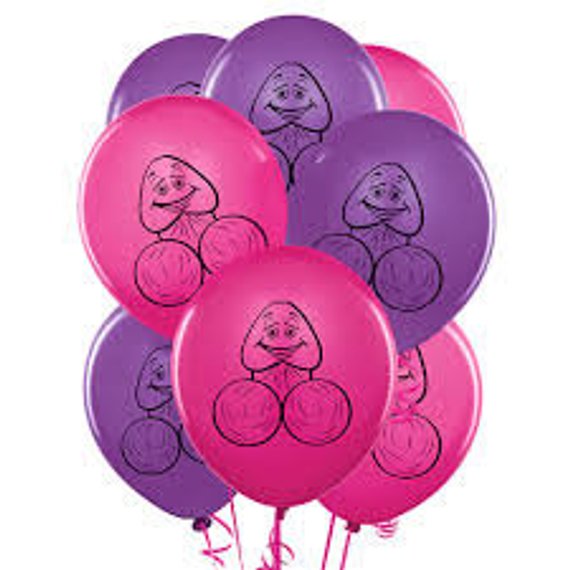 More penis balloons, because if you are going with a penis theme, you really can't have too many of them.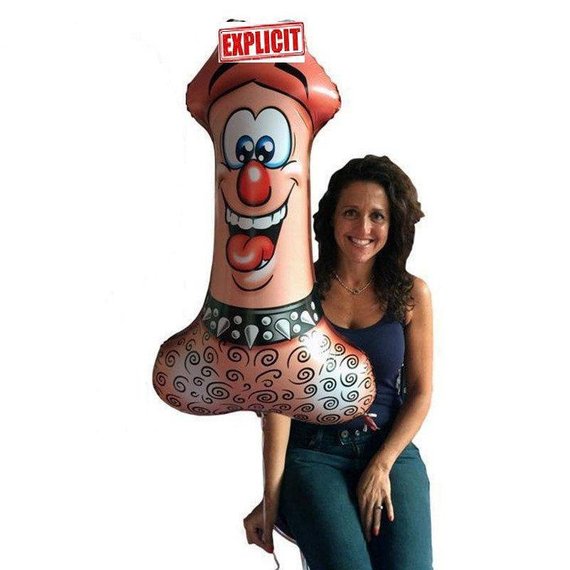 The ultimate penis balloon. You want to embarrass the bride just a smidge, but also give her something to laugh at. Want to make sure everyone knows you are having a bachelorette party? Then, you gotta add this balloon to your bachelorette bunch!
Beach Party Balloons
Heading to the beach or using a beach theme for your bachelorette? If so, decorating can get a little tricky because of the wind and the water. Well-anchored balloons make great decorations for a beach bachelorette and here are some of our absolute faves: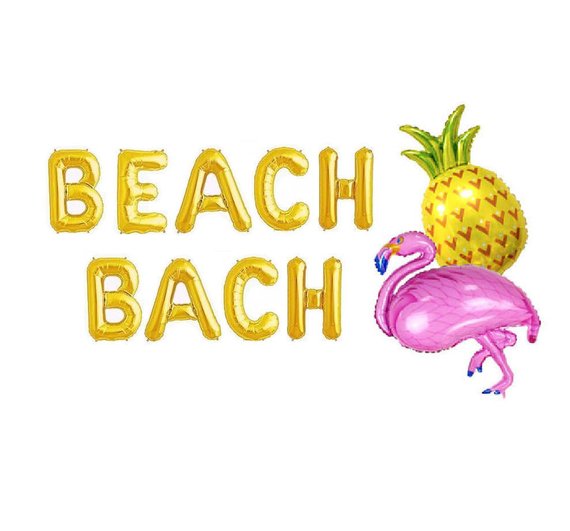 We love the idea of flamingos and pineapples with a beach theme. Both are extremely on-trend and help incorporate a tropical vibe into any beach party.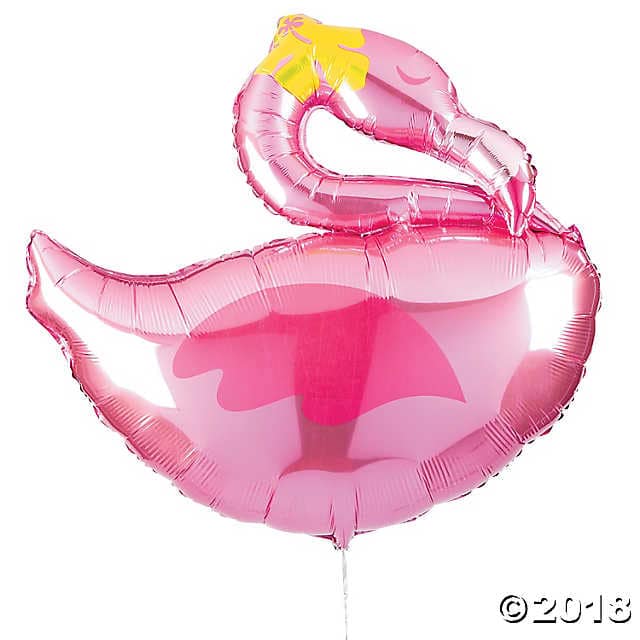 If you loved the flamingo idea, add some more with these single-purchase flamingo balloons. One popular thing that some people do is to "flamingo" someone's yard with plastic lawn flamingos. How fun would it be to add to that trend with a bunch of these flamingo balloons?
Fiesta Balloons
The fiesta theme is a great one for bachelorette parties, and these intense golden "Final Fiesta" balloons are neutral enough to go with a colorful fiesta theme or to use in conjunction with another type of party.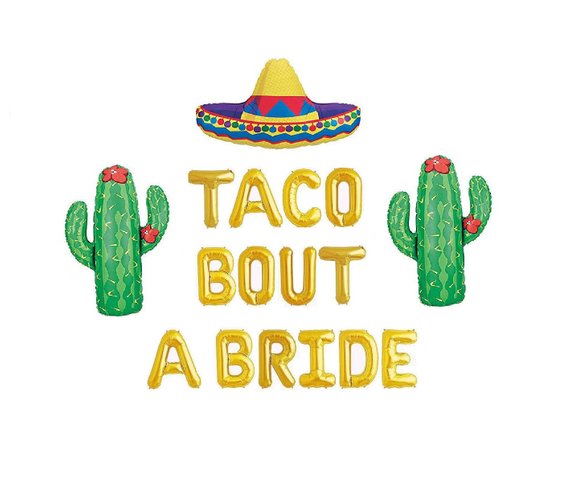 This balloon set literally made us chuckle. Taco bout a bride. Yep, still chuckling. We love it for a fiesta themed bachelorette party!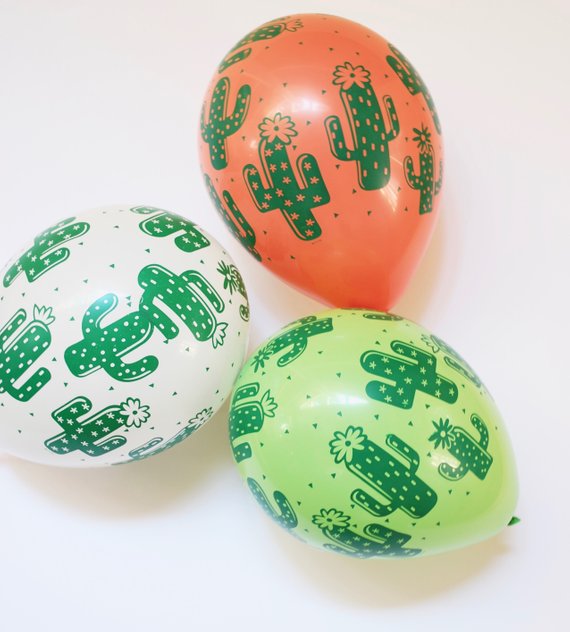 These cactus balloons are the perfect filler-décor for a fiesta themed party.
Conclusion
Sure, you can throw a bachelorette party without having balloon decorations, but why would you want to? Balloons are a super-simple way to create a festive atmosphere and add to the décor. They are also a versatile way to decorate that can easily be incorporated into almost any venue. Plus, they are an extremely affordable way to add lots and lots of decorations to a party. Even if you are going from place-to-place, you can have the bride carry balloons with her, announcing to everything that she is getting hitched!