The Ultimate Bachelor Party Supplies (2023 Guide)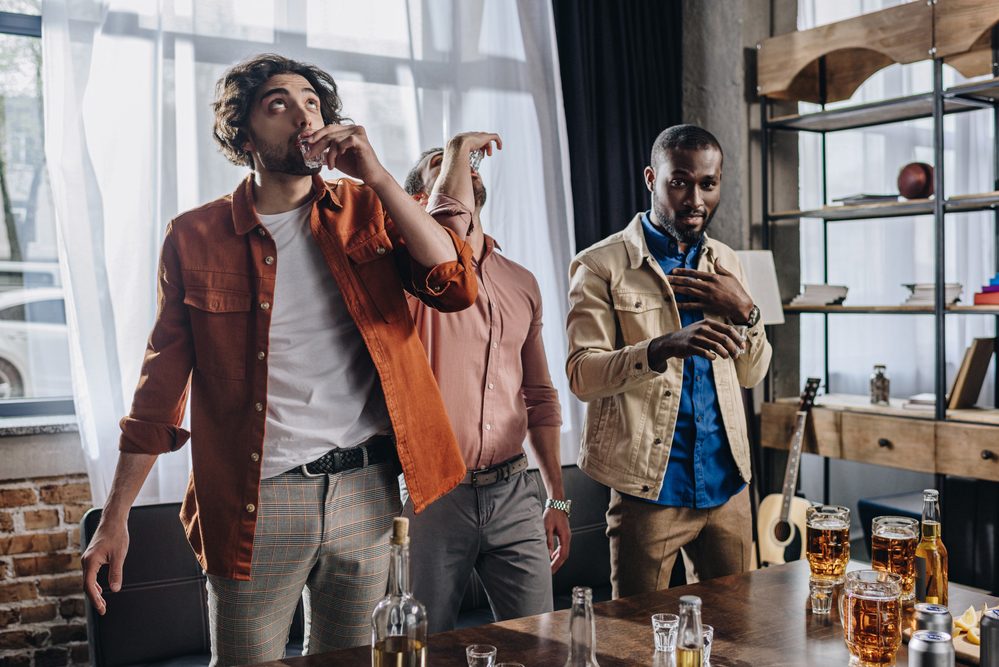 This post may contains references to products from one or more of our advertisers. We may receive compensation when you click on links to those products or services. Please also consider
donating to our website.
What do you need to throw the ultimate bachelor party? While some places may tell you they can provide you a list of must-have items, the reality is that the ultimate bachelor party list depends significantly on your group and the type of bachelor party you plan. That is why we have updated our ultimate bachelor party supply guide for 2018. On this list, you will find items you want at every bachelor party and specialty items for particular bachelor party themes. Using this list and what you know about your friends and the type of party you are throwing, you can ensure you are 100 percent prepared to throw the best bachelor party ever!
Supplies for Any Bachelor Party
Some things are considered must-haves for a great bachelor party, whether you are having a bachelor party at your local lodge or heading off with your bros for parts unknown. That said, remember that every rule is made to be broken. For example, we will tell you booze is essential to a great bachelor party, which is a truism, except in cases where it isn't. Have a groom in recovery or religious objections to consuming alcohol? You can still plan a fantastic bachelor party send-off for the groom-to-be. So, while we consider this our core list of bachelor party supplies that every party should have, remember that the real secret to a great bachelor party is knowing the groom and planning the ultimate party for him.
Booze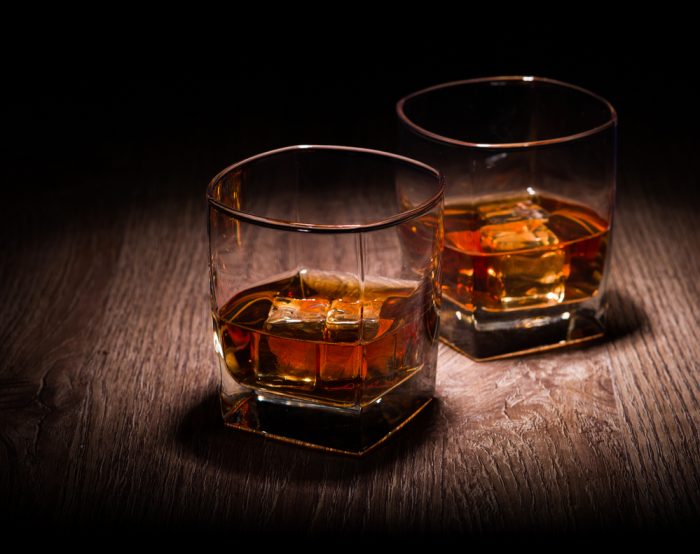 Whether you plan on sitting back and sipping fine whisky while smoking guitars or getting trashed playing beer pong, the chances are that alcohol is going to play a role in your bachelor party plans.  If you are having a party at home or a destination party at an AirBnB, VRBO, or Homeaway location, then you want to make sure you have a stocked bar, so you can make everyone happy.  A stocked bar does not have to be fancy, it just has to be well-stocked: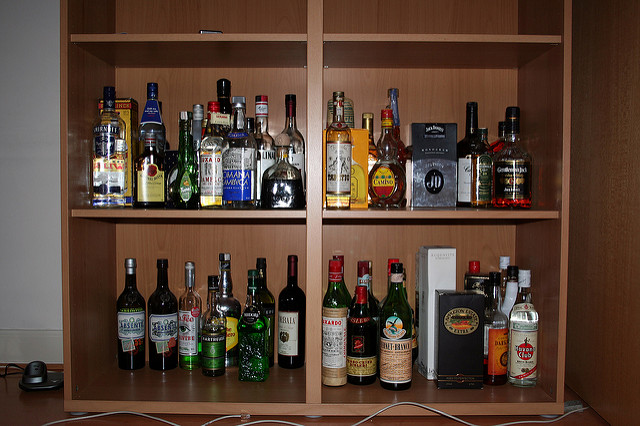 Are you more of a beer guy and not sure what to include in a well-stocked bar?  You can always ask party goers for their favorites or you can go with our basic guide.  Top-shelf is nice, but it is not always necessary.  When making your purchasing decisions, keep in mind how you will use them.  For example, if you will be sipping tequila, you might want it smooth.  Using it for mixers or shots, and you can go a little cheaper.  If you are having a big party and want plenty of options, we suggest making sure you can offer:
Vodka
Gin
Tequila
Rum
Bourbon
Scotch
Cognac
Vermouth
Cointreau
Disaronno
Campari
Lemons and Limes
Bitters
Simple Syrup (a mix of equal parts of sugar and water, with the sugar dissolved in the water)
Club Soda
Tonic Water
Cola
Ginger Ale
Not sure how to put those drinks together?  There's no shame in that.  Make sure you have a great recipe book for cocktails.  There are plenty of them out there, but we are partial to the classic Bartender's Bible
If you are having your bachelor party at home, we highly suggest getting some quality beer glasses for your friends: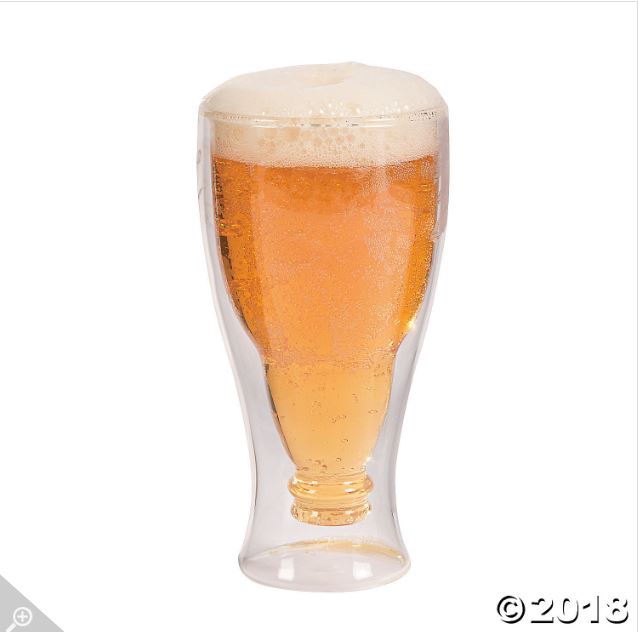 Cigars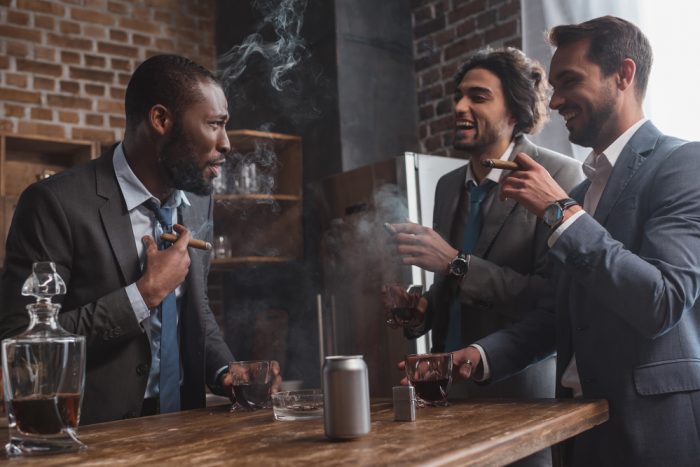 Cigars are smelly, they are terrible for your health, and they are expensive.  Put those together and you quickly realize that cigars frequently get nixed for newlyweds.  They are also one of life's decadent little pleasures.  So, we encourage you to enjoy a smoke at your bachelor party.  Depending on your destination, cigars might be part of the experience.  For example, if you are heading to Havana or even to little Havana, you should pick up your cigars when you get there.  If not, plan ahead by bringing a box of fine cigars with you.  Don't forget the tools you need to make it an experience. 
(These also make great groomsmen or bachelor party gifts!)
Cash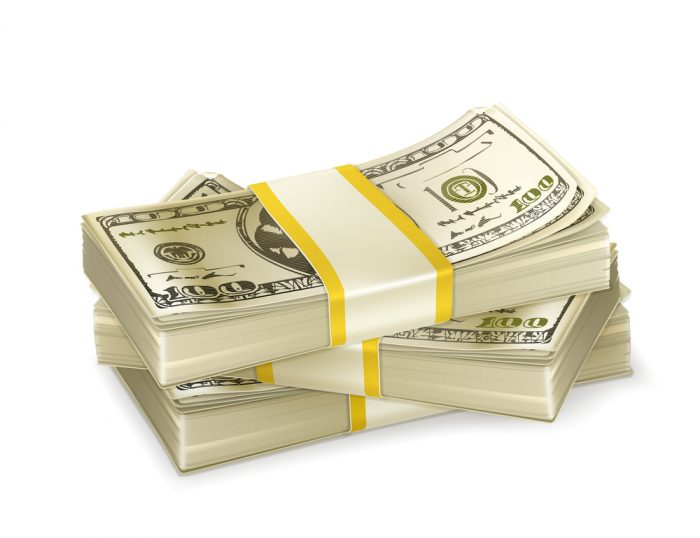 Wherever you're going, bring plenty of cash with you.  You'll need smaller denomination bills if you plan on heading out to the strip club or bringing adult entertainment into your party.  You may need larger denominations if you get into anything shady and need to grease any palms or wheels to get out of trouble.  Whatever the reason, one of you should bring some stacks of cash. 
Cheap Digital Camera
Sure, you all have camera phones, but we are fans of the no camera phone picture policy for bachelor parties.  Social media does not need to be constantly updated on the bachelor party activities, nor do any wives or girlfriends need to be flipping through the pics.  Instead, invest in a cheap digital camera or two, and then pictures can be shared selectively, and ideally to a password protected bachelor party website:
Condoms
Let us be clear, these are not intended for the groom's use.  Seriously, unless you already know the groom is a dog or the bride has given explicit permission for him to go that kind of wild at the bachelor party, it is your job to keep the groom from indulging in other women.  However, nobody chaperones the chaperones, so just make sure you wrap it up and have yourself a great time and bring plenty in case the other guests did not come prepared.  We suggest a grab bowl at your hotel or party house:
Alka-Seltzer
Are you going to drink too much, and possibly have to deal with a hangover?  We say probably so.  Be prepared ahead of time with a box of Alka-Seltzer that is big enough to share:
Sunscreen
You know the guy who thinks it's wimpy to use sunscreen?  He's an idiot.  Don't be that guy.  If you are planning outdoor activities for the bachelor party, then have plenty of sunscreen on hand.  Sunburns can hurt bad enough to ruin the entire rest of a bachelor party, and, if the party is close enough in time to the wedding, can mess up wedding photos and make tuxes pure misery.  Bring enough sunscreen for you and everyone else at the party.  We like Alba because it is a reef-friendly sunscreen, perfect if you plan on snorkeling or other water sports near coral reefs:
Bug Spray
Everything we said about sunscreen applies to bug spray.  Especially for the groom and especially if you are traveling to tropical locations, given that Zika is some scary stuff.  Man up and spray yourself if you are heading into bug country.  Use something with DEET that is rated for the backwoods:
Sunglasses
Protect your peepers and look cool with some shades.  You can pick up some cheap classic aviator glasses and pack a few extra pairs in case someone forgets theirs or loses a pair on the trip.
Bathing Suit
Even if you think the party is not going to end up anywhere near water, pack a bathing suit.  Hotels have pools.  Hot girls at bars often have hot tubs.  You just don't know where the night is going to lead you, so bring a bathing suit. 
Flip Flops
Be the hero. Someone in your group is not going to bring pool, beach, lake appropriate footwear.  Or maybe someone is going to be drunk enough to lose or destroy a shoe.  Grab a few extra pairs of these cheap, lightweight shoes in various sizes, toss them in your bag, and save the day:
First Aid Kit
No one wants to think about someone getting hurt at the bachelor party, but let's be real.  There is going to be a group of guys, almost certainly inebriated, together doing things that are probably against your better judgment.  Having a first aid kit with you is a fantastic idea if you are going to be anywhere even remotely away from civilization.  How complete you want it to be really depends on where you are going/ what you are doing.  We like this basic bag that will see you through something like a camping trip.
Painkillers
Are you going to be hung over?  Even if you won't be, the odds are high that someone in your group will be feeling worse for wear the morning after.  That is why we suggest you bring some painkillers with you.  Sure, they will be available almost anywhere you go, even if you are headed out-of-the-country, but will any of you want to walk down, even to a hotel lobby to get them?  Probably not. 
Games
You can go with bachelor-party themed games, but we like the tried-and-true as well.  If you are heading to a destination, we suggest you bring the following:
Poker chips
Poker is a classic and a great go-to game if you want to spend some time.  In fact, poker chips, cards, some great alcohol and cigars is pretty much a ready-made bachelor party. 
Cards
While any deck will do, why not splurge a little on a naughty set or two?
Spinner Shots
Drinking games are a great way to get the party started, especially if your group does not regularly hang out together: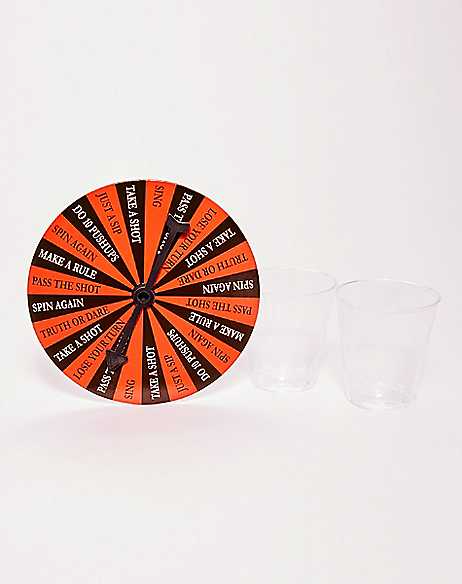 Shot Roulette
Another drinking game centered on shots:
Bad People
Are your friends terrible people?  Then you'll want to play this game. 
Cards Against Humanity
This classic naughty party game is still hilarious, and the drunker you are, the funnier it gets!
Beer Bong
We are not saying that a beer bong is a mature or responsible way to spend your bachelor party time.  That does not mean you should not bring one along, just in case….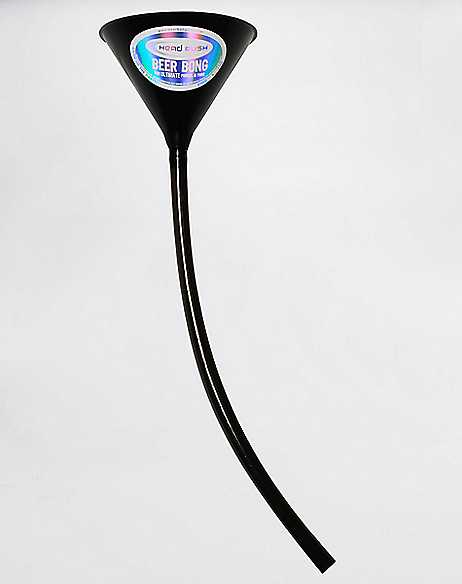 Weed Card Game
Because, we're not all drinkers, right?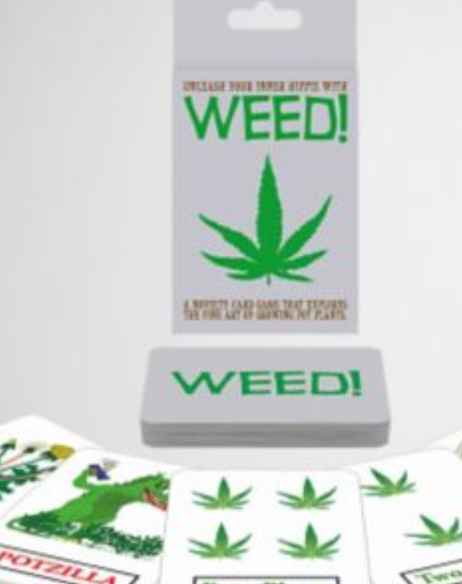 Looking for some more ideas?  Check out our bachelor party games guide.
Bachelor Party Supplies
Looking for ideas of how to take the party up a notch?  While none of these supplies are must-haves for a bachelor party, they do help add to the party atmosphere. 
Welcome the guests to the party with a customized bachelor party banner, like this beer-themed one you can find on EBay: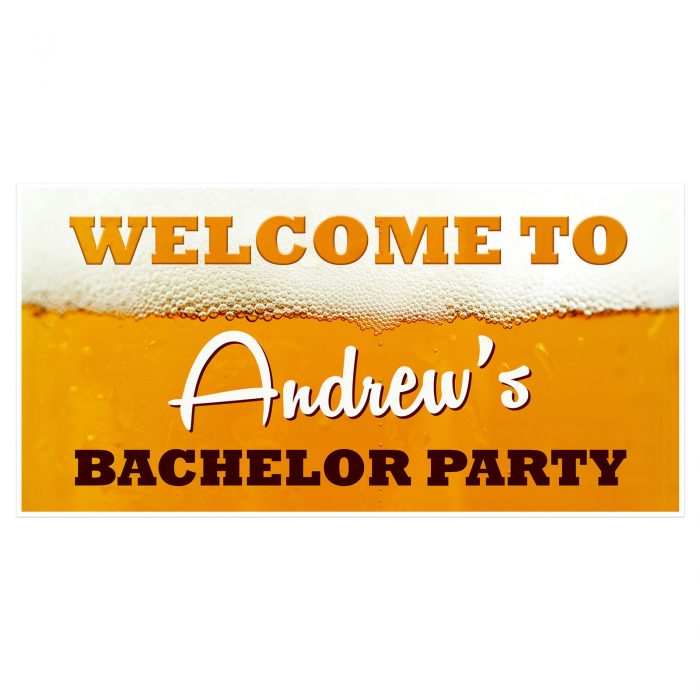 Ball and Chain
The ball and chain theme is a tried-and-true one for bachelor parties.  It may seem a little mean spirited, and probably is not one to embrace if you truly feel that way about the bride.  However, if you like the bride and are happy for the groom, then it can be a funny throwback stag party idea. 
Here is the literal ball and chain:
This t-shirt continues the old ball and chain theme:
Coolies/coozies
No one wants a warm beer.  Keep your suds nice and frosty with one of these customized bachelor party coolies.  We like the "last stand before the wedding band" theme: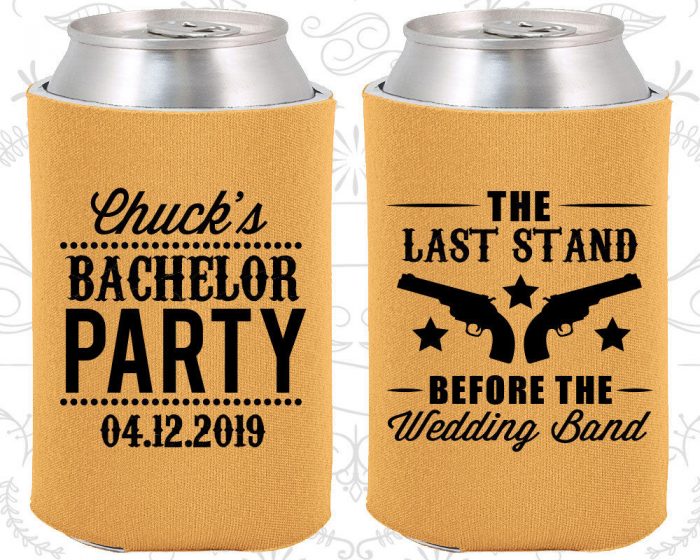 Are you a bunch of sports fans?  Then these coozies might just hit it out of the park: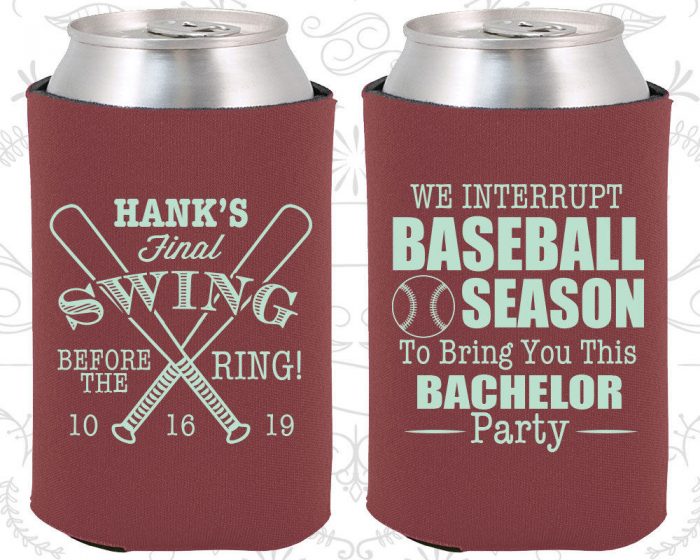 Beer and boobs- isn't that what a bachelor party is all about?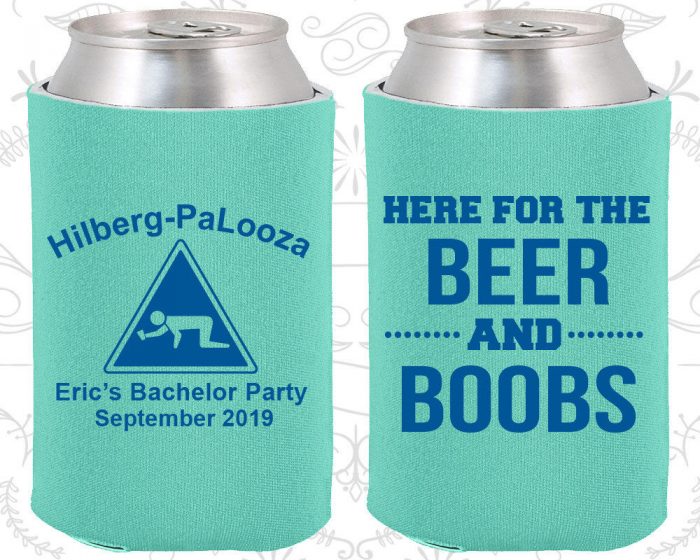 Leave them guessing.  She said no strippers, but did you listen?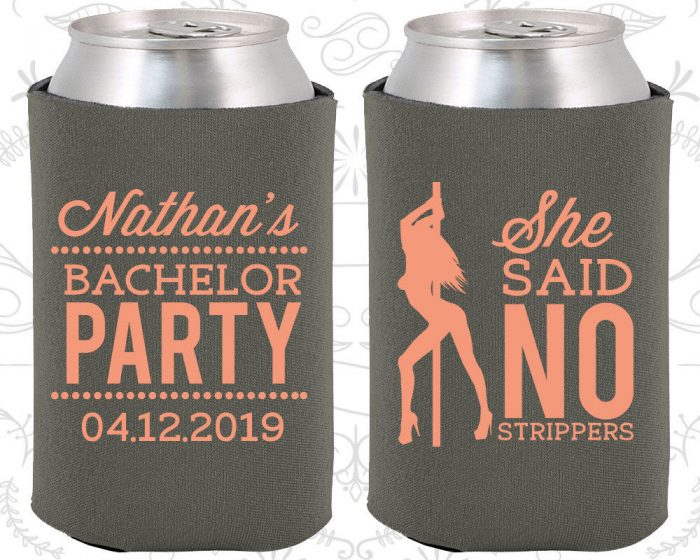 Bottle Openers
If you are having a group of guys over, then you might want to have more than one bottle opener handy. They can also make very affordable party favors.  We like these from Oriental Trading Company: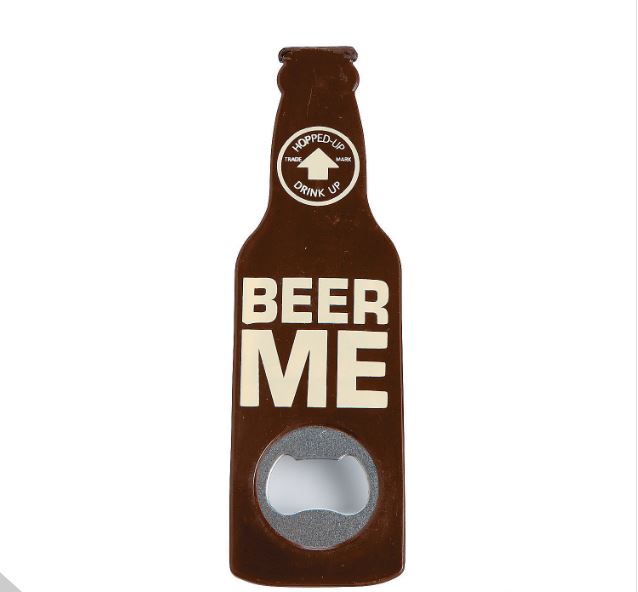 Shot Glasses
Odds are high that shots are going to figure into the bachelor party festivities.  Why not pick some shot glasses for the occasion?  They can double as souvenirs if you are so inclined as to share them. 
We like these tux shot glasses: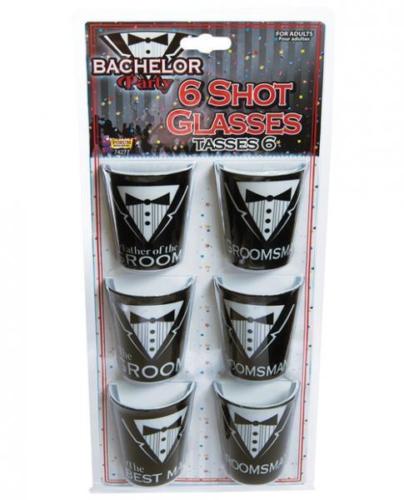 Having a bigger party, love personalization, or looking for the perfect glasses for Jello shots? Then we suggest these customizable plastic shot glasses from Oriental Trading Company: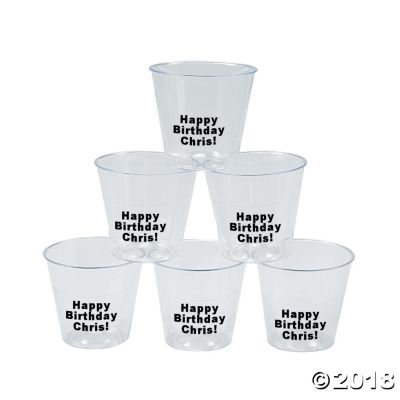 Brewzies
You have heard of beer goggles, but have you ever heard of beer boobies.  This take on the camelback manages to be simultaneously "adult" and juvenile at the same time, which makes it perfect for bachelor parties!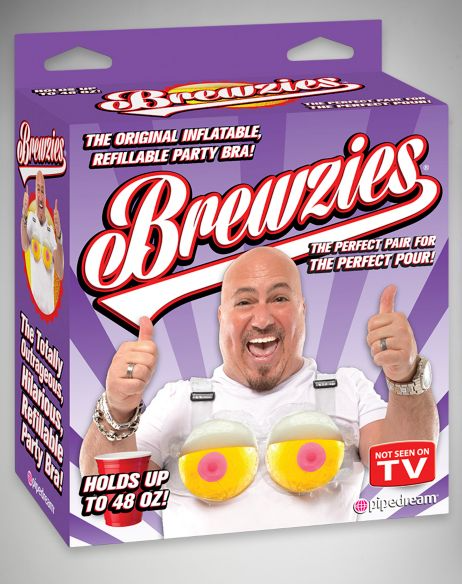 Hats
Nothing says classy quite like a trucker hat, right?  That is why we love this game-over trucker hat for your bachelor.  It works great for the bachelor who non-ironically dons trucker hats on the regular, but we like it even more for the normally bespoke bachelor to help shake him out of his comfort zone:
Having a golfing-themed bachelor party.  Consider this take on the classic golf hat: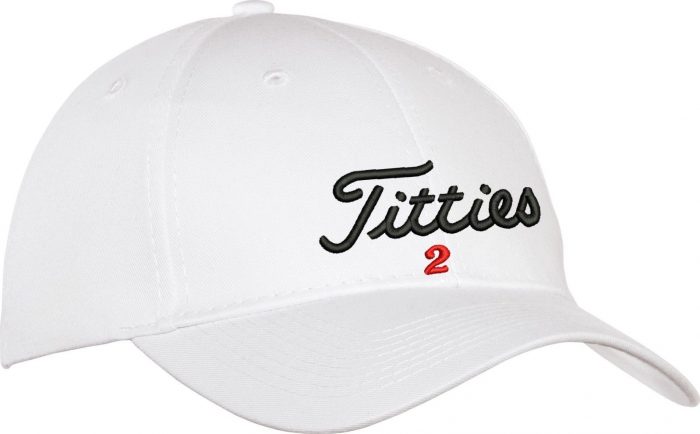 Of course, if subtlety is not your style, you can consider this party hat: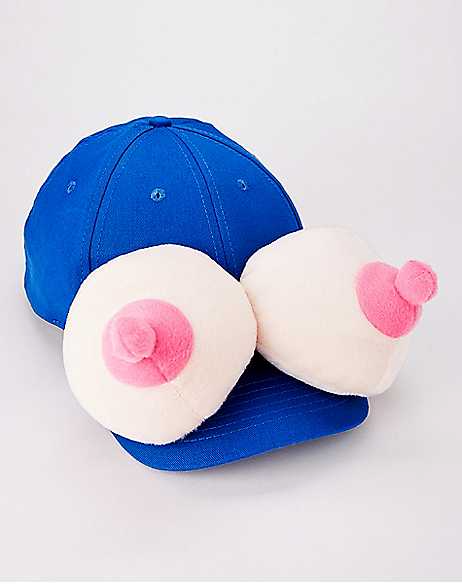 T-shirts
Is it a bachelor party shirt or a game?  You decide.  The scavenger hunt bachelor party continues to be popular and this bachelor party checklist is like a game you can wear:
Let the groom stand out from the crowd, and give people a reason to buy him drinks with this "Beer Me, I'm Getting Married Shirt":
The wolf pack t-shirt will only get old when the movie stops being funny: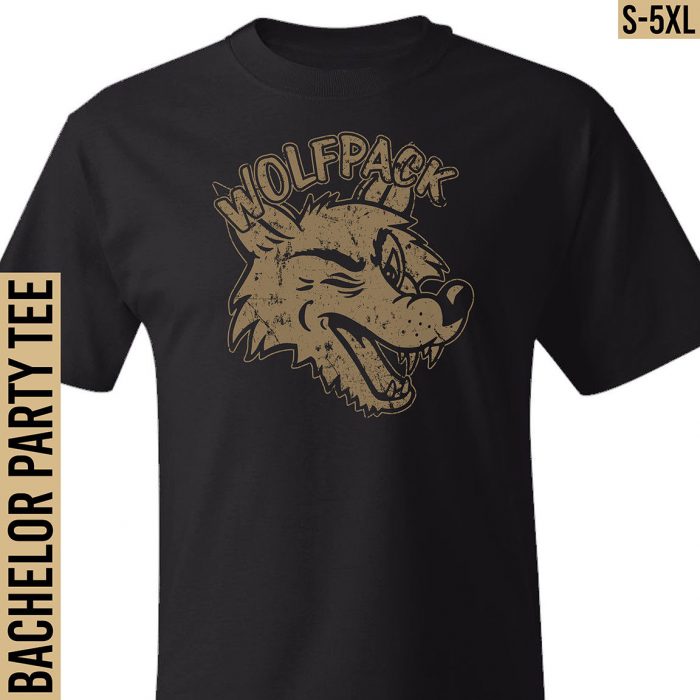 Are you on the groom's drinking team?  Of course you are: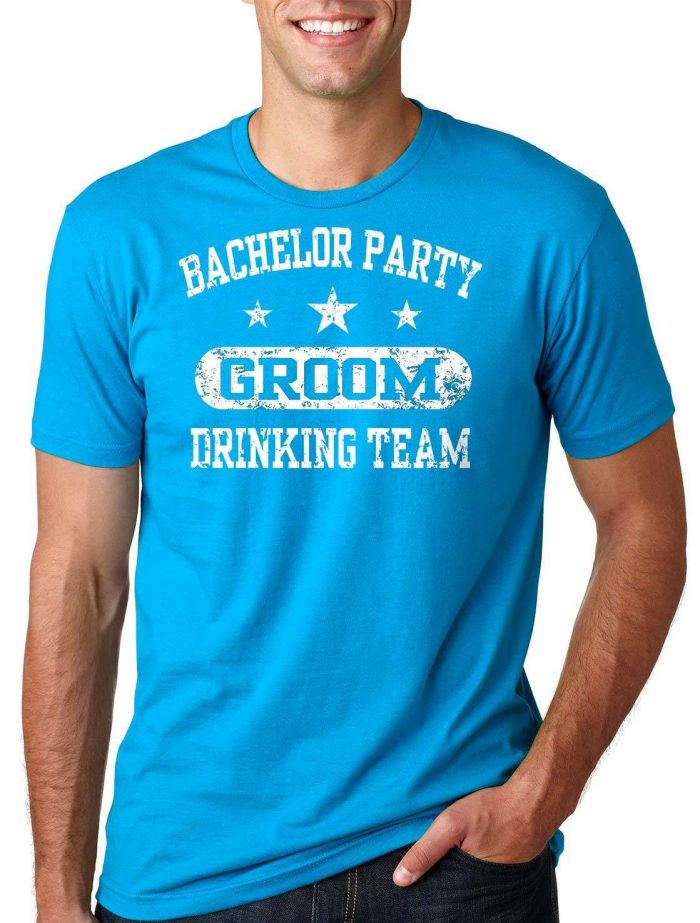 We like the compass look of these custom-made t-shirts: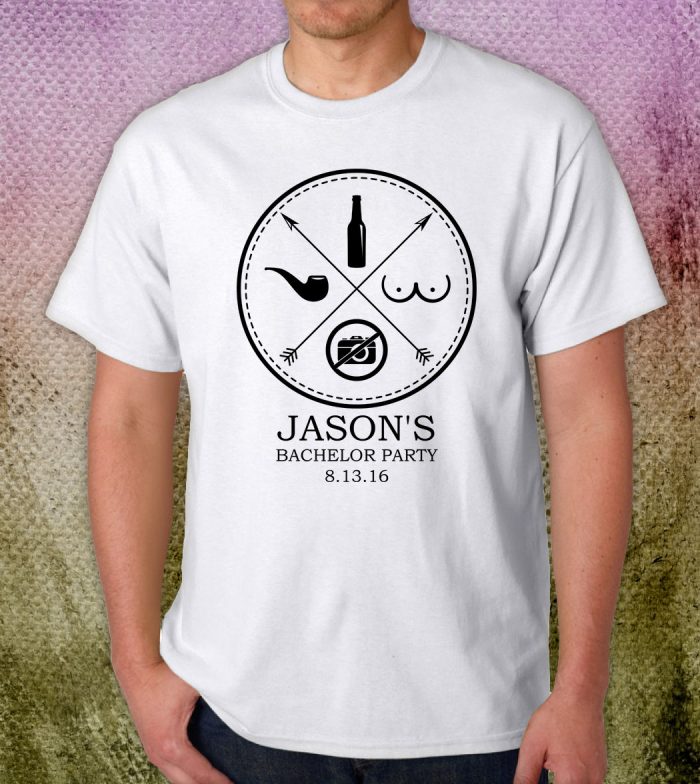 Flasks
There is no better bachelor party favor than a classic flask.  They do not have to be expensive.  You can get a personalized flask for very little from Amazon:
Suits
Want a way to stand out from the crowd that is not the normal bachelor-party t-shirt?  Then consider these brightly colored suits.  They let everyone know that you are with the party, while also letting you show some sense of humor and a little bit of style:
Sexually Oriented Bachelor Party Supplies
Of course, for many people, a bachelor party is not really a bachelor party until the sexually explicit items come out.  While these novelties are not strictly necessary for a great bachelor party, they are a way of making the bachelor party feel different from the average get-together with the guys.
Blow Up Doll
Okay, we do not expect anyone to actually try to have sex with a blow up doll, though we all have that one friend that probably will try if he drinks enough.  However, there is something iconically throwback and even a little innocent about having a blow up doll at a bachelor party.  Plus, they're super cheap:
Of course, if you have some chubby chasers in your group, you might consider this cushier version: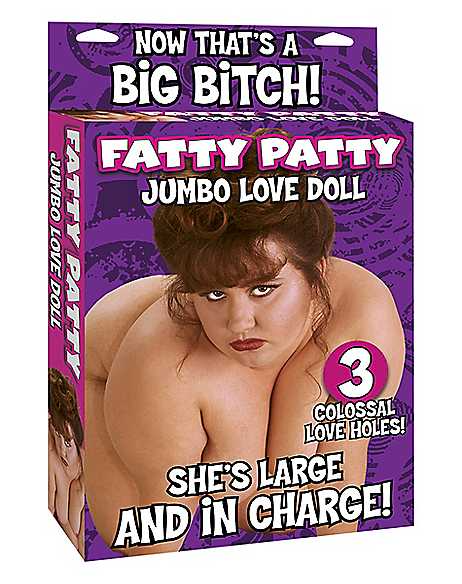 Boobie Balloons
because can you ever have too many boobs?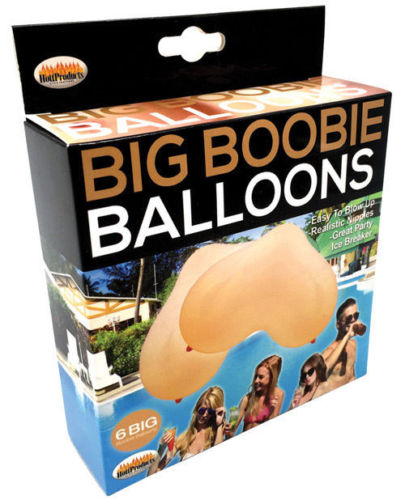 Boob Lollipops
Once again, how can you go wrong with boobs that you get to suck on?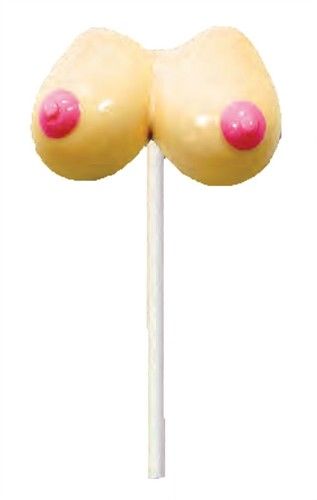 We aren't sure if you ever need boobs to light the way, but these are a great novelty item for the bachelor camping trip or any place where you are going to be in the dark:
Boob cake
Serving sweets at the bachelor party?  Stick with the naughty theme with this boobie cake.  You can easily bake your favorite boxed cake in this pan:
Pussy Bites
Look, you don't actually want the groom to cheat at the bachelor party; that is just buying you a world full of trouble.  The groom does not actually want to cheat at the bachelor party, unless he does not really want to get married.  But, that doesn't mean that it's not funny to say the groom ate a little pussy at the bachelor party:
Conclusion
While the must-haves for your bachelor party really depend on your groom, your guest, and your chosen activities, some things are classic.  We have included some of the most popular bachelor party items in our list.  For more suggestions for specific types of parties, visit our forums pages or our theme-specific bachelor party pages.