Bachelor Party Scavenger Hunt Planning Guide (2023 Edition)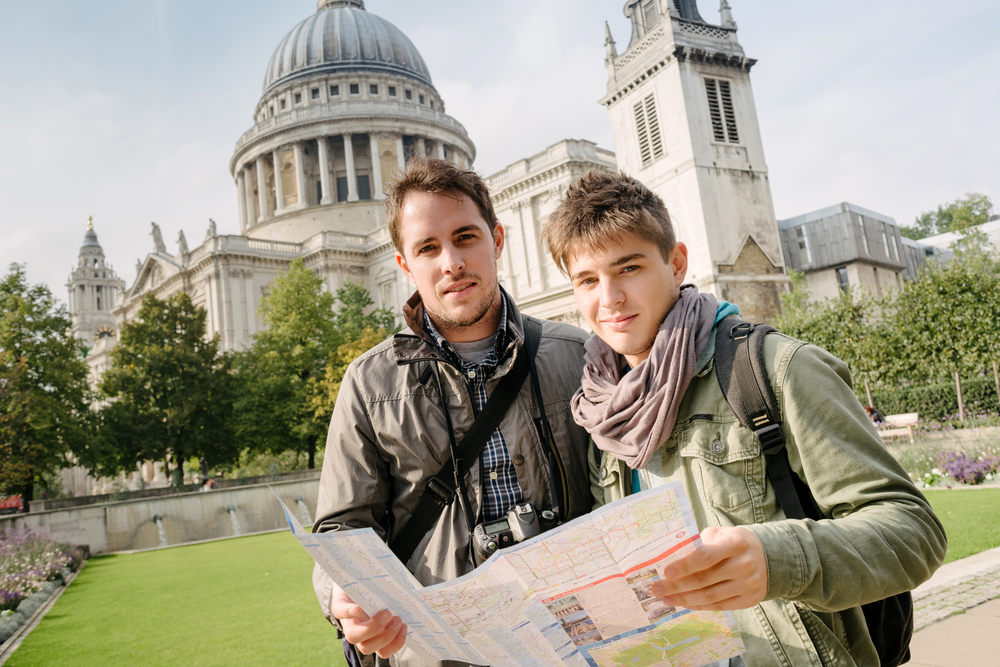 This post may contains references to products from one or more of our advertisers. We may receive compensation when you click on links to those products or services. Please also consider
donating to our website.
Are you looking for the perfect activity for your bachelor party? A scavenger hunt is an expensive and fun activity that can be tailored to any bachelor party group and we provide you with everything you need to know below.
What is a scavenger hunt?
The term "scavenger" originally referred to municipal officials who were tasked with collecting "scavage" which was a toll on the goods offered for sale in a town by foreign merchants. Today, the "scavage" of interest to scavenger hunters can be almost anything – even (willing) people.
Briefly, a scavenger hunt involves assigning a list of things for people to find alone or in groups and then sending them out to collect them. Whichever individual or group of party guests that finds the most items on the scavenger hunt wins. It's as simple as that – but including especially challenging items to find can make this bachelor party activity a lot of fun for adults. Regardless of your destination, though, it's important to lay down some basic rules for your party guests as noted below.
Rules
 Like many other popular children's games that have been adapted for adults, your guests will probably already know how a scavenger hunt works, but to make sure everyone has an equal chance at winning the big prizes and avoiding the penalties for losing (see more on these issues below), you need some easy-to-follow rules such as the ones presented below. These rules are easily modified for your specific needs and preferences, but all of these factors should be taken into account.
Duration
Although you and your buddies probably don't want to spend all day on a scavenger hunt, it's a good idea to allocate enough time for everyone to have a fair chance at collecting at least a few items on their lists.
We recommend allowing at least an hour depending on the venue of your bachelor party and your guests' enthusiasm level for this activity. If you have several hard to find items included on your list, you may want to allow more time. Be sure everyone understands the rules (this should be simple since most people have taken part in this fun contest at some point in their lives) and designate a gathering point for the finish line (this should be a bar of course).
Prizes
The next thing you need to do is decide on what prize or prizes will be offered for the winners of the scavenger hunt. Don't neglect this step because you want your guests enthusiastic about participating and keeping the energy level high. The top winner(s) should receive something meaningful (this doesn't necessarily mean expensive but it can) for the grand prize such as trophy with the date inscribed "Grand Poo-Bah Champions of [groom's name] Bachelor Party – [date]."
This kind of prize will make the winner the envy of all, but contestants with fewer items should also receive consolation prizes such as their pictures taken with the smiling "Grand Poo-Bah" prize winner and the groom (if they are different people) or a customized tee-shirt with the party details such as date and venue. It's also important to remember that there are always a few guys who just can't seem to find any-damn-thing or who headed right for the bar instead of searching for items on their list, but we haven't forgotten them as noted below.
Losers
Any contestant who fails to find any of the items on his list must buy everyone a round of drinks. These losers should also be presented with tee-shirt stating, "They gave me a list but I blew it!" – that should get them motivated! In addition, unless otherwise stipulated, any scavenger hunt contestant who attempts to present more than one of the same item in return for extra credit will be deemed a double-loser and required to eat the duplicate item if edible, or present it to a stranger (preferably an attractive woman) with an explanation why it is being presented if it is not edible. Be sure to take plenty of pictures of this and make lots of copies for your guests and your friends back home! Har-har!
Arbitration
Let's face it. Your party guests are probably as competitive as the next guy – and probably more so at this point — and they may try to slip something past you if you aren't careful. Be specific in your choice of list items and make them fairly challenging to find (e.g., no "dollar bills" or "pennies" — more on this subject is provided below).
The best man should serve as the final judge concerning what items are acceptable in terms of satisfying the criteria on the scavenger hunt list. Contestants who are dissatisfied with the judge's final ruling can appeal their claims directly to the groom; the price for appealing a decision to the groom is – of course – buying everyone a round of drinks and the groom should delay any decision until the drinks are purchased.
Remember:  bachelor parties aren't democracies and there is no real due process. The best man and groom can and should be arbitrary and capricious in rendering their decisions so long as it serves the purpose of getting several more free drinks out of disputatious bachelor party guests.
Assignments
Depending on the number of party guests, you may want to assign all of your party guests individual lists (for smaller parties) or divide them into pairs, groups of three or even divide the guests into two halves (for larger parties). No matter how many people are assigned, though, it is important to provide each party guest with an identical hard-copy or digital list of things to collect to keep the playing field level. Some fun and exciting ideas for your bachelor party scavenger hunt are discussed below.
To Do List Ideas
Deciding on your perfect list of items for your bachelor party scavenger hunt depends on a thoughtful analysis of factors such as the average age, personal interests and occupations of your guests. For instance, younger guests may prefer searching for items that require more outdoor physical activities while older guests may want to concentrate their efforts in a more limited area such as an air-conditioned mall.
In fact, the location of your bachelor party scavenger hunt is an especially important point for guests of all ages since temperatures as high as 117 degrees Fahrenheit in popular venues such as Las Vegas are not uncommon during the peak summer months and below zero temperatures in venues such as Reykjavik are common from January through March.
Therefore, large indoor malls with plenty of different types of stores are great locations for scavenger hunts almost anywhere unless you're bachelor party is outdoor adventure-oriented, but you're still faced with deciding what items to include on your list. Preferably, all items on your bachelor party scavenger list should be obtainable without charge (hence the term "scavenge"), but it's okay to include a few items that involve a modest charge such as a red gumball or postcard.
Fortunately, scavenger hunt planners have a number of additional options available today – including scavenger hunt apps and camera-equipped cell phones — compared to just a few years ago that can make your list interesting, challenging and most importantly — fun.
Besides the factors noted above, your choice of items for your bachelor party scavenger hunt will also depend on your location, but the following list of items should give you some ideas to get started (if you intend to include photography in your scavenger hunt, make sure everyone brings a fully charged digital camera or camera-equipped cell phone):
Easy items to find:  25 points
Something that begins with the letter "B" (see arbitration under rules above)
Any hard-copy menu
Anything purple
A red rock
Any postcard
Any piece of fruit
A shoebox
Moderately difficult items to find:  50 points
A rock shaped like a human head
Ten females' autographs anywhere on your bachelor party tee-shirt
A poster for a movie that is currently playing in theaters
A cell phone (or otherwise) photograph of you with two smiling girls with their arms around you
A Canadian quarter
Any Pez dispenser
Difficult items to find:  75 points
Something that begins with the letter "Z"
The presentation of any willing female over the age of 18 years at the finish line wearing something blue
A post card from a city other than the one in which you are currently located
Any life-sized "standee" (this is a stand-up cardboard cutout of a person, usually someone famous such as a movie star or Donald Trump)
Any picture of you with two smiling girls with their arms around you, giving you a kiss on the cheek
Hospital scrubs (tops and/or bottoms)
A vinyl record
Super difficult items to find: (points as indicated)
A female stranger's cell phone obtained legitimately: 150 points
An American silver dollar: 250 points
An 8-track tape: 300 points
Tips
If your list includes several physical artifacts (rather than digital pictures for example), you might want to provide your guests with sturdy paper shopping bags (the kind with handles) to facilitate their collection efforts.
For the digitally inclined, there are also scavenger hunt apps available that you and your bachelor party guests can use to develop a list and keep track of points.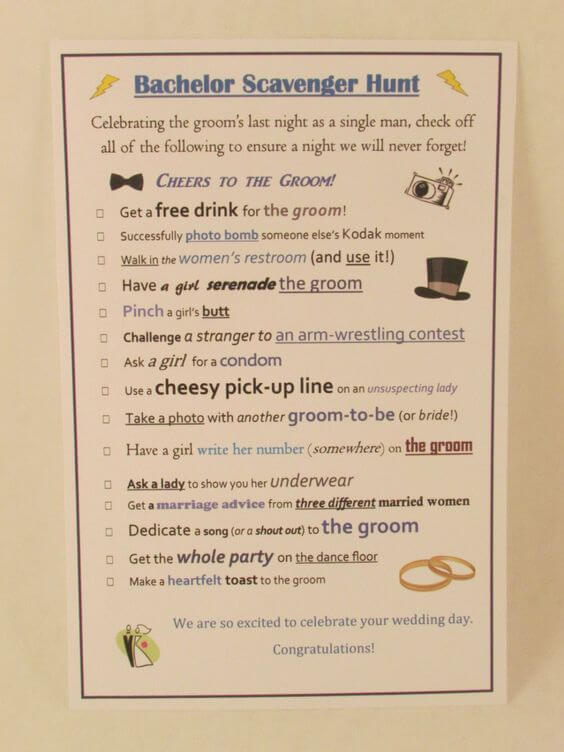 Destination-Specific List Ideas
Las Vegas
Besides its world-class entertainment and casinos, Sin City probably offers more free stuff to tourists in the form of entertainment and souvenirs than any other popular bachelor party destination today. In fact, you and your buddies can bum around all day, getting free play on slot machines, free drinks, free souvenirs, and great food for free or at significant discounts using the coupon books that all major casinos give to their guests.
Therefore, be sure to include at least something from one of the coupon books that are available everywhere as well as the coupon books themselves as items on your Las Vegas bachelor party scavenger hunt list.
In addition, consider including the following items on your Las Vegas bachelor party scavenger hunt:
Easy items to find:  25 points
Moderately difficult items to find:  50 points
Off-track pari-mutuel horserace betting guide
Picture taken from the highest point on the New York, New York "Big Apple" roller coaster located high above the Strip (yikes!)
Picture taken from the top of the Stratosphere Tower
Picture taken of you with at least two smiling showgirls in costume
Difficult items to find:  75 points
A wine list from an expensive restaurant
An autograph from any entertainer listed on a venue's marquee
A picture of you "flying" at Vegas Indoor Skydiving
Because Las Vegas is a special destination, we've included some super-difficult items below for your to consider including on your Las Vegas bachelor party scavenger list besides the foregoing
Super-difficult items to find in Las Vegas (any of these items is worth 1,000,000 points and the game is immediately over)
Chicago
With nearly 3 million residents and limitless shopping and entertainment opportunities, the Windy City is ripe for a bachelor party scavenger hunt. The city-specific items you select for your Chicago bachelor party scavenger hunt can include the following but the possibilities are limitless:
Easy items to find:  25 points
Moderately difficult items to find:  50 points
Picture from atop the 360 Chicago Observation Deck (formerly John Hancock Observatory)
Picture from atop The Ledge at the Sears Tower
Any souvenir from the Lincoln Park Zoo (free admission)
Difficult items to find:  75 points
New Orleans
Like Las Vegas and Chicago, the "Big Easy" is a popular bachelor party destination and the laid-back residents are highly tolerant of partygoers. Nevertheless, exercise some caution and don't send your scavenger hunt contestants into some of the less savory neighborhoods in search of list items, and try to keep the search area limited to a specific region of the city such as the French Quarter. Some fun things to include on your New Orleans scavenger hunt list include the following: 
Easy items to find:  25 points
Moderately difficult items to find:  50 points
Menu from any restaurant in the French Quarter
A picture taken from a Charles Streetcar
Difficult items to find:  75 points
Conclusion
Taken together, it is clear that a bachelor party scavenger hunt is an expensive but fun and exciting activity that you and your friends can enjoy in almost destination.  Another great idea would be to purchase some bachelor party scavenger hunt t-shirts and check the items off that way.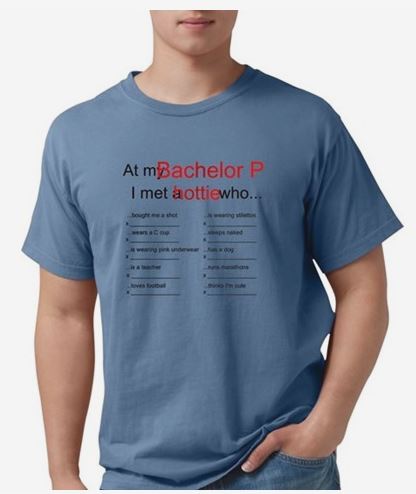 We're sure that after reading the guidance and example lists provided above that you're ready to plan the perfect scavenger hunt for your bachelor party. Please drop us an email if you have some additional ideas about what to include on bachelor party scavenger hunt lists, including destination-specific items. Ready, set, go!
Not really into scavenger hunts?  Check out our article on other amazing bachelor party games.
Have any other wild or crazy ideas to add to the task list?  Leave them in the comments below