Bachelor Party Cheetah Pompano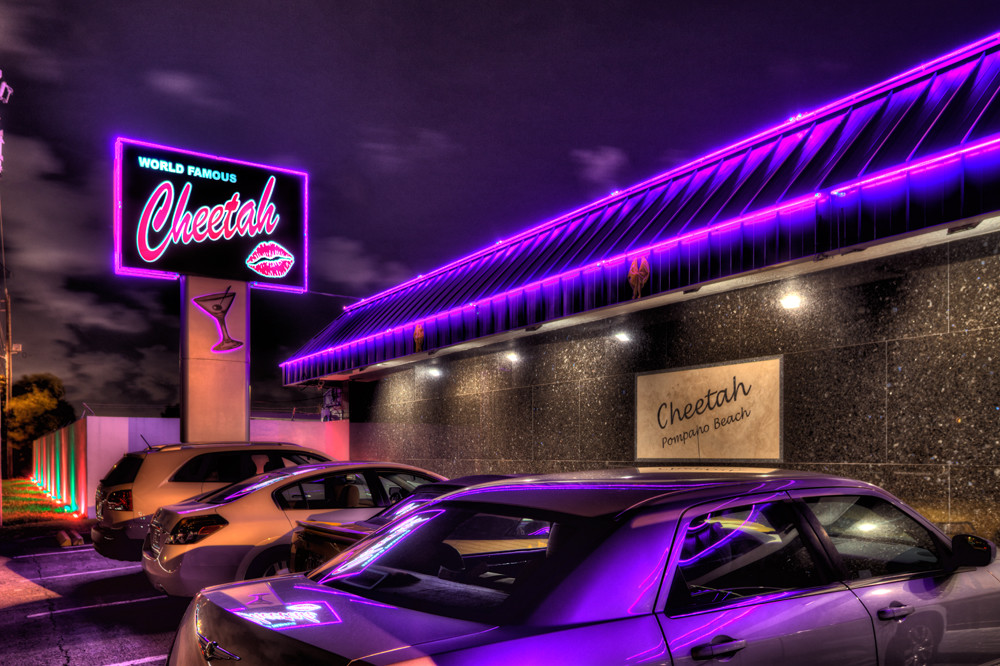 This post may contains references to products from one or more of our advertisers. We may receive compensation when you click on links to those products or services. Please also consider
donating to our website.
So you are planning to take your bachelor party to Cheetah Pompano.  This is one of the best strip clubs (or in a nicer way Gentlemen's club) in the Fort Lauderdale area and my personal favorite.  Round up a few hundreds in singles, purchase a cash cannon (so you can make it rain) and head on over.
If your journey takes you to Cheetah during the day, they offer free lunch from 11:30am – 3:00pm which includes anything from wings to burgers.  If you have a large party I recommend you call ahead and reserve one of the VIP areas to the side of the stage.  The "Cheetah" VIP area is newer and much nicer, so if that is available, lock it up.  This club has a total of 4 stages and 2 levels.
Normally this club has about 30+ girls of all shapes and sizes available for your viewing and grinding pleasure.  The day crowd consists of business men and retirees, but also tends to have the prettier women (they know the big money comes in during the day).  After 8:00pm the night shift comes in and the crowd becomes younger and more crazy.  There is a cover charge after lunch, but if you call and arrange something that includes purchasing bottles, they will either reduce or eliminate cover (usually a $5 or $10 cover charge depending on day of the week)
Lap dances run about $25.00 per song and involve some quality contact.  No, you are not going to get a blow job in the lap dance room, but you will get enough material so you can jerk off back at the hotel room when your friends are smoking a cigarette or doing a line on the balcony.  They also have "in the business" specials and $100 bottle specials as well.
A good option would be Sunday football as they have the Directv Sunday ticket so you get the best of all worlds, hot naked chicks walking around, every football game, and some quality wings to eat, while trying to cover up your erection.  If you are going to request a waitress, make sure you ask for Tracey.  She will take care of you and make sure your group get's extremely wasted.  She may even let you do a shot of tequila out of her breasts.
My recommendation is to get their on the earlier side as the hot talent always gets scooped up quickly.  Setup shop at one of the VIP sections, get a few bottles, maybe even some champagne (champagne makes strippers wet).  Order a platter of chicken tenders and some fries, sit back, relax, and enjoy.
Bachelor Party Packages
Cheetah Package $600.00
Free Admission for up to 5 Guests
(1) Free Liter Bottle (Excluding Super Premium Brands)
Free Choice of Mixers and Garnish
Reserved Area for 2 Hours
(1) Free Cheetah Fruit & Cheese Tray
Free Stage Roast
Fantasy Package $800
Free Admission for up to 12 Guests
(2) Free Liter Bottles (Excluding Super Premium Brands)
Free Choice Of Mixers and Garnish
Reserved Area for 2 hours
(1) Free Cheetah Fruit & Cheese Tray
Private Server Assigned
Free Stage Roast
Ultimate Package $2000
Free Admission for up to 20 Guests
(3) Free Premium Liter Bottles
Free Choice Of Mixers and Garnish
Reserved Area for 3 hours
(2) Free Cheetah Fruit & Cheese Tray
Private Manager Available
Private Server Assigned
Free Stage Roast
Conclusion
The bottom line is if you are going to visit a strip club while you are enjoying your bachelor party in Fort Lauderdale, there is no better place to go to then Cheetah Pompano.  If you are interested in booking a table at this venue, shoot us a ring and we can get you all setup, and even get you our special "Bachelor Party" rate.
If you would rather pay full price for your bachelor party package at Cheetah Pompano, below is the contact information so you can get in touch with the club directly.
Cheetah Pompano Beach
497 NW 31st Ave
Pompano Beach, FL 33069
954-971-2600