Airbnb Host for Bachelor Parties & Bachelorette Parties (2023 Guide)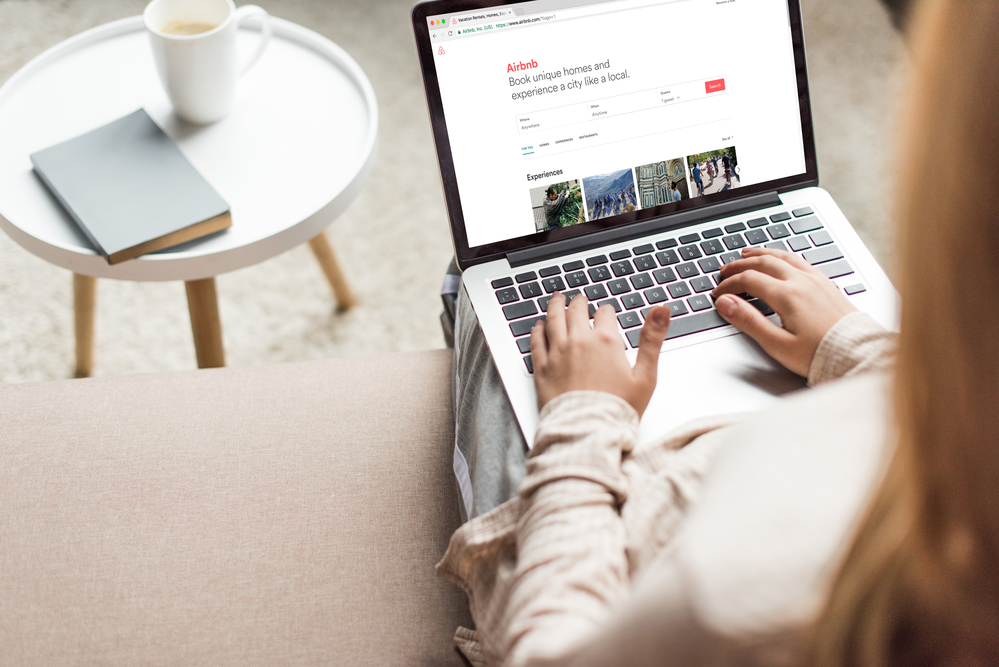 This post may contains references to products from one or more of our advertisers. We may receive compensation when you click on links to those products or services. Please also consider
donating to our website.
Are you looking for a great way to earn extra income? Consider becoming an Airbnb host for bachelor and bachelorette parties. Many great vacation rentals specifically prohibit parties from using their property, but if you follow the steps in our handy tutorial, you can begin earning income as a bachelor bachelorette party Airbnb host, while still protecting your property!
Why Become an Airbnb Host for Bachelor and Bachelorette Parties?
Many rental property owners are worried about renting their property to bachelor or bachelorette parties. Images of raucous groups of young people doing damage to their property has landlords skittish about the idea of renting to parties. However, there is a big difference between a bachelor or bachelorette party group and young kids partying on spring break. The reality is that most bachelor and bachelorette party groups are composed of older, more responsible folks. While they may want a space where they can get a little rowdy, the types of parties that they throw are not associated with the wanton destruction of other types of parties. Instead, they want a space where they can relax with friends, do some drinking, have plenty of space for sleeping, and shared areas where they can hang out together. Chances are that your
What Types of Properties Work with Bachelor and Bachelorette Parties?
Whether you have a house, apartment, condominium, boat house, or simply some rooms in your homes, you can set up your property as a great place for bachelor or bachelorette parties. Think about how many people your place can comfortably accommodate, the types of amenities you have to offer, your location compared to local hot spots, and any access to public transportation. Whatever combination you have, you can tweak it to make it perfect for certain sizes and types of parties. Just keep in mind that not all properties are right for all parties; be honest and upfront with your guests so that they can be sure to get exactly what you advertise!
Steps for Posting a Property on Airbnb
#1
Sign Up with our link to become an Airbnb Host  (You can also use a Facebook or Google account for signing up)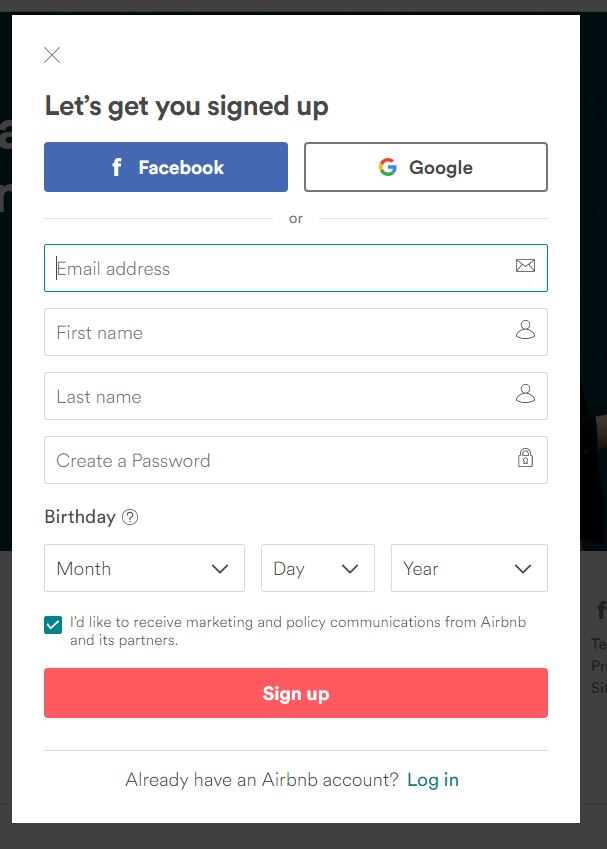 #2
List your location and the number of guests you can accommodate.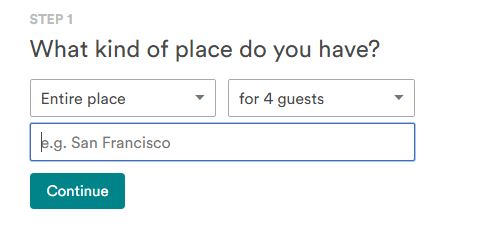 #3
Next, choose the type of property you are renting- a house, apartment, secondary unit, bed or breakfast, etc.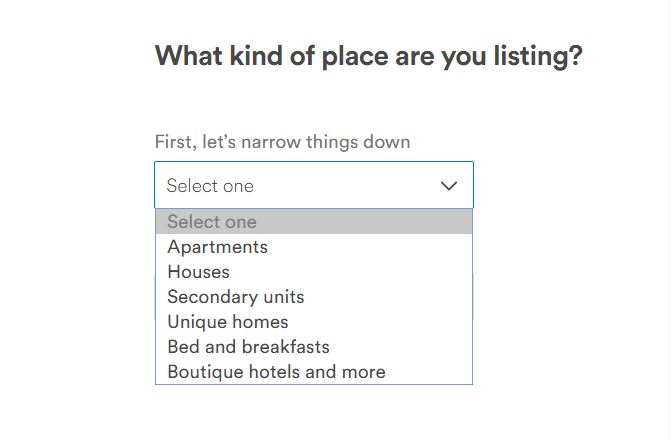 #4
Then you can choose a more specific type of property, indicating whether your home is a house, a cottage, a cabin, etc .
#5
Indicate whether guests will have the entire house or part of the home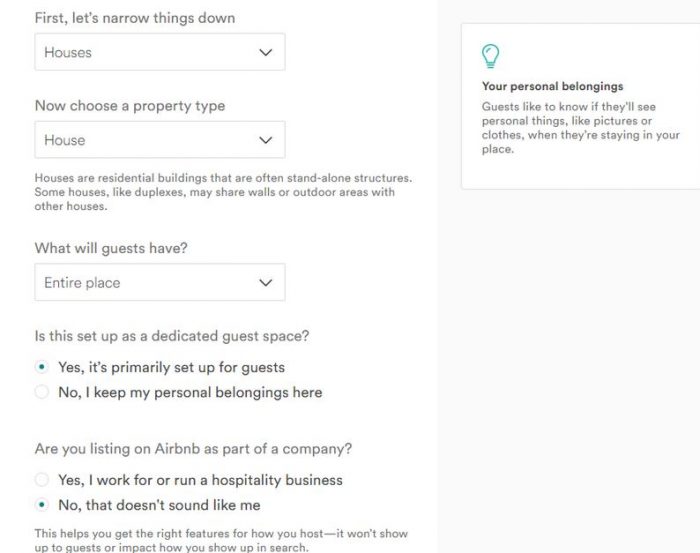 #6
You will be asked to list the number of bedrooms; do not list non-bedrooms that have beds like pull-out beds, but only bedrooms. You will have another opportunity to list additional beds.
#7
List the number of beds that guests can use.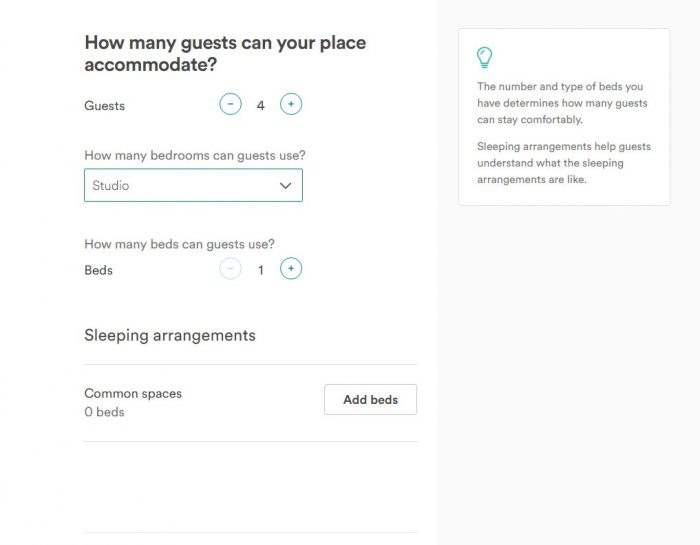 #8
Add in any additional sleeping spaces and beds, such as pull-out beds, rollaway beds, and air mattresses.
#9
Then you will be asked to provide your location information, which includes your full address. While potential guests will not see your address, they will see a general map location.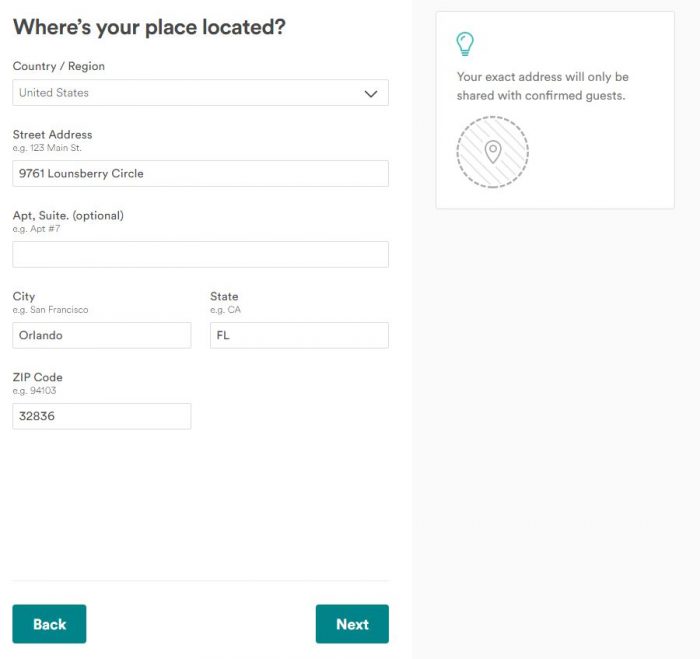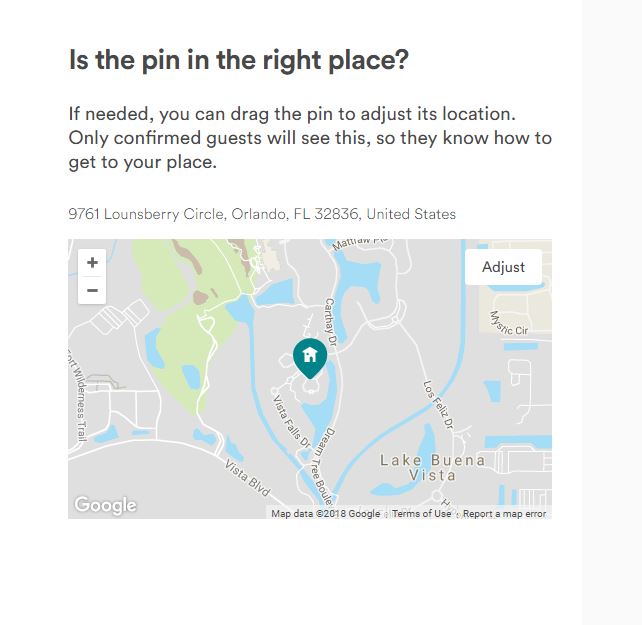 #10
Airbnb provides a handy amenities list, so you can indicate whether you provide some amenities that guests commonly want to find in a rental. Potential renters use these amenities when narrowing-down their choices, so the more choices you can honestly say you offer, the more potential renters will see your ad!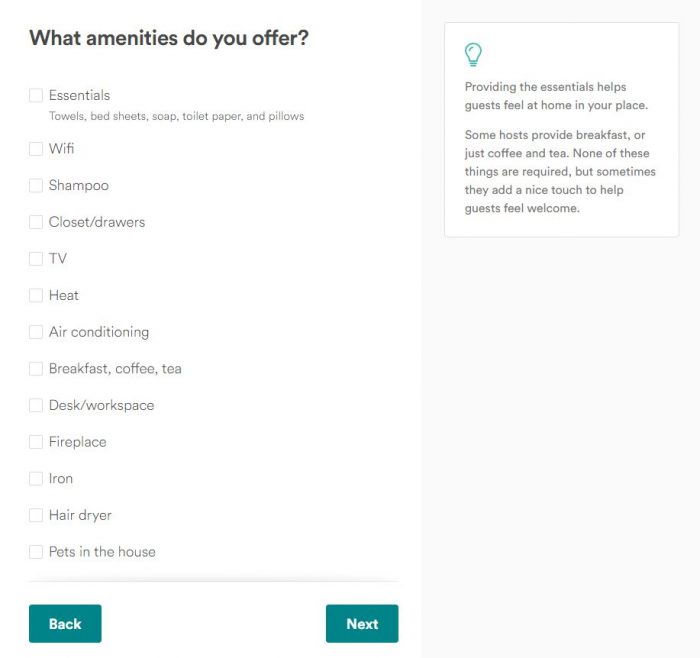 #11
Finally, it is time to include photos and a description of your property. You want to make sure that your potential renters know that you are party friendly. We suggest explicitly stating, "Great for bachelor and bachelorette parties," and then describing all of your party-friendly amenities. You also want to provide plenty of photos of the property. You should have photos of every room, any outdoor spaces, photos of the outside of the house or property, and, if you are near a beach, lake, hiking trail, or other outdoor space, photos of it as well!

How to Set Up Your Spot for Renting to Bachelor and Bachelorette Parties
Maximize Your Number of Beds
If you want to rent to bachelor and bachelorette parties, rather than families or couples, then you need to think about sleep space in term of beds, not just in terms of how many people can fit in the beds. While bachelor or bachelorette party guests might be okay with sharing beds, it will be a more comfortable party experience if you have plenty of beds for all of the guests. Therefore, instead of focusing on king sized beds, think of double or triple twin or full beds in most of your guest rooms.
The twin-over-full bunk bed option is a great way to add additional sleep space to your rental: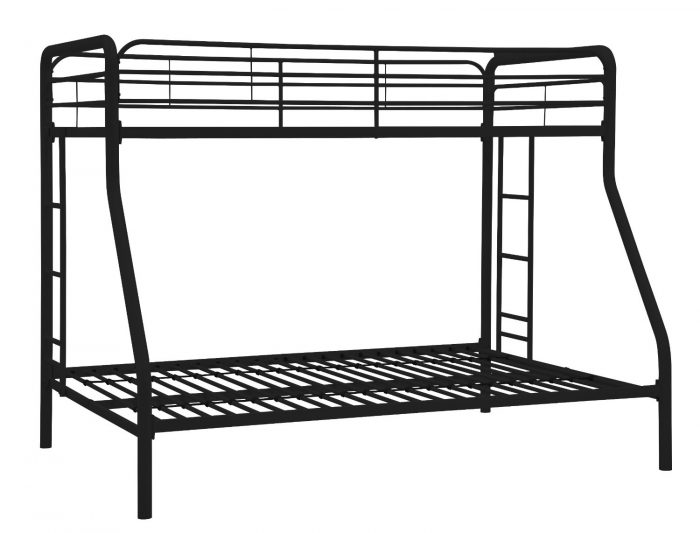 Another option for increasing sleeping space is by keeping some rollaway beds in your closets, and letting your guests know that they will be available. We prefer to the rollaway option to air mattresses, because they are easy to stash when not in use, rather than your guests needing to inflate and deflate them: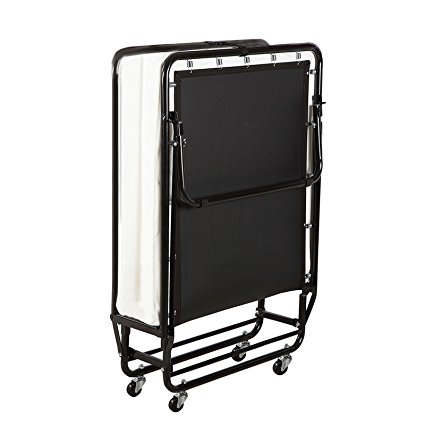 Make Your Beds Comfortable
One of the worst things that can happen when you get a rental home is for the beds to be uncomfortable. Spend a little extra money on comfortable mattresses, high-count cotton sheets, plenty of pillows, soft blankets, and soft comforters. Worried about sinking a ton of money into mattresses that could be damaged? Consider adding affordable memory foam toppers to your mattresses: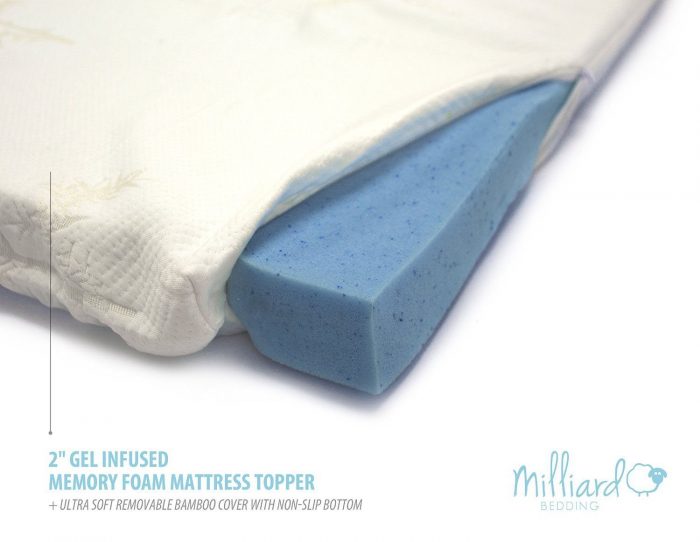 You can find affordable high-count cotton sheets. Make sure and have two sets of sheets for each bed.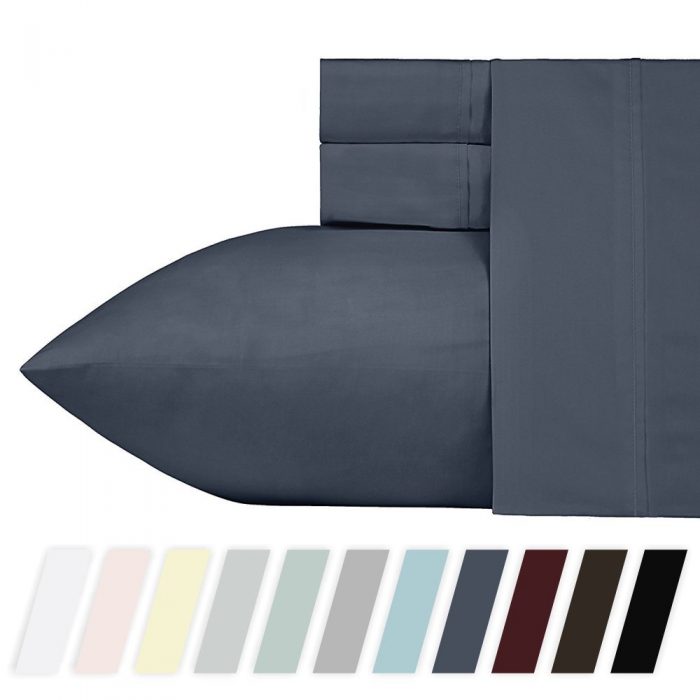 Get Your Outdoor Space in Order
Outdoor living spaces are a huge draw for bachelor and bachelorette parties. What type of outdoor space can you offer for a party? Whatever it is, takes some steps to maximize your outdoor space.
Buy some comfortable furniture. You do not have to spend a fortune to get comfortable, sturdy lawn or patio furniture; outdoor sets start as low as $100 at Wal-Mart. If possible, offer at least as much outdoor seating as you offer sleeping spaces.
Give your guests a way to keep beverages chilly, especially if your outdoor space includes a pool or hot tub. You can choose a full-size fridge in an outdoor space like a garage, a mini-fridge in an outdoor kitchen, or even an awesome stand cooler that they can use for their drinks.
Having a firepit makes your outdoor space more versatile and makes it usable even when the weather is chilly. You can pick up a firepit that works with logs for around $100, but to make the property really easy-to-use, pick a firepit that runs with a propane tank.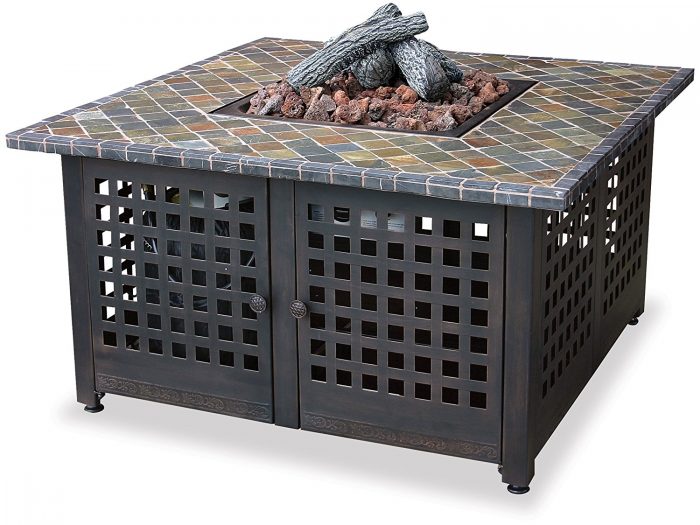 Make your firepit user-friendly by keeping a s'mores roasting kit available for your guests to use. These firepits can be used for roasting hot dogs, as well, making the outdoor space very versatile.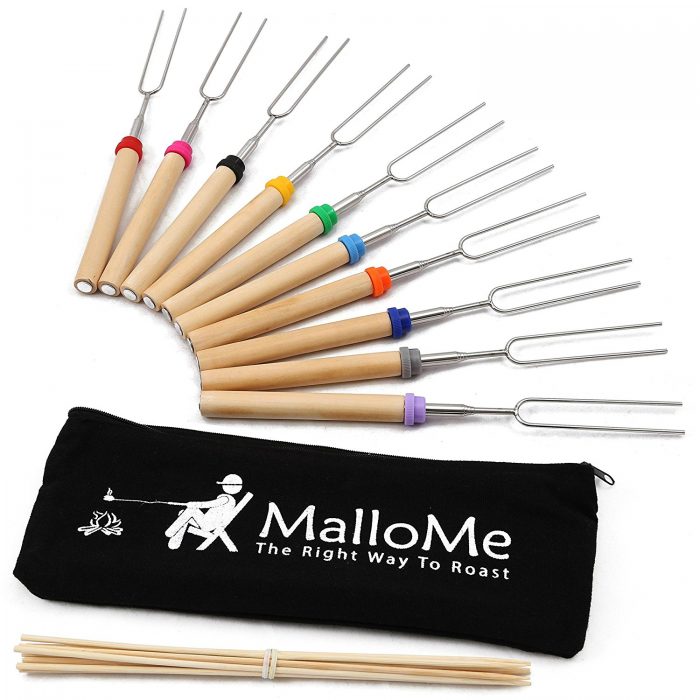 Provide something fun to do outside. Ideal bachelor and bachelorette party homes have pools, hot tubs, or access to some type of beautiful outdoor space. If your property does not have those amenities and you cannot add them to the property, then think about other ways to use your outdoor space. Cheaper than a pool (and with lower property insurance rates) are outdoor games. Think about your favorite game at outdoor bar spaces: cornhole, molkky, shuffle board, bocce ball, tether ball, giant chess or checkers, hook and ring toss games, and ping pong are all outdoor favorites. If you have access to a garage or patio space, adding these games to that space can complete the party vibe and, generally, increase your value as a rental.
Do you have a pool or are you located on a body of water? Add some water toys for your guests. If you are on a limited budget, have plenty of inexpensive blow-up toys. If you are located on a beach or a lake, consider investing in canoes, paddle boats, kayaks, paddle boards, wake boards, or surf boards for your guests to use.
Think about bugs and other critters. Are you in an area with a lot of bugs, like mosquitos. Make sure you have citronella candles, Off or other Mosquito repellant, or screened-in areas. You may even want to consider investing in a mosquito repelling system.
Get Your Indoor Space in Order
You want to make sure you have plenty of indoor space for people to socialize. You want to have enough dining space for all of the guests, so think beyond the dining table and make sure you have bar stools for any bar space and maybe even a second table for large groups. You also want to make sure there is plenty of space for people who are just hanging out, so make sure you have plenty of seating in living areas.
While you might not think of TV as a must-have for your party space, the reality is a that a lot of people hate the idea of missing shows, especially sporting events. Make sure at least one room has a big-screen TV that has access to cable, including pay-per-view events, such as boxing. This can help make your party space perfect for sports fans. Also make sure that you have a fast Wi-Fi connection.
Provide plenty of games. If you are concentrating on bachelor and bachelorette party rentals, then you can focus on adult-oriented games like Bad People, Cards Against Humanity, and Cool Cats and Asshats. If you have a mixed-clientele, stock grown-up games in the master bedroom closet, but make sure your guests know where to find them!
Leave local maps and guide books for your guests. We love the idea of putting together a binder full of flyers for local attractions so that your guests can see everything the local area has to offer.
Make sure your kitchen is well-stocked. Pots, pans, cooking utensils, plates, bowls, glasses, silverware, a great set of knives, and small appliances like toasters, blenders, coffee makers, and crockpots are also must-haves. In addition, think about spices. Having a well-stocked basic spice rack means your guests can prepare a variety of foods without having to shop for those things.
Have plenty of towels available, and, if you do not have an included washer-and-dryer, make arrangements with a property management company or cleaning service to provide clean towels for rentals that are longer than a weekend.
Provide your guests with other basics that they need to have a great vacation experience. Any rental home owner knows that there is a risk that guests will walk away with disposable items like paper towels, solo cups, napkins, detergents, toiletries, and toilet paper if they are supplied. However, nothing ruins a vacation experience quite as much as running out of toilet paper at an inopportune moment. Charge a few extra dollars and stock each bathroom with several extra rolls of toilet paper, have three or four rolls of paper towels, toiletries for each bathroom, plenty of hand soap, enough dishwasher tablets for them to have at least two per day, and, if you have a washer and dryer, a small box or bottle of detergent or several laundry pods, as well as dryer sheets. While you may feel like supplying these items will eat into your profits, a well-stocked home means better reviews, which ultimately means more money for you!
Temperature control is always important for rental guests, but can be a tricky issue with large parties. That is why we suggest investing in tower fans. Without taking up a bunch of space, you can place several of these throughout your rental, so that guests have the ability to help control their temperature. You can have one available in each room, so that guests can control their temperature.
Tips for Better Exposure
Once you have decided to list your home, you want to make sure it gets plenty of exposure. This means making sure you have plenty of photos, provide as much information as possible, and that you respond quickly to inquiries from potential guests. Another great way to get exposure for your rental is to use forums on bachelor and bachelorette party planning sites to direct traffic to your Airbnb ads.
Maximizing Your Profits
The whole purpose of having a rental property is to make a profit, and there are several things you can do to maximize your profit potential. First, you want to make sure that you are covered for damages. You can collect a refundable security deposit for damages or offer your short-term tenants coverage for any damages that occur. Make your property available during high-demand times like holidays and special events and you can charge significantly higher rental rates. In addition, you can charge a cleaning fee for thorough deep cleaning after a party rents your property, to ensure that it is in shape for your next renters.
Background Checks
Another way to weed out the bad apples would be to run a background check on the individuals renting your home.  We recommend using Beenverified.com as they have a ton of information on specific individuals and their monthly cost is very low.  If you see criminal results for a renter it could be a sign not to rent your house to this individual.  Now to be fair, there is always a possibility that these infractions happened a while ago and the individual is in a much better place, all we are saying is that you should take this into consideration.  
Conclusion
Becoming an Airbnb host can be a little intimidating. After all, inviting strangers into your space is always a little nerve-wracking. However, many property owners make the mistake of banning all parties at their rental sites. You can turn their fears into your profit, by specifically targeting bachelor and bachelorette party groups. Setting up your home so that it is party-friendly not only increases the likelihood that you will be able to book rentals for your property, but can also allow you to charge higher rents and develop a stronger following than nearby rental properties. Following this guide, you will not only maximize your profits, but also minimize your risks. So, get started getting your property ready, today.